Airbus Faces Setback as Delta Reviews $14 Billion Jetliner Order. Airbus SE's expansion into Boeing Co.'s home market faces a potential setback as Delta Air Lines Inc. reviews a $14 billion purchase of the European planemaker's two-newest wide-body models. The Atlanta-based carrier, known as an influential and shrewd aircraft buyer, is studying its twin-aisle orders amid signs the long-range travel market is saturated, Ed Bastian, Delta's chief executive officer, said during a quarterly earnings call Wednesday. While he didn't name Airbus, Delta has no twin-aisle orders pending with Boeing, according to the U.S. company's online database.
Airline's CEO says it's holding discussions with planemakers

European manufacturer beat Boeing for wide-body deal in 2014
Word of the review intensified concerns that demand for long-haul planes is weakening as a long jet-buying
binge
draws to close.
American Airlines Group Inc.
last year deferred its order for Airbus A350 jets, while United Continental Holdings Inc. said it may swap its purchase for smaller planes.
"It definitely contributes to what's been a building caution, or wall of worry around the wide-body market," said Ken Herbert, an aerospace analyst at Canaccord Genuity.
'Excess Capacity'
Airbus out-dueled Boeing for Delta's 50-jet order in 2014 and is slated to begin delivering the first of 25 Airbus A350s later this year. They are intended to replace the Boeing 747 jumbos that once shuttled Delta's passengers to Asia. The airline had also ordered 25 of Airbus's A330neo, which has yet to fly, as a replacement for its oldest Boeing 767 planes.
"We continue to see excess capacity in wide-bodies as we look to the future for the industry as a whole," Bastian said. "We continue to look internally as to what that means for Delta," he said, adding that the airline is in discussions with planemakers. "You could anticipate some reductions, I think, broadly over the next several years," he said.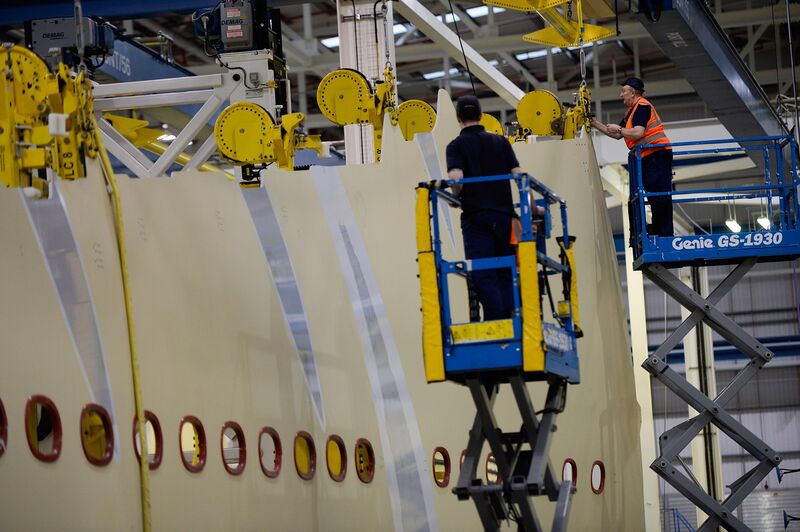 Although Delta only has outstanding wide-body orders with Airbus, shares of both duopolist planemakers reacted to Bastian's remarks. Boeing fell 1.4 percent to $176.05, the second-biggest slide among the 30 members of the Dow Jones Industrial Average. Airbus ended the day rising 0.9 percent, paring earlier gains of as much as 1.5 percent.
"It's not appropriate for us to comment on our customers' internal analyses," Mary Anne Greczyn, a spokeswoman for Airbus, said by email. "However, as a leading aircraft manufacturer, Airbus continually engages our customers around the world to help optimize their fleet needs."
U.S. Market
The prospect of Delta postponing or canceling the wide-body order adds to the uncertainty over Airbus's efforts to make inroads in the U.S. with its next-generation models. Such moves "would not be welcome by Airbus, especially from one of the Big Three U.S. airlines where its wide-body market penetration is not particularly strong," said aviation consultant Scott Hamilton. Delta's latest review doesn't necessarily mean Airbus will lose business, Hamilton said. The airline could defer orders to a schedule that better fits its demand forecast. It could also shift the mix to other models such as a lighter-weight regional A330 or narrow-body A321neo, Hamilton said. The carrier is thought to be considering issuing a request for proposals for single-aisle aircraft that would pit Boeing's 737 Max against Airbus's A320neo family, Hamilton said. Delta will also need a mid-market aircraft, such as the regional A330 or the so-called 797 under consideration at Boeing.
"At face value, the Delta statement might seem alarming," he said by email. "But as so often becomes the case, the 'review' may not be what it seems."
American, United
American is scheduled to take the first of 22 Airbus A350 XWBs next year, said Joshua Freed, a spokesman, who declined further comment. The planes were ordered by US Airways Group, which merged with American in 2013. American last year delayed delivery of the advanced Airbus jetliners by an average 26 months. United said last year it was reviewing its purchase of Airbus's A350-1000s. Sales of twin-aisle jets have slowed as the market absorbs a surplus after Boeing and Airbus boosted output at a 16 percent annual pace from 2011 through 2015, said Richard Aboulafia, an aerospace analyst at Teal Group. Late last year, Boeing announced a second cut to the production rate of its 777 jetliner amid a sales drought, while Airbus's A330neo orders have stalled, he said.
In December, Delta scrapped a longstanding order for 18 Boeing 787 Dreamliners that it inherited in its 2008 merger with Northwest Airlines. At the time, the airline said the decision was consistent with the need "to prudently address our wide-body aircraft needs."