Alberta is looking beyond its oil industry as it works to end years of red ink. Still, a recovery to balanced budgets is a long ways off. Canada's top oil-producing province on Thursday projected a narrower budget deficit next year, despite declining revenue from non-renewable resources. While it expects that revenue stream to rebound in future years, by the time the province returns to balanced budgets in six years, it will mark a smaller share of the government's revenue than historical averages.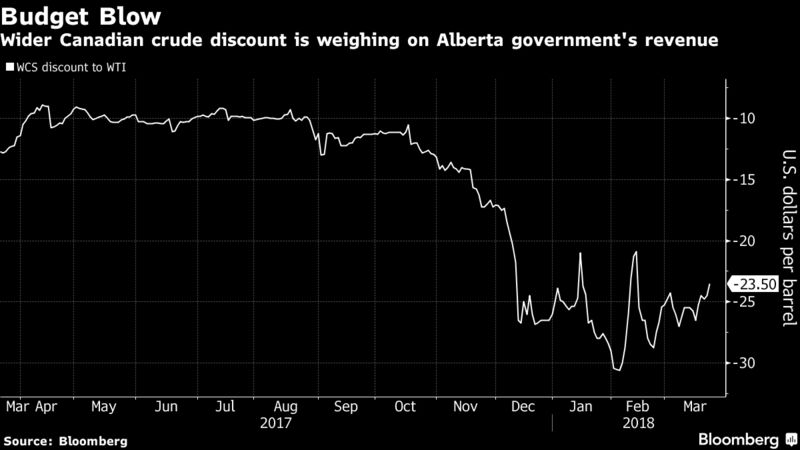 In its budget for the fiscal year ending in March 2019, Alberta doubled down on measures to wean the province's economy off its dependence on oil and gas extraction after the recent downturn in the sector plunged the government's finances into deficit. It's extending a 30 percent tax credit for equity investments in certain Alberta businesses and a 10 percent tax credit for some capital spending in manufacturing, processing and tourism infrastructure.
"For too long, Alberta has been locked in a cycle of boom-and-bust spending that tracked the price of non-renewable resource spending," Finance Minister Joe Ceci said in a prepared speech to the province's legislature. The new budget is built to increase entrepreneurs' access to capital, strengthen the technology sector and attract investment to the petrochemical industry, he said.
The government is pointing to growth in other parts of the economy as a sign that its efforts are gaining traction. Retail sales rose 7.5 percent last year, and manufacturing shipments increased 14 percent. Alberta led all provinces, with economic growth of 4.5 percent in 2017. The government is projecting 2.7 percent growth this year. Analysts surveyed by Bloomberg estimate 2.4 percent growth, second only to British Columbia.
Overall, the province projects its budget deficit will narrow to C$8.8 billion ($6.8 billion) in the fiscal year ending March 31, 2019. That's down from C$9.1 billion in the current fiscal year. It's also narrower than the C$9.7 billion the province estimated in its three-year plan released about a year ago. Those projections include a 16 percent drop in resources revenue to C$3.8 billion as Alberta's energy producers suffer from a shortage of pipeline space that has widened the discount for their crude compared to U.S. grades.
The government forecasts resource revenue will bounce back in the following year, but said that by the 2023-2024 fiscal year it will represent only 16 percent of total revenue. That's below the 23 percent average over the last two decades and less than half of a high of 37 percent in the fiscal year ended in 2006.
The government sees the budget coming into balance in the fiscal year ending in March 2024, almost a decade after the oil crash pushed it into deficit. By the time it reaches balance, the C$56 billion in net debt the province has accumulated will represent about 12 percent of Alberta's gross domestic product.
Other key budget details and projections released Thursday include:
Revenue will rise 2.1 percent to C$47.9 billion
Expenses will rise 0.5 percent to C$56.2 billion
The government is allocating C$500 million for risk adjustment
Revenue from personal income taxes will rise 4.9 percent to C$11.4 billion
Revenue from corporate income taxes will rise 18 percent to C$4.55 billion
Debt-servicing costs will rise 42 percent to C$1.92 billion
Key economic and energy-industry assumptions include:
The unemployment rate will drop 1 percentage point to 6.8 percent
West Texas Intermediate crude will average $59 a barrel
Western Canada Select crude will average C$46 a barrel
Raw bitumen production will rise 11 percent to 3.16 million barrels a day
Non-oil sands crude output will increase 2.7 percent to 461,000 barrels a day
AECO natural gas will average C$2 per gigajoule
Natural gas production will rise 3.1 percent to 4,500 billion cubic feet
Sources and photo-credits: Bloomberg