Should the U.S. pull out of the Iran accord and the price of crude spike higher, things could be very different for the dollar this time around. A rally toward $80 per barrel would boost the U.S. currency versus most of its peers — contrary to what usually occurs when crude prices increase, according to Deutsche Bank AG strategist Alan Ruskin. That's because an Iran-fueled rally would be a supply-side shock, a clear negative for risk assets versus the greenback.
"In the event of the re-imposition of U.S. sanctions, the lack of a substantial or immediate supply response from either the U.S. or Saudi Arabia means that little will stand in the way of crude oil prices approaching the $80/bbl mark," Ruskin wrote in a note. "The market is taking on board a view that the U.S. will have a large fiscal-inspired demand-side shock that will more than offset any negative oil supply-side shock, unlike much of the rest of the world, and the demand and supply side will provide a double whammy for U.S. inflation."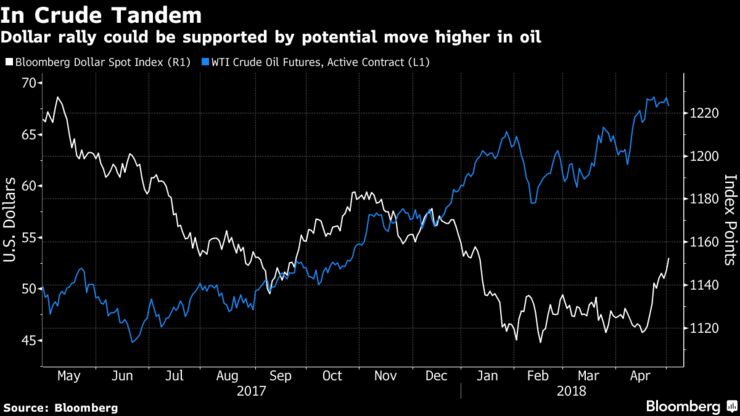 Rising oil prices of late have been the product of favorable demand dynamics, a harbinger of improving growth and therefore a positive for higher-beta currencies. A supply-side shock would have the opposite affect, while also pushing Treasury yields upward amid rising inflation pressures, further boosting the greenback, Ruskin said.
West Texas Intermediate crude has climbed 12 percent this year amid growing speculation that U.S. President Donald Trump might reimpose sanctions on Iran. On Monday, Israeli Prime Minister Benjamin Netanyahu said his country had documents that prove Iran had a program to build atomic weapons, furthering speculation that Trump is poised to withdraw from the 2015 accord that allowed Iran to resume selling oil on international markets.
WTI was trading around $67.62 per barrel Tuesday, while the Bloomberg Dollar Spot Index was up 0.4%, touching its highest since January. Ruskin also recommends shorting the Australian or New Zealand dollars versus the U.S. currency "in part because oil price hikes would likely have a negative correlation with most other commodity prices."
Sources and photo-credits: Bloomberg