While Puerto Rico's governor talks about using solar panels and batteries to rebuild a grid destroyed by Hurricane Maria, the island's importing more fossil fuel-powered generators to get the lights back on. This week, a ship carrying two diesel-fired turbines docked in San Juan. They were delivered on Saturday to the Palo Seco power plant, one of the few complexes still connected to working transmission lines capable of getting power to homes and businesses in the capital. By Oct. 25, they'll be burning about 85,000 gallons of diesel a day to generate electricity, said John Campion, chief executive officer of APR Energy. The Jacksonville, Florida-based company delivered the turbine rentals as part of a $35.1 million contract with the U.S. Army Corps of Engineers.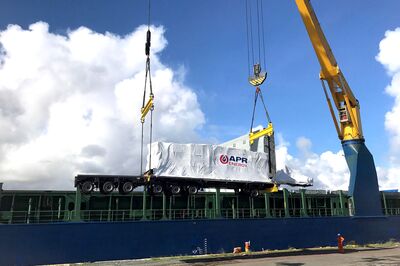 More than three weeks after Hurricane Maria struck Puerto Rico and laid waste to its power grid, 85 percent of the U.S. territory remains without power. And while solar installers are airlifting panels to the island, the diesel turbines highlight how debt-laden Puerto Rico is taking whatever it can get to bring the lights back on. Governor Ricardo Rossello has stressed the importance of federal aid in restoration efforts after President Donald Trump warned on Twitter Thursday that U.S. agencies can't stay on the island "forever."
The APR rentals will more than double generation at Palo Seco, where most units had already been decommissioned, to about 90 megawatts. That compares with the roughly 1,200 megawatts that San Juan uses on a typical day. They're expected to help with the constant transmission-line trips that Rossello has blamed for continual power failures triggering blackouts in San Juan seemingly daily.
The new units will be capable of burning diesel to deliver power at 18.15 cents a kilowatt-hour — and could do it for even less burning liquefied natural gas or liquefied petroleum gas, according to Campion. He said Rossello was there when the turbines arrived at Palo Seco Saturday. In a briefing shortly after, Rossello laid out a plan to restore 95 percent of the island's power by Dec. 25, the most aggressive timeline the government has given yet.
Previous estimates for restoration of the island's power ranged from six months to a year.
Sources: Bloomberg