Investors watching the selloff that enveloped Asian markets Wednesday saw a host of reasons, ranging from profit-taking to the continued drop in technology stocks. But one matter was prominent for some commentators: U.S. President Donald Trump's plan to formally declare Jerusalem as Israel's capital. Japan's Nikkei 225 Stock Average fell 2 percent for its worst day in more than eight months, extending declines as the yen gained after U.S. administration officials told reporters Tuesday evening in Washington — or late Wednesday morning in Tokyo — that Trump planned to announce the embassy move. The MSCI Inc. gauge of Asia-Pacific stocks fell for an eighth day, as markets from Hong Kong to South Korea saw losses of more than 1 percent.
Trump plans to make the decision official at 1 p.m. in the U.S. capital on Wednesday, directing the State Department to start the process of moving the U.S. embassy from Tel Aviv, a historic shift of U.S. policy that could inflame key allies and spark geopolitical tensions. Middle East and European leaders warned that it would undermine peace efforts and potentially spark protests across the region.
"It's all because of the Trump risk," said Seo Sang Young, global market strategist at Kiwoom Securities Co. in Seoul. The U.S. officials' announcement "sparked an outflow, pushing Nasdaq futures to fall further. Turkey's comment is also raising tensions."
Turkey's Response
Trump's plan to move the embassy is unlawful, Turkish Prime Minister Binali Yildirim said in televised remarks during a visit to Seoul. Turkish President Recep Tayyip Erdogan, a NATO ally, threatened on Tuesday to cut off ties with Israel if Trump goes forward with the move.
While Asian stock markets tumbled, the selloff in U.S. equity-index futures was less pronounced. E-mini futures on the S&P 500 Index dropped as much as 0.3 percent, reversing earlier gains after the U.S. announcement. Nasdaq 100 mini contracts slid 0.5 percent.
"This wasn't expected," Hajime Sakai, chief fund manager at Mito Securities Co. in Tokyo., said of the Jerusalem development. "It can't be good news for stocks. If U.S. shares extend declines following today's dip in Japan, equities may be in for a bit of a rough patch for a while. I don't see a lot of positives from here."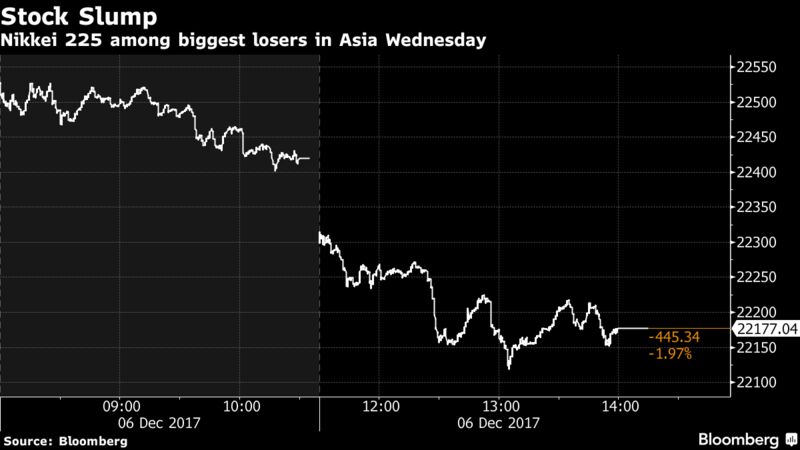 Strategists cited a number of other reasons for funds being taken off the table in Asia Wednesday, including worries that the pending U.S. tax cuts will prompt faster policy normalization from the Federal Reserve.
Here's what they said:
Ken Peng (Investment strategist at Citi Private Bank in Hong Kong)
"The slump in Asia stocks is triggered by a combination of reasons. First, profit-taking trades are putting strong pressures on the markets. This is especially the case in Hong Kong, where the equities are among the strongest in Asia this year."
"Also, the slump in tech and IT stocks in the U.S. is dragging stocks alike in Asia too. Tighter liquidity in China and tougher financial regulations are worrying investors as well. The concerns on geopolitical conflicts between the U.S. and North Korea are also weighing on the markets."
"The market is nervous but it hasn't reached a point that there's a sense of panic. If a sense of panic appears, I would say it would be a great buying opportunity, because the cycle of global economic recovery isn't over yet."
Winnie Chiu (Senior director at CA Indosuez Switzerland SA in Hong Kong)
"It is a no-brainer that there is some anxiety in the market, given how much the market has rallied year-to-date. I think this round of decline is mainly triggered by the tax reform in the U.S."
Some investors are concerned "the momentum of rate hikes in the U.S. may accelerate after the tax reform proposal"
"If the tax reform is passed, there will be a lot of capital repatriation from Asia and lead to a stronger dollar. For Asia, there will be capital outflow if the tax bill is passed"
Steven Ko (Fund manager at Rizal Commercial Banking Corp. in Manila)
"Sentiments have turned more cautious for risk assets primarily because of uncertainty over the passage of the U.S. tax reform and geopolitical risks related to North Korea"
"Uncertainty related to next year's hike in U.S. interest rates is also affecting sentiments"
Ayako Sera (Market strategist with Sumitomo Mitsui Trust Bank Ltd. in Tokyo)
"The coupling of political uncertainties in America and concerns about emerging markets on the back of expected U.S. rate hike might have led to some of the selloff we're seeing"
"This isn't panic selling — if it was, we would see markets dropping by at least 5 percent"
"This instability in markets is likely to continue at least until holidays are over"
Michael McCarthy (Chief market strategist at CMC Markets Asia Pacific Pty. in Sydney)
"There are some concerns that despite the positive news in U.S. stimulus in the form of tax reform, U.S. markets have not responded and, in fact, have reversed"
"There's some nervousness and some investors are starting to batten down the hatches and lock in some of the gains they've seen over the few months"
Masaaki Yamaguchi (Equity market strategist at Nomura Holdings Inc.)
"Risks surrounding the Jerusalem issues are prompting risk-off price actions in the currency market, strengthening the yen"
Norihiro Fujito (Senior strategist at Mitsubishi UFJ Morgan Stanley Securities in Tokyo)
"All previous U.S. presidents — Clinton, Bush, Obama — gave this decision a pass because they knew that neither the Palestinians or Jerusalem would back down on this issue. The kept pushing back on implementation because it could evolve into big conflict when enforced."
"This greatly increases geopolitical risks in the Middle East. If people start worrying about a war, it will then, of course, also have an impact on oil prices."
Sources and photo-credits: Bloomberg with assistance by Ian C Sayson, Fox Hu, Matthew Burgess, Kana Nishizawa, Jeanny Yu, Keiko Ujikane, Tian Chen, and Vivek Shankar