Egyptian stocks rallied a seventh day on bets an unprecedented decision to float the pound will help cement a $12 billion loan from the International Monetary Fund. The currency weakened.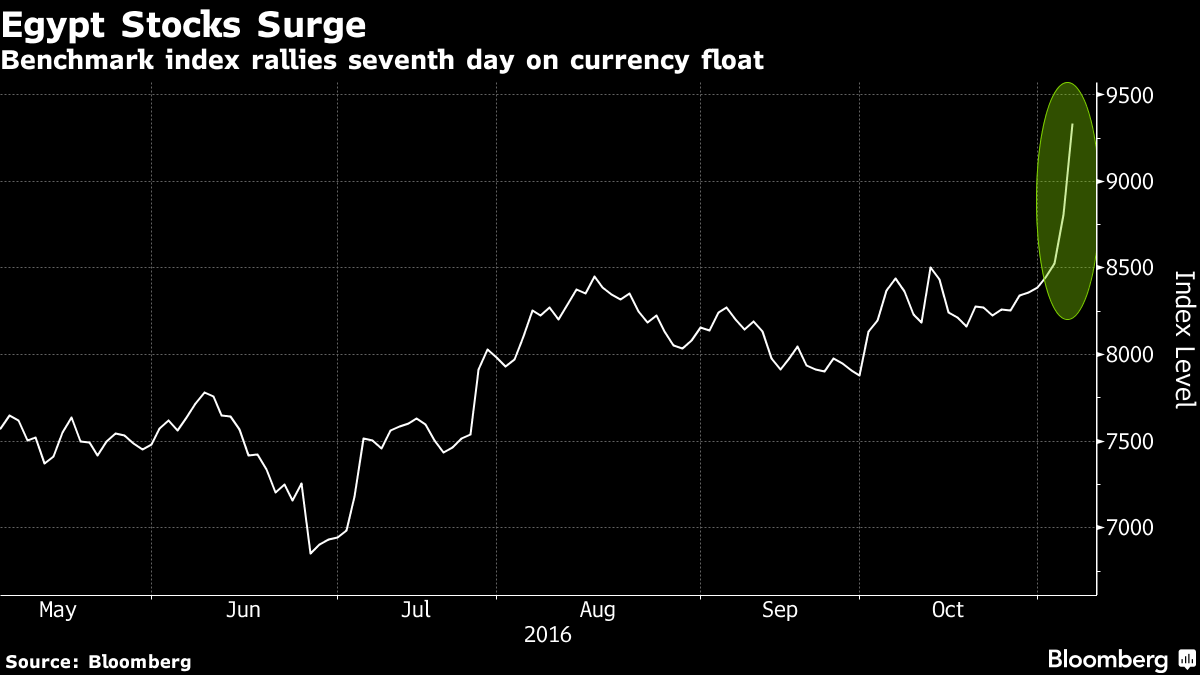 The EGX 30 Index surged 6.1 percent, extending the longest winning streak since March. Members of the benchmark gauge traded at the most expensive in almost 17 months based on future earnings, as a technical indicator rose further into overbought territory. Stocks in Dubai fell 0.6 percent, while those in Saudi Arabia added 0.8 percent.
Since it was floated on Thursday as part of efforts to reform one of Africa's biggest economies and seal the IMF lifeline, the pound has slumped about 45 percent to 16.15 per dollar at 4:35 p.m. in Cairo, according to quotes from National Bank of Egypt. Egyptian officials say the loan will help restore investor confidence, which never fully recovered following a series of uprisings that toppled two leaders in less than six years.
"No one expected such an aggressive and positive move" from the central bank, said Mohamed Ebeid, the head of securities brokerage at EFG-Hermes Holding, a Cairo-based investment bank. "Sentiment and outlook is positive. We're far from the market's peak."
Commercial International Bank Egypt SAE was the biggest contributor to gains, climbing 7.3 percent. Talaat Moustafa Group rallied 5.5 percent and EFG-Hermes rose 4.9 percent. The price-to-earnings ratio of the EGX's 30 members over the next 12 months increased to 10.8, the highest level since June 2015, while the gauge's 14-day relative strength index advanced to 82, above a threshold that some analysts consider a sign a measure has risen too quickly.
Dubai Declines
Stocks in Dubai and Qatar followed emerging markets lower as investors weighed the prospect of Donald Trump winning the U.S. presidential election. The DFM General Index closed at the weakest in three weeks and Qatar's QE Index slipped 0.1 percent. Abu Dhabi's ADX General Index erased earlier declines to finish 0.2 percent higher.
As election day approaches in the U.S., the lack of a clear leader in polls has raised the specter of protracted battles in swing states and market disruption if Trump prevails. The Republican candidate has pledged to review trade deals and crack down on immigration, which are seen as negative for several developing economies. The MSCI Emerging Markets Index of equities fell for a fourth day on Friday.
"In the short-term, a Trump victory will likely be negative for emerging markets," said Mohamad Al Hajj, a Dubai-based equity strategist for the Middle East and North Africa at EFG-Hermes U.A.E. Ltd. If he wins, it will probably lead "to outflows from global emerging-market funds, which in turn could impact benchmark countries in the Middle East, such as the United Arab Emirates and Qatar," he said.
Oman's MSM 30 Index added 0.1 percent, its first gain in 12 days. Kuwait's SE Price Index rose 0.6 percent and Bahrain's BB All Share Index closed 0.4 percent higher.
Saudi Gains
Saudi Arabia's Tadawul All Share Index advanced a second day, rising to 6,106.31. The benchmark gauge has been the best performer in the world after Venezuela's since the kingdom sold $17.5 billion in dollar bonds last month and the government said it would pay delayed bills to contractors.
The nation's stocks are "maintaining the momentum, and might hold levels just above 6,000 on the index," said Joice Mathew, the head of equity research at United Securities in Muscat, Oman. Some investors may book profits at about 6,150 to 6,200, she said.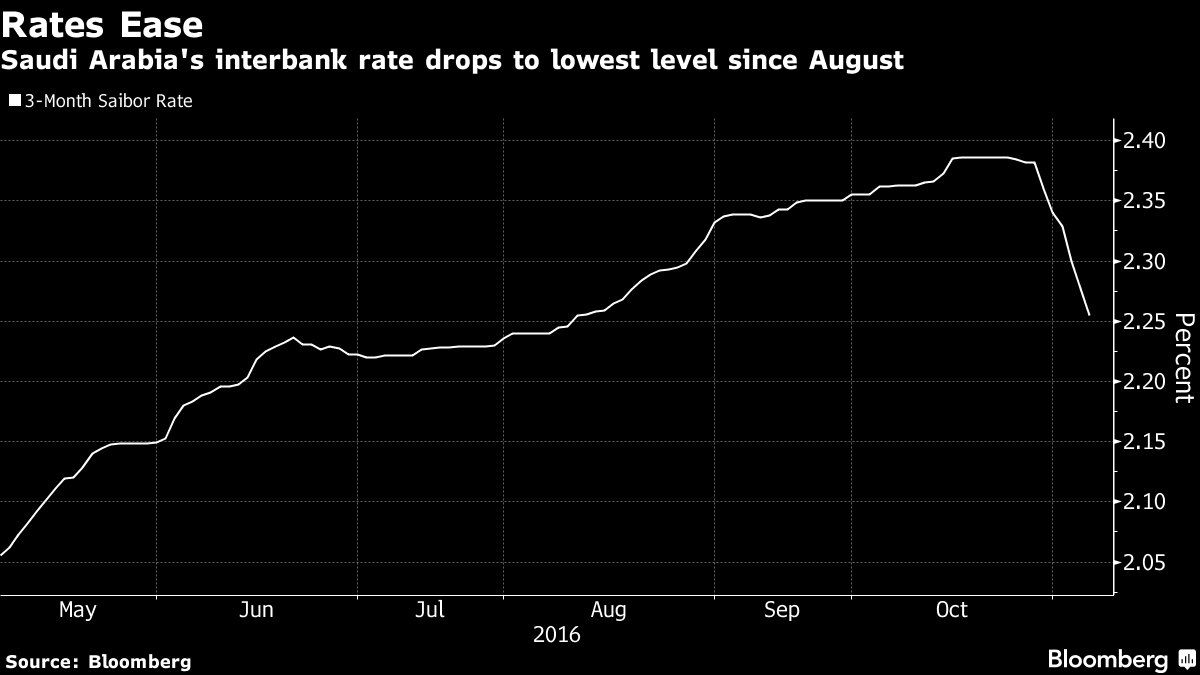 The amount Saudi banks charge to lend one another dropped a sixth day, extending the longest streak of declines in 20 months and signalling that a liquidity squeeze across the country's financial system is continuing to ease. Al Rajhi Bank, which has the largest weighting on the main stock index, climbed 1.1 percent in a 15th day of gains, the longest run on record.
About 6 percent of the Tadawul members were trading with a 14-day relative strength index above 70, indicating they may be overbought. That's the highest since July, data compiled by Bloomberg show. Source: Bloomberg