---
German Police Investigate Probable Terror Attack in Berlin.

German authorities began sifting for clues into what they called a "probable terrorist attack" on a Berlin Christmas market that killed 12 people and injured 48 others.
12 people killed and 48 injured at Christmas market in capital

Suspected driver arrested near scene; passenger among the dead
Police were questioning a suspect arrested near the scene whom they believe to be the driver of a truck that rammed into crowds at the market in the heart of west Berlin Monday evening. Germany's federal prosecutor, which steps in on terror cases or other major crimes, opened an investigation and asked the federal criminal police to handle the probe. Chancellor Angela Merkel will speak about the incident later Tuesday, her press office said.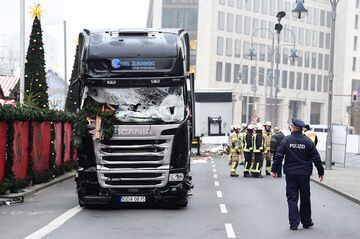 German media including Die Welt newspaper reported that the driver was a refugee from Pakistan. Authorities, who declined to provide information on the suspect's identity, said they would update the public on their initial findings at 1 p.m. local time on Tuesday.
The incident is reminiscent of an attack in the French city of Nice in July, when more than 80 died after a truck plowed through late-night crowds celebrating Bastille Day. The deaths in the German capital threaten to further undermine Merkel's domestic political standing going into an election year. Her open-door refugee policy of last year polarized voters and fed support for the anti-immigration Alternative for Germany party. "We mourn for the dead and hope that the many injured can be helped," Steffen Seibert, Merkel's chief spokesman, said in a Twitter statement. He added that the chancellor was in contact with her interior minister after hearing of the incident.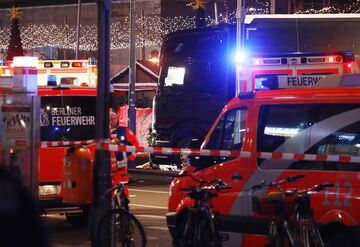 Berlin police said the suspect was arrested a few hundred meters away from the market after fleeing the scene. A passenger in the truck, which had Polish license plates, was among the dead. Images from the scene showed a dark Scania-brand truck with a Polish license plate, its windscreen smashed and its long trailer parked across the street where it had come to a standstill in front of the luxury Waldorf-Astoria hotel.
Politicians in the capital were quick to express their shock. Thomas Oppermann, parliamentary leader of the Social Democratic Party, which is part of Merkel's governing coalition, said he was "horrified" and called the incident a deliberate attack. Julia Kloeckner, a vice chairwoman of Merkel's Christian Democratic Union, told Bild newspaper that it was a "barbaric" act, adding that "terrorists are cowards."
Sources: QGN, Reuters, Bloomberg.