Britain is so cold it's keeping more of the natural gas it produces and imports for itself. Over the past month, U.K. gas exports have repeatedly plumbed the lowest levels in at least a decade for this time of the year. Usually, with winter past and heating demand subsiding, Britain would have ample supplies to ship to the continent. Instead, cooler weather and outages at fields in the North Sea are supporting prices in Britain relative to rates on the continent. That's made shipping the fuel abroad unattractive for now.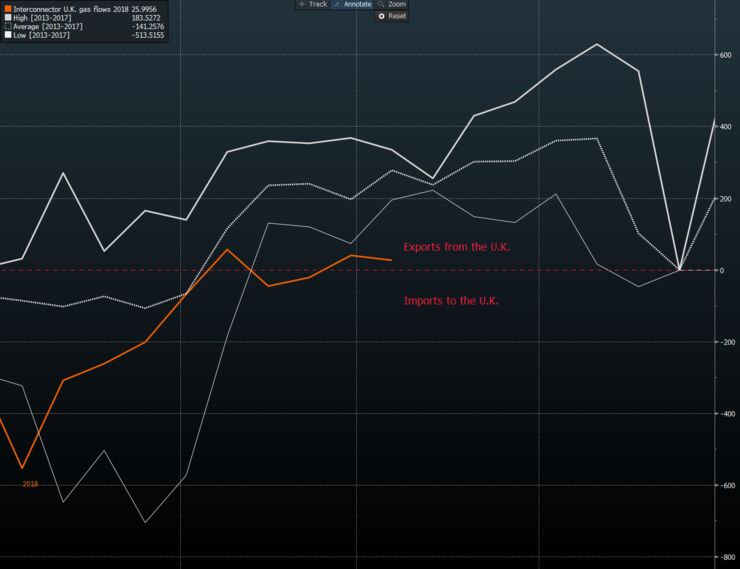 The trend is visible by looking at pipeline flows from the Interconnector link with Belgium, charted in the graph above. With less fuel coming from Britain and storage sites depleted from the winter, continental Europe is increasingly reliant on flows from Russia and Norway. The region is also drawing in more tankers full of liquefied natural gas. A cold snap across the U.K. prompted homeowners to switch heating systems back on in the past week. That boosted consumption at a time when traders are usually starting to refill storage sites — one of the main outlets for supply during the summer months. Gas prices are firm even though Britain's biggest energy supplier, Centrica Plc, is closing its Rough gas storage site.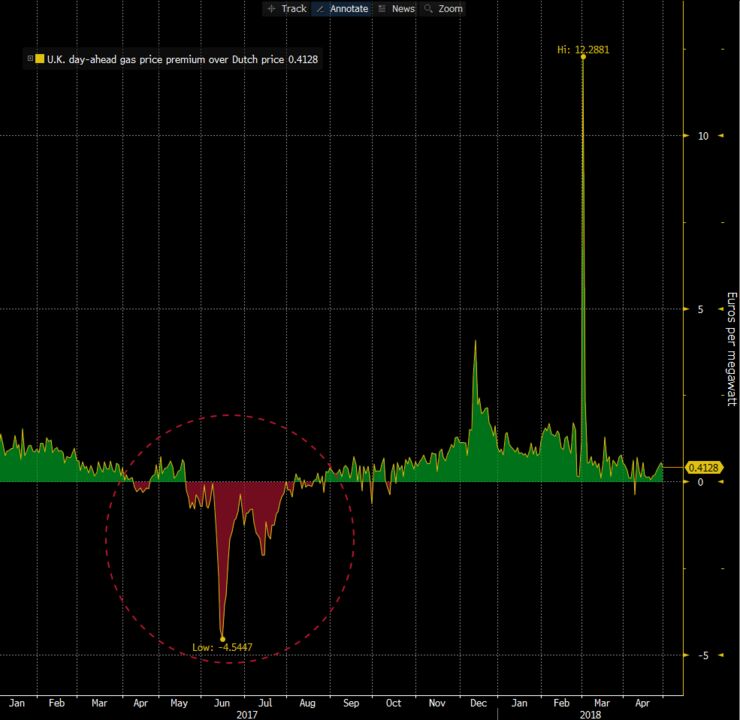 The chart above shows the difference between gas prices at the U.K. National Balancing Point and the Dutch Title Transfer Facility, with the green portion showing the premium for supplies in Britain."The flows are driven almost entirely by the NBP-TTF spread, and the spread is high at the moment," said Johana Typoltova, a European gas analyst at Bloomberg New Energy Finance. "We see 35 million cubic meters a day lost from available gas for exports to the continent."
The Interconnector pipeline between Bacton in the U.K. and Zeebrugge in Belgium can operate in both directions. Britain typically exports the fuel in the summer as numerous storage sites across Europe fill up.
What may also bear down on exports is the planned maintenance at the Interconnector pipeline in June and outages in the U.K. continental shelf and in Norway — the main sources of supply for the nation. These outages "suggest a bit less gas around, so the U.K. needs to price to get its share of what Norwegian gas is coming to market," Sikorski said. "When demand fades, spreads should encourage greater exports."
Sources and photo-credits: Bloomberg