At the Middle East's oldest oil refinery, giant, yellow-brick silos that stored Iranian crude and fuel products are mottled by bullet marks from the war with Iraq in the 1980s. One has a large puncture from a tank shell.  The conflict is now economic, but this area of southwest Iran near the Persian Gulf is strategically important again. U.S. President Donald Trump's talk of jettisoning the nuclear deal that was supposed to plug the Islamic Republic back into the global marketplace has given fresh urgency to plans to transform a region as rich in petroleum reserves as it is in battle scars.
With the help of China, the aim is turn the century-old Abadan refinery from a millstone costing the government up to $700 million a year into a cash cow that can meet Iran's domestic demand for better quality fuel rather than relying on imports.  "With Trump's stance, the Iranian government has to put together its resources and define a national, macro-energy policy and this is being felt now more than ever," said Mahmoud Khaghani, former head of Caspian oil and gas affairs at Iran's Oil Ministry. "The investment is very crucial for Abadan and more generally it's very important for Iran's economy."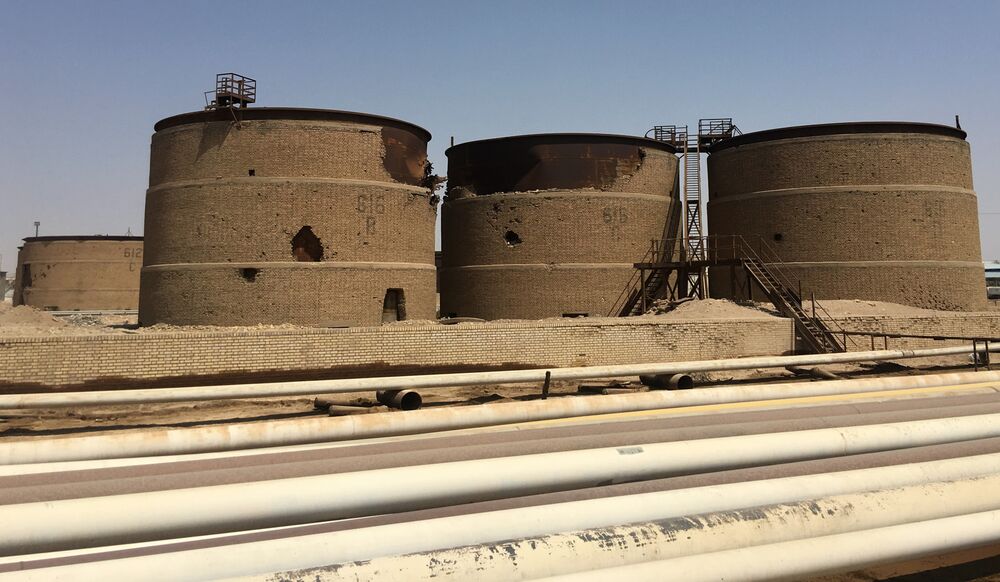 China's Sinopec signed a $2.7 billion deal with the National Iranian Oil Co. in January to build units producing high-grade gasoline. Japan's Marubeni Energy and JGC Corp. are in advanced talks over a separate deal to get involved, said Esfandyar Daemolzekr, head of the refinery. Omani, Qatari and Turkish companies are also discussing with local officials other investments in oil and gas projects.
"This is the biggest foreign investment to start after the sanctions were removed," Daemolzekr said. "The entire refinery will be renewed within the next four to five years."
On an organized visit for reporters in September, shipping containers lined an area at Abadan where a maze of pipes has been uprooted and cleared to make space for the Chinese engineers to lay the groundwork.
Iran imports an average 10 million liters of gasoline a day to meet demand and wants to dramatically cut the unrefined, low-quality products that Abadan has been churning-out for decades. It's a trend mirrored by Gulf countries, including rival Saudi Arabia, where being long on crude and short on refined products have hampered profit margins. "Iran is following the lead of other regional players by trying to extract as much value from their hydrocarbon resources as possible," said John Stewart, principal analyst at energy consultants Wood Mackenzie. "It's the quality of the fuels produced that will be the noticeable difference."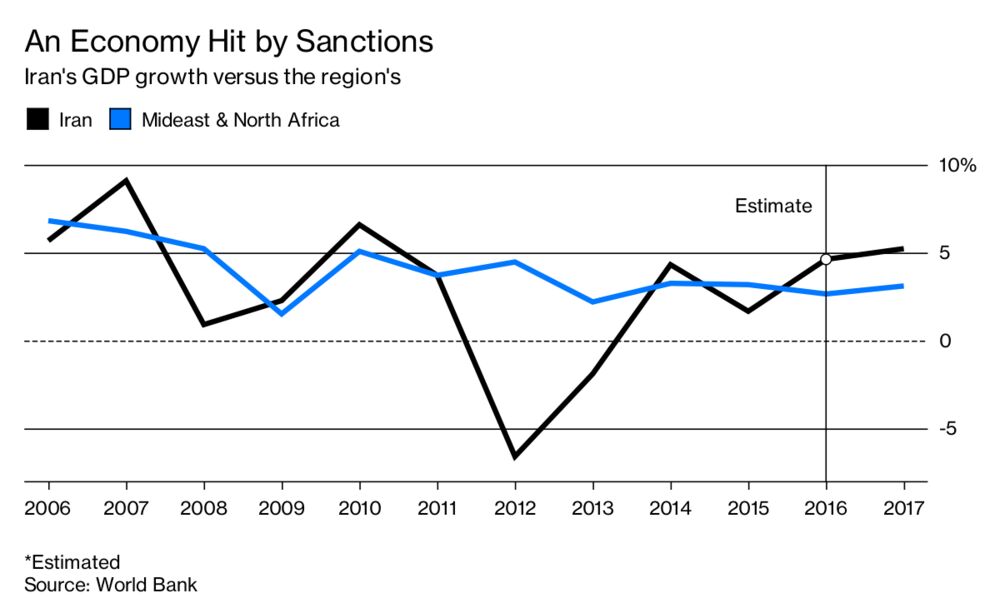 Iranian oil production has surged to its highest since 2010 after some of the sanctions were lifted following the rapprochement with the West. An earthquake this month that left more than 500 people dead didn't damage energy facilities, the Oil Ministry said. But the country is not yet producing enough quality engine fuel. President Hassan Rouhani's government has blamed his predecessor, Mahmoud Ahmadinejad, for overseeing a period of pumping out and importing cheap, polluting gasoline during the country's 10 years of oil sanctions and botching the country's plans to become self-sufficient. With the embargo lifted in January 2016, Rouhani sought to expedite a development of the Persian Gulf Star Refinery being built by Khatam-al Anbiya, a construction conglomerate managed by Iran's Revolutionary Guards, as well as Abadan's renewal.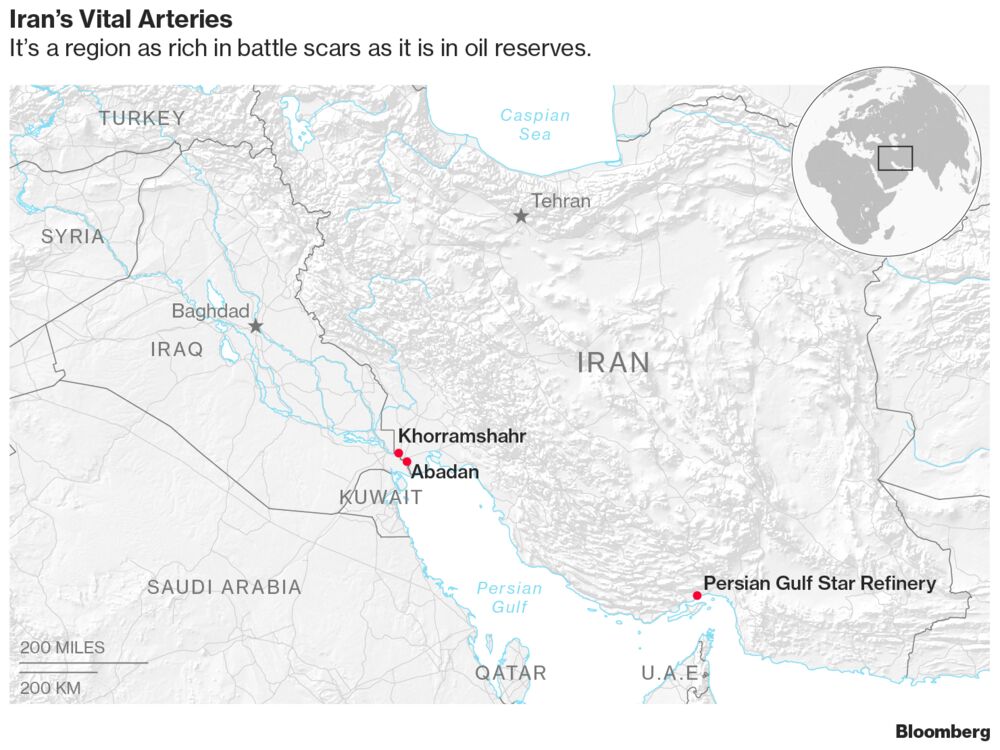 The refinery has a rich history. It was completed by BP Plc's precursor, the Anglo-Persian Oil Company, in 1912 and became the provider of fuel for the Royal Navy, then the world's most powerful fleet. Taken over by the Iranian government in 1951, Abadan became the focal point of U.S. and British-backed attempts to regain control of the oil industry culminating in a coup two years later. It was a key driver of the economy, refining 650,000 barrels a day.
Then, just after foreign contractors were kicked out following the 1979 Islamic Revolution, Iraq's invasion triggered one of the longest conflicts of the 20th century. The plant was heavily targeted while the nearby port of Khorramshahr was devastated. Abadan currently refines 380,000 barrels of crude oil a day and 40 percent of that becomes heavy, poor-quality fuel oil known as mazut. The plan is to eventually reach 540,000 barrels, abandon mazut completely and reverse Abadan's fortunes.
Abdollah Nourani remembers the heyday. Squinting, he trains his good eye on grainy photos of himself as a young army officer walking alongside Iran's future supreme leader in Khorramshahr. His right eye blinded by shrapnel during the Iraq war, Nourani now runs a traditional guest house of "mozif" huts made from local water reeds. "You see two very important economic arteries for the country — the oil refinery and the port and shipping route," Nourani said. "But unfortunately we still haven't lifted either to the level they were 40 years ago."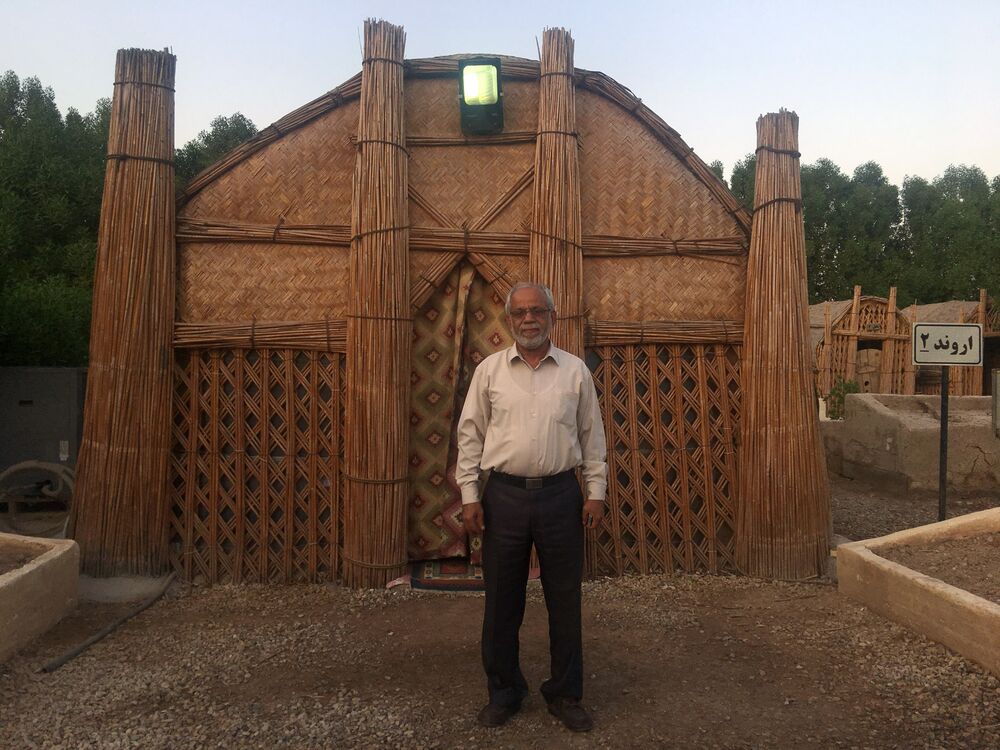 Recovery has been slow. While officials are keen to promote and advertise the area's economic potential, others are giving up on their efforts to make Khorramshahr anything more than a living monument to the Iraq war. Javer Nahiyeh, a petrochemicals engineer by training who has spent decades working in Kuwait, the United Arab Emirates and Malaysia, returned to Khorramshahr four years ago with a plan to help regenerate his boyhood home by building a landmark shopping mall with $7 million of his own money.
Nahiyeh says Khorramshahr, with its port and proximity to export markets has the potential to be a "bridge" between Asia and the Mediterranean. But he now wants to leave. "At one point, this city supported Tehran economically," Nahiyeh said in an interview in a glass office by the entrance of his cruise liner-shaped shopping arcade. "After the war, nothing positive in terms of development was happening."
Much of what the British and American contractors built and continued to develop before the revolution remains at Abadan. Antique German-made telephones with rotary dials still serve some control rooms and the emblem of English crane maker Herbert Morris Ltd is stamped on steel beams. A short drive from the refinery, a former hotel that overlooks a man-made lake built to entertain British and Iranian oil workers now houses government bureaucrats and economists who are trying to draw money into Khorramshahr and Abadan.
The Abadan revamp will be the centerpiece of the Arvand Free Trade Zone, one of Iran's six designated tax-free areas to attract investment. Mahmood Torkzadeh, deputy for investment and business development at the Arvand Free Zone Organization, said he's speaking to foreign investors every day. "We're building a city to house Chinese contractors and I'm talking to Polish, German and other European companies," he said. "We're still some distance from the Abadan that was known for being Iran's leading modern town, but I've sensed the change over the past few years."
Sources and photo-credits: Bloomberg