Last month's plunge in crude to $30 a barrel proved too tempting for China to turn down even as its economy lurches toward the weakest growth in a generation.
Chinese companies booked tankers to load 1.38 million barrels of crude daily from West African in February, the most since at least 2011, data from the physical shipping market collated by Bloomberg show. It also increased its purchases from producers in the North Sea and Russia. The voyages are all thousands of miles farther than the Middle East, which supplies most to the Asian country.
"This surge in Chinese demand for crude goes against recent macroeconomic news coming out of the country but is very much in line with their past behaviour in low flat price environments," Olivier Jakob, managing director of Petromatrix GmbH, said by phone. "Whenever there has been a strong retracement in prices China has loaded up their reserves."
Oil has plunged this year amid signs that China's economy is slowing. The nation's growth will slow to 6.5 percent this year, the weakest since 1990, according to forecasts and government data compiled by Bloomberg. Monday's PMI data showed a drop to a three-year low, with the official factory gauge signaling contraction for a record sixth month. Brent crude traded as low as $27.10 a barrel last month, the lowest since 2003. It has since recovered to trade at about $34 a barrel.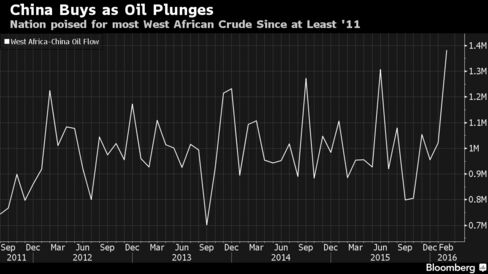 There are several reasons why the flow may not be as bullish for the oil market as it might first appear. First, the cargoes were boosted by a trade deal in December between the Angolan government and Sinochem Group, which will load eight cargoes this month, the most since Bloomberg began compiling data. China will add storage capacity of 145 million barrels this year, according to the International Energy Agency, meaning imports don't necessarily equate to demand.
China shipped four vessels of North Sea crude in January, compared with nine in the whole of 2015, ship-tracking data compiled by Bloomberg show. In addition to three supertankers of Forties crude, the country also bought 1 million barrels of Norwegian Ekofisk crude, the first time it has done so in seven months.
Record Imports
This month's shipments are part of a bigger trend too. China imported a record volume of crude in December as the nation's refineries boost runs to meet growing demand for gasoline in the world's biggest automobile market and naphtha, an oil derivative used in the petrochemicals industry.
"China has always been a key buyer of Angola crude and it has stepped up purchases from the West African nation following the signing of a deal with Sinochem in December," Ehsan Ul-Haq, senior analyst at KBC Energy, said by e-mail. "Lower freight rates along with higher Chinese demand ahead of the Lunar New Year celebrations have buoyed the Angolan market."
Shipping rates for very large crude carriers to haul oil from West Africa to China dropped to $24.44 a metric ton last week, the lowest since October.
Unipec is set to import 28 of the 42 cargoes bound for China in February, the company's highest monthly volume since June last year, the data compiled by Bloomberg show. The state company has also chartered two vessels to take Russian Urals crude to China this month.
Exports of West African crude to all Asian countries, including India, Taiwan and Indonesia, are set to rise to 2.14 million barrels a day in February. That compares with 1.95 million in January and will be the highest in four years, Bloomberg data show. Bloomberg