China exported a record amount of diesel and gasoline last year amid an expansion in refining, a trend that will likely continue in 2018.Outbound diesel shipments increased 11.6 percent in 2017 to average 351,335 barrels a day, according to Bloomberg calculations based on data posted Tuesday on the General Administration of Customs website. Gasoline exports climbed 8.5 percent to about 240,434 barrels a day.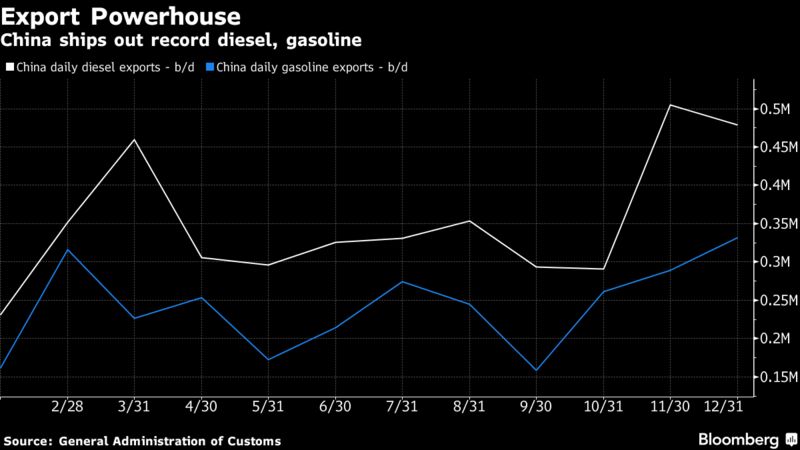 Refining capacity continues to expand at the world's second-largest oil consumer, producing a record amount of fuels that exceed the nation's demand. Exports of diesel — also known as gasoil — are expected to soar 47 percent to 23.8 million tons in 2018 from a year earlier, according to an annual research report by China National Petroleum Corp. "China's fuel supply swelled last year with new refining units and higher output from independent refiners," Li Li, a research director with ICIS China, said before the data were released. "With the quite generous export quotas for this year, outbound shipments will likely jump further."
The Ministry of Commerce awarded the first batch of fuel export quotas totaling 16.24 million tons under the general trade system to Chinese state refiners for 2018, according to officials at firms that received notices and who asked not to be identified because of internal policy. China's net oil-product exports — a measure that strips out imports — may climb about 31 percent to 46.8 million metric tons in 2018, the CNPC report said earlier this month. Shipments rose about 7 percent in 2017. The nation's diesel exports were at 1.99 million metric tons in December, bringing the year's total to 17.19 million tons. Gasoline shipments to overseas markets were record 1.23 million tons last month, bringing the year's total to 10.51 million tons.
Sources and Photo-credits: Bloomberg with assistance by Jing Yang