The world's worst polluter is leading the clean energy revolution, according to the International Energy Agency. China will account for a third of new wind and solar power installations and 40 percent of electric vehicle investments through 2040, the Paris-based agency said Tuesday in its World Energy Outlook. Meanwhile, the country's coal use peaked four years ago and it will cede its role as the driver of global oil demand to India after 2025.
Underscoring the shift is a maturing economy that is moving away from energy-intensive industry and government policies aimed at cleaning up air pollution that causes almost 2 million premature deaths a year, the agency said in the report. Falling costs of renewables also play a role, as solar is expected to become China's cheapest source of new electricity additions, surpassing natural gas by 2020 and coal by 2030.
"China is entering a new phase in its development, with the emphasis in energy policy now firmly on electricity, natural gas and cleaner, high-efficiency and digital technologies," the report said. "China's choices will play a huge role in determining global trends, and could spark a faster clean energy transition."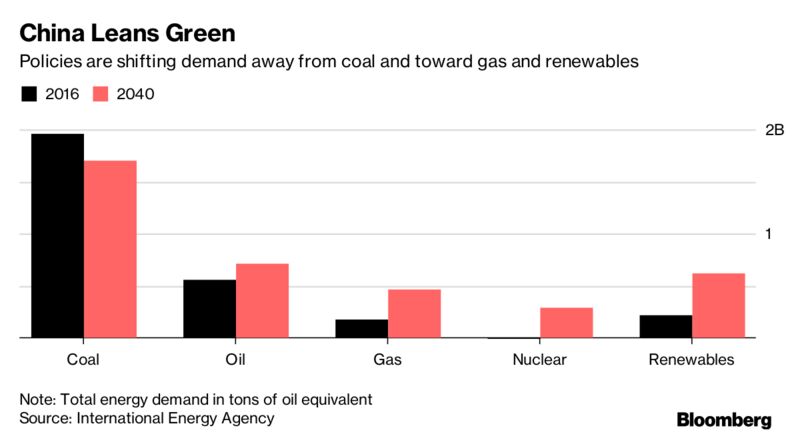 Until recently, China's export-oriented economy demanded a coal- and oil-intense economy that over the past 15 years helped bring modern fuels to 260 million people who had been relying on burning wood and other biofuels for heat and cooking. That economic development brought with it a legacy of environmental issues, as only 2 percent of China's population breathes air that meets World Health Organization particulate guidelines.
New government policies aiming to reverse poor air quality are proving to be a boon for natural gas, the most environmentally benign of fossil fuels, and renewables. Natural gas use, which was about 210 billion cubic meters last year, is projected to grow by 400 billion by 2040. China's imports will be second to only the European Union, making it a lynchpin of global trade.
China is already a leader in renewables, ranked first in the world by installed capacity of wind, solar and hydropower. Half of all additions to its electricity generating capacity since 2013 have been renewables or nuclear. By 2040, the IEA sees renewables accounting for 40 percent of total power generation. Coal, which contributes about 67 percent of generation now, will fall to 40 percent over that period.
"The power supply in China undergoes a transformation, with renewables accounting for over three-quarters of all capacity additions to 2040," the agency said. "Wind and solar PV lead the way, making up about two-thirds of total additions combined."
The pace of China's economic transition, and therefore its energy transformation, will be vital to achieving global climate goals, according to the agency. If China takes just a decade longer than expected to transition to its cleaner path, coal and oil demand would rise further and carbon emissions through 2040 would increase by 2.7 billion tons, an amount that would require growing 70 billion tree seedlings for a decade to offset. Meanwhile, if it takes a decade less than expected for China's economy to transition, it would wipe out about 5.3 billion tons of carbon emissions.
Sources and Photo-credits: Bloomberg