China showed support during the National People's Congress this week for almost all forms of energy — even coal, it's unloved, biggest source of power. Natural gas, nuclear, wind and hydropower all received boosts as leaders pledged to follow President Xi Jinping's orders to clean up the nation's polluted air. Premier Li Keqiang said the world's largest energy user would continue "defending the blue sky" in a government work report to the congress on March 5, a signal that the priority is to continue along the clean-air path set out in earlier years, according to analysts at Credit Suisse Group AG. Some of the other highlights in speeches and announcements around the annual gathering include:
It's loving gas
China's leaders put to rest any fears that the past winter's natural gas shortages might discourage efforts to switch some users from coal to the cleaner-burning fuel. The country aims to raise its share of the energy mix to 7.5 percent, while reducing coal's to 59 percent, the National Energy Administration said in its annual guidance paper March 7.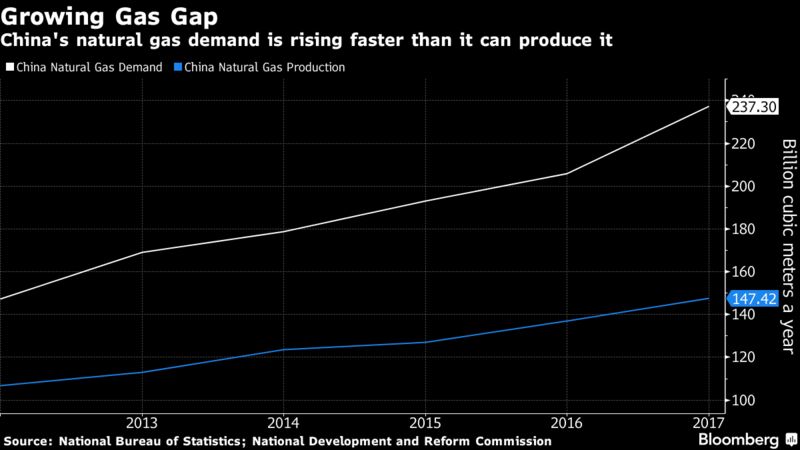 The country's biggest supplier, China National Petroleum Corp., lobbied for lower taxes on gas imports, reformed pricing mechanisms for gas sold to homes and businesses, and expanded storage capacity to help meet peak winter demand. CNPC Chairman Wang Yilin sees gas use growing as much as 16 percent this year, according to domestic media outlet Jiemian. That's a more bullish outlook than the top economic planner National Development & Reform Commission, which said Friday it sees demand expanding 10 percent this year.
The NDRC also said the country would take a multi-pronged approach to increasing gas supply, including signing long-term deals with Russia, as well as other Central Asian and Pacific countries, to secure imports and developing more unconventional sources such as tight gas, shale and coal gas. Supplies from Russia are set to start Oct. 2019, CNPC's Wang said.
But can't quit coal
China mines and burns about half the world's coal, so it can't totally ditch it. While the government plans to abandon 4 gigawatts of coal-fired capacity, the NEA said that large-scale coal-fired collective heating supply will be the primary source of warmth in the northern part of the country, some of which suffered the worst of last winter's heating crunch. While the government is standing by its commitment to use more gas, it said that conversion projects should be planned only if there's a guaranteed supply of the fuel.
"This means that new installations of clean coal-fired units are still welcomed since natural gas is still in shortage," analysts at China International Capital Corp. wrote in a research note. And the nation's plans to cut 150 million tons of coal production capacity this year shouldn't be interpreted as a turn away from the fuel, said Ling Wen, general manager of China Energy Investment Corp., the newly-formed world's biggest power company, according to a report from China Mining News. Rather than abandon it, China needs to push for cleaner and higher-efficiency use of the fuel, Ling said.
Wind, solar and hydro
The government gave permission to build new wind turbines in three provinces, lifting restrictions in place last year because they were producing more power than the grid could absorb. It's also prioritizing the development of so-called distributed wind and solar projects, where the panels and turbines are built near the end-user. "China's clean-energy power companies, including solar, nuclear and wind stand to gain as the 13th National People's Congress reaffirms the country's commitment to a cleaner environment," said Bloomberg Intelligence analyst Miranda Wang.
Newly installed wind power capacity in 2018 will rise to 20 gigawatts, while construction will begin on new projects with combined capacity of 25 gigawatts, the NEA said.
Grids and tariff relief
The NEA said China will continue to develop its power trading market for the medium- and long-term, speed up market-based electricity trading and expand direct trading between users and power generators. "Power reform, especially of the grid companies, is the focus of 2018," CICC analysts wrote. "We expect tariff cuts through reducing grid charges will be another focus."
Nuclear power industry reboots
China once again aims to start construction of as many as eight nuclear reactors this year, the NEA said. The world's biggest energy user had a similar goal last year, but didn't begin building any units and hasn't approved new reactors since 2015, not counting demonstration projects.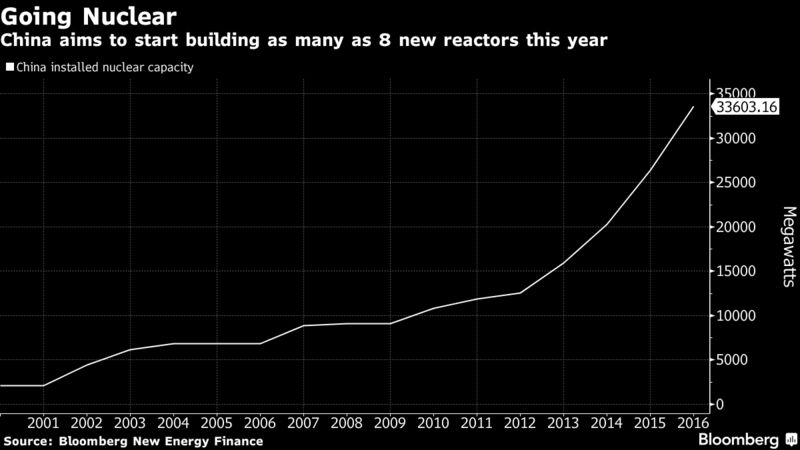 Attention is now focused on the startup of the Sanmen No. 1, which uses Westinghouse Electric Co.'s AP1000 design, and the Areva SA-designed EPR Taishan No. 1, which have both been delayed for years and are awaiting regulatory approval to begin fuel loading this year. "Until some of the technology doubts are cleared, China may be reluctant to start building," Stephen Thomas, emeritus professor of energy policy at the University of Greenwich, said by email.
Sources and Photo-credits: Bloomberg with assistance by Jing Yang, Sarah Chen, and Feifei Shen