China will send inspection teams to coal-producing regions and ports to target "malicious" hoarding and "price monopoly" as regulators seek to ensure stable prices during peak winter demand. Regulators will closely watch price levels and stockpile changes to gauge potential manipulation by market participants, including producers, that are aimed at boosting prices, the National Development and Reform Commission said Friday. Violators will be severely punished, it said.
China is seeking to ensure stable energy supplies from coal to natural gas this winter when households rely on the fuels for heating and regulators have warned surging gas use coupled with insufficient infrastructure may create severe supply shortfalls as weather turns colder. The NDRC called for speeding the approval of advanced coal capacity projects earlier this month.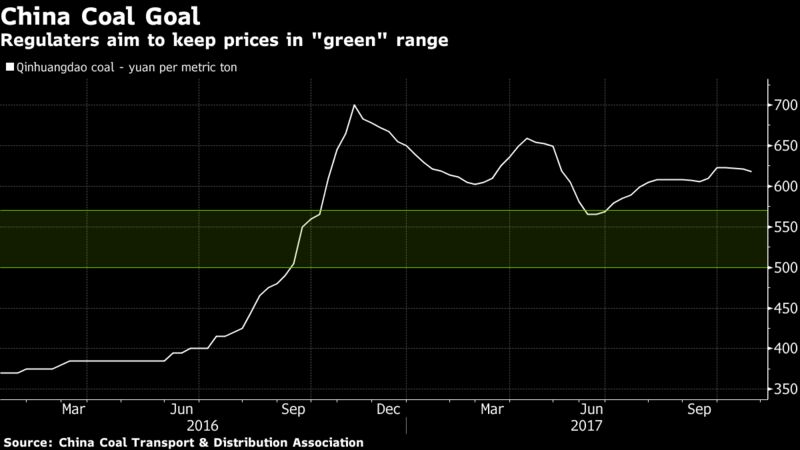 "Government efforts to curb coal prices will likely work," Tian Miao, a senior analyst at Sun Hung Kai Financial Ltd. in Beijing, said by phone. "Coal prices may fall by as much as 10 percent at end of the year from current levels."
Current coal prices are "irrational" and the regulators will step in if they continue to stay outside a targeted range, NDRC Vice Chairman Lian Weiliang said in a meeting with coal miners earlier this month, according to people with knowledge of the matter.
The so-called "green" range for coal has referred to prices between 500 yuan to 570 yuan a ton, according to industry websites and officials. China's benchmark power-station coal at the port of Qinhuangdao was at 618 yuan as of Oct. 23, data from the China Coal Transport and Distribution Association showed.
Sources: Bloomberg, Gulf Times, QGN