Billionaires, world leaders and investors are gathered in Davos, Switzerland, for the World Economic Forum's annual meeting to hobnob and discuss topics ranging from the global economy and sexual harassment, to the risks and opportunities of artificial intelligence. Not to mention hear a speech by President Donald Trump. Here are the latest developments, updated throughout the day. (Time-stamps are local time in Davos.)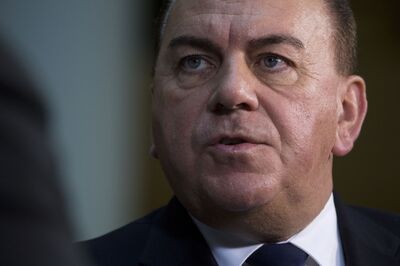 Weber Sees Possible Market Correction (8:00 a.m.)
UBS Chairman Axel Weber said some markets, including real estate, may see a correction due to the "huge increase" in credit. "There are a lot of risks out there but none of them have materialized," Weber said in an interview with Bloomberg Television. "Real estate is, after the crisis, really pricing very, very highly." He expects the ECB to be "very gentle" in changing its outlook on the economy.
'The Brain' Behind China's Overhaul (7:46 a.m.)
When Liu He takes to the lectern in Davos later, the Harvard-educated technocrat will move further into the spotlight that's been aimed at him since his elevation to China's top political body last year. "Liu will be like a Chinese version combining both Larry Summers and Ben Bernanke, plus the chairman of the president's economic council," according to Shen Jianguang, chief Asia economist at Mizuho Securities Asia Ltd. in Hong Kong.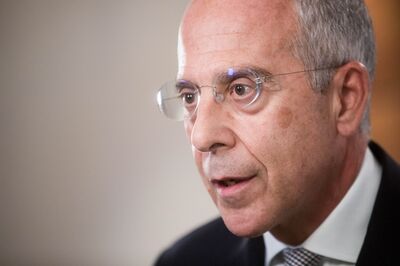 ENEL Eyeing Network Acquisitions (7:20 a.m.)
Francesco Starace, the CEO of ENEL, said the Italian utility is looking at mid-sized acquisitions in networks. In an interview with Bloomberg Television, Starace added it was too early to talk about complacency in the financial markets. "The biggest challenge for ENEL, and in general for utilities, is how well the countries we are in are working," Starace said. "We are intimately linked to the well-being and the economy of the societies we live in."
Davos Crowd Warms to Trumponomics (7:00 a.m.)
Have criticisms of Donald Trump's economic policy gone too far? Whisper it quietly, but 12 months after the beginning of the Trump presidency, several economists and business leaders appear willing to give Trump and his tax reform a chance, Bloomberg View's Ferdinando Giugliano writes.
Another Day, Another Davos (7:00 a.m.)
The second full day of talks will get underway shortly. Among those attending are German Chancellor Angela Merkel, French President Emmanuel Macron and U.S. Treasury Secretary Steven Mnuchin.
A takeaway from Tuesday was that many of the executives are admitting Trump hasn't been bad for business. The question they have is whether the good times can last and some of the bankers already see signs of complacency in financial markets. For the politicians attending, most are doubling down on globalization as Trump imposes tariffs and prepares to join them in the Alps.
Wednesday's Highlights:
German Chancellor Angela Merkel speech
French President Emmanuel Macron speech
Discussion with Liu He, China's top economic adviser
Brazilian President Michel Temer speech
Italian Prime Minister Paolo Gentiloni speech
Discussion with Google CEO Sundar Pichai
Panel on Russia's strategic outlook with Eni Chairman Emma Marcegaglia, moderated by Bloomberg's John Fraher
Here's What Happened Tuesday:
Global finance executives warned of parallels between today's soaring stock markets and the pre-crisis years as complacent investors risk being wrong-footed by central banks raising interest rates.
From the U.S. to the U.K., an unusual number of Western leaders are arriving in the Swiss Alps with their influence on the wane, with countries like China and India keen to fill the void.
Indian Prime Minister Narendra Modi said Asia's third largest economy is "removing the red tape and laying out the red carpet" as he attempts to attract foreign investment and kick start sclerotic growth.
Canadian Prime Minister Justin Trudeau confirmed a Pacific trade pact without the U.S.
Europe's revival drew widespread praise, putting the region in position to be a counterpoint to Trump's protectionist policies.
Trump's tax cuts got mixed reviews with some lauding the boon to corporate budgets, while others questioning the long-term impact. U.S. officials said he will meet with executives at a reception during his time in Davos.
Mexico's Economy Minister Ildefonso Guajardo signaled that the country is willing to negotiate a reworking of Nafta all through the run-up to July's presidential election.
Uber CEO Dara Khosrowshahi is setting his sights on making the embattled company profitable within three years, he said in an interview with Bloomberg Editor-in-Chief John Micklethwait.
Sources and photo-credits: Bloomberg with assistance by Chad Thomas, and Andrew J Barden