Noble Group Ltd. said it remains in talks with "potential strategic parties" after people familiar with the matter said a Chinese conglomerate had made an approach to shareholders of the commodities trader, which is separately attempting to restructure $3.5 billion in debt. Cedar Holdings Group has expressed interest in buying control of Noble Group, the people said, asking not to be identified because the information is confidential. Noble Group's shares soared as much as 37 percent, prompting a query from Singapore Exchange Ltd., where its stock is listed.
A representative for Cedar Holdings declined to comment. In its response to the exchange, Noble said it "has previously announced it is in talks, which continue, with various potential strategic parties and its creditors," and that the discussions "are open and constructive, and are moving forward." Noble Group is battling for survival after a crisis marked by billions in losses and a string of asset sales. The Hong Kong-based company is racing to hammer out a deal on restructuring $3.5 billion in debt before a coupon payment falls due on Jan. 29, people familiar with the matter said earlier this month. Its market value has sunk from more than $10 billion to less than $300 million.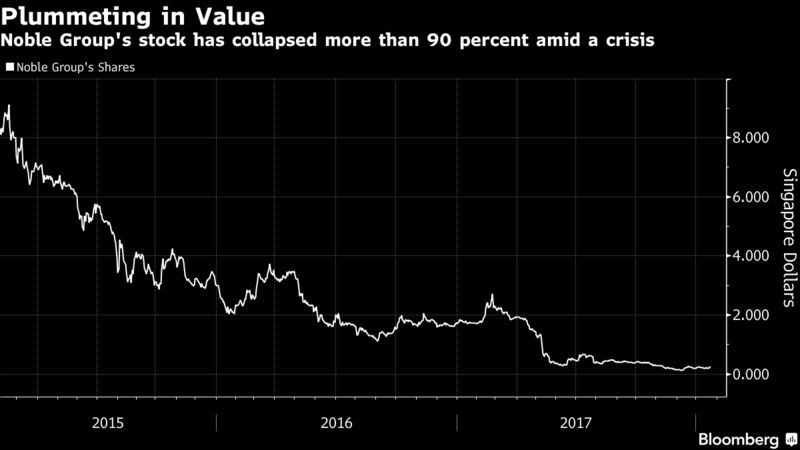 Cedar is the largest private company in Guangzhou and ranks 16th nationwide, with 157 billion yuan ($24.5 billion) in 2016 sales, according to its website. Founded in 1997, its businesses include commodities trading, chemicals, tourism, real estate and finance. The firm controls two listed companies: Zibo Qixiang Tengda Chemical Co. and Sinoer Men's Wear Co.
Noble's 3.625 percent notes due March 20 jumped 1.8 cents on the dollar to 49.2 cents, the biggest gain since Dec. 1. Its stock traded 34 percent higher at 27.5 Singapore cents at 3:25 p.m., set for the best close since November.
The restructuring talks, which started in November, are coalescing around a deal that would involve converting much of Noble Group's unsecured debt into equity. The agreement could result in the dilution of the stakes of current equity holders, including founder Richard Elman, who has an 18 percent interest, and China's sovereign wealth fund with 9.5 percent.
Noble must pay $39.7 million of interest due on Jan. 29 on its bonds maturing 2020, according to Bloomberg calculations. It's unclear whether the company would pay the coupon while in talks, but if it fails to pay it would be declared in default after a brief grace period. It also has bonds due in 2018 and 2022.
The company said this month it closed the sale of its Noble Americas Corp. unit to Vitol SA at a lower price than estimated. The disposal was completed for $400 million, which includes proceeds from an earlier disposal of its gas and power unit, compared with the illustrative figure of $575 million.
Sources and photo-credits: Bloomberg with assistance by Dingmin Zhang, Alfred Cang, Jasmine Ng, and Vinicy Chan