There's much to encourage commodity investors in 2018, if they can keep a wary eye out for wildcards including China, according to Citigroup Inc. Demand gains will be sustained through next year and in 2019, lifted by emerging markets as well as advanced economies, the bank said in a report. While there may be a slowdown in China, the top consumer of metals and energy and grains, stricter environmental standards and pressure to support bank balance sheets by eliminating overcapacity and curbing a glut could lead to tightness in some commodities, according to Citigroup.
The Bloomberg Commodity Index has surged almost 10 percent since the second half of June on signs of tighter supply and stronger demand in everything from crude to cotton and gasoline to industrial metals. Raw material assets under management in the second half of 2017 grew nearly 20 percent to about $417 billion through end-October, the highest since June 2014, driven by oil, Citigroup said, adding that inflows will be supported in the short-term.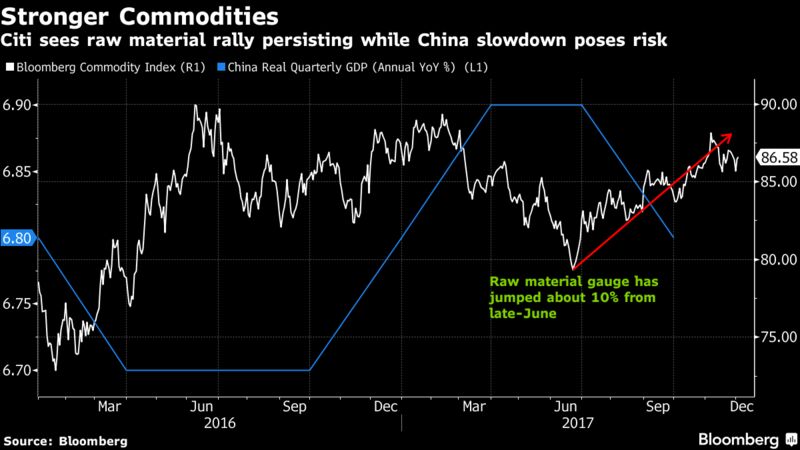 "Both year-to-date commodity performance and expected higher global growth point to potentially tighter balances across many commodities," analysts including Ed Morse said in Citigroup's annual report on the outlook for the market. "But uncertainties about China's 'New Economy' and the lingering impacts of its commodity intensive 'Old Economy' create bumps in the road ahead."
China Risk
Growth in China, the world's second-biggest economy, is dialing back amid a pledge by President Xi Jinping to focus on the quality of expansion rather than the pace of it. While the Asian nation should still partially rely on its "old economy" drivers for now, no combination of countries seems big enough to pick up the potential slack in boosting commodity demand, Citigroup said.
"Nonetheless, our base case sees China-sensitive commodities posting positive demand growth in 2018," according to Citigroup. The country's moves to curb pollution and shrink an oversupply as well as cut bloated capacity may tighten iron ore and zinc markets, the bank said.
Even as crude markets continue to rebalance into 2018, Citi expects growing non-OPEC supply to meet almost all incremental demand by the end of the year, leaving little room for a return to higher production by the Organization of Petroleum Exporting Countries and Russia. That may hurt prices into the second half of next year and 2019, the bank said.
"Yet geopolitical risks in OPEC producers point to a greater likelihood of disruption risk, especially from weaker states (Iran, Iraq, Libya, Nigeria, etc) than a likelihood of higher supply going into next year," Citigroup said in the report emailed on Monday.
Sources and photo-credits: Bloomberg with assistance by Heesu Lee, and Martin Ritchie