What you need to know about Thursday's economic data:
GROSS DOMESTIC PRODUCT (2Q REVISED)
Climbed at a revised 3.7 percent annualized rate, exceeding all forecasts in a Bloomberg survey and up from an initial estimate of 2.3 percent
All four components — consumer spending, business investment, trade and government outlays — contributed more to growth than first estimated
Inventories showed biggest back-to-back quarterly increases on record
Gross domestic income grew at a 0.6 percent pace in second quarter
The Takeaway: The broad-based nature of the revision shows the economy rebounded strongly from a first-quarter slowdown caused by bad weather, the labor dispute at West Coast ports and the plunge in energy-industry investment. The record surge in stockpiles indicates growth will probably cool this quarter as inventories are drawn down. The discrepancy between the increase in GDI and GDP signals the strength in growth may be overstated.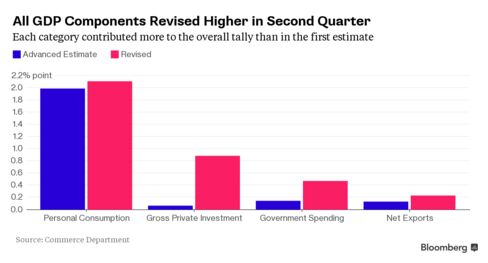 JOBLESS CLAIMS (WEEK ENDED AUG. 22)
Applications fell by 6,000 to 271,000 with Michigan and Kansas posting biggest drops
Claims hovering close to mid-July level of 255,000 that was fewest since 1973
The Takeaway: It's a vote of confidence by the nation's employers. Companies remain upbeat about the economy's prospects in the face of weaker global markets and therefore are less inclined to dismiss workers. Beginning in March, filings for unemployment benefits have been below 300,000 and that's the longest such stretch since 1972.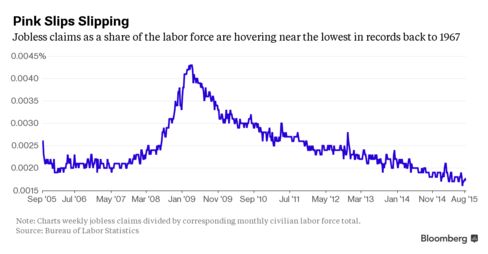 PENDING HOME SALES (JULY)
Rose 0.5 percent, marking the sixth increase in the last seven months
Existing-home contract signings jumped 4 percent in Northeast, up 0.6 percent in the South. They eased 1.4 percent in the West from a two-year high.
The Takeaway: Pending sales are a timelier gauge of demand for existing homes since they are tabulated when a purchase contract is signed, which usually precedes a close by a month or two. The July gain, combined with recent data showing sales and residential construction are also strengthening, bolsters the view that the housing recovery is gaining momentum.