Turkey sent special forces and commandos over the border into Syria, the start of a joint mission with Russia and Iran whose stated goal is to monitor a cease-fire agreement and pacify a stronghold for Islamic militants — but one that also has major implications for the region's Kurds.
Turkish troops began establishing observation points in Idlib on Thursday, the army said in a statement on its website. The mission is being conducted in line with rules of engagement agreed with Russia and Iran, it said without elaborating. The effort to establish a combat-free zone in Syria's northwest province of Idlib, which is largely controlled by former al-Qaeda militants, began late Thursday when thirty armored cars carrying more than 100 special forces and commandos crossed the frontier, Hurriyet newspaper reported, adding that more soldiers are expected to be deployed in coming days.
"We said that we could come suddenly one night, and as you know, last night our armed forces started an operation in Idlib," President Recep Tayyip Erdogan said in a speech in Ankara to provincial leaders from his party. "No one can ask us why we're doing this. We're the ones who have a 911-kilometer border with Syria. We're the ones who are constantly under threat."
The incursion is one of Turkey's biggest moves yet in the Syria conflict, adding to the nation's geopolitical risks following an attempted coup in 2016 and subsequent political crackdown. The lira tumbled after the U.S. and Turkey suspended visa services for each other's citizens on Sunday, a sharp escalation of simmering tensions between the two over issues including U.S. military involvement in Syria, Turkey's closer ties with Russia, the trials of Turkish businessmen in the U.S. for alleged violations of Iranian sanctions, and Turkey's jailing of U.S. citizens and Turkish employees of the U.S. diplomatic mission.
Turkish troops entered Syria from areas evacuated by the group called Hayat Tahrir al-Sham following negotiations with the al-Qaeda linked alliance, Hurriyet said.
Risky Mission
"Turkey is using diplomacy to avoid clashes," Nihat Ali Ozcan, an analyst at the Economic Policy Research Foundation of Turkey, an Ankara-based research center, said by phone on Friday. "Yet, it is still a very risky mission given lack of coherence between numerous militant groups who are controlling large swaths of Idlib."
Syrian Rebels Enter Idlib as Turkey Gears Up for 'Risky' Mission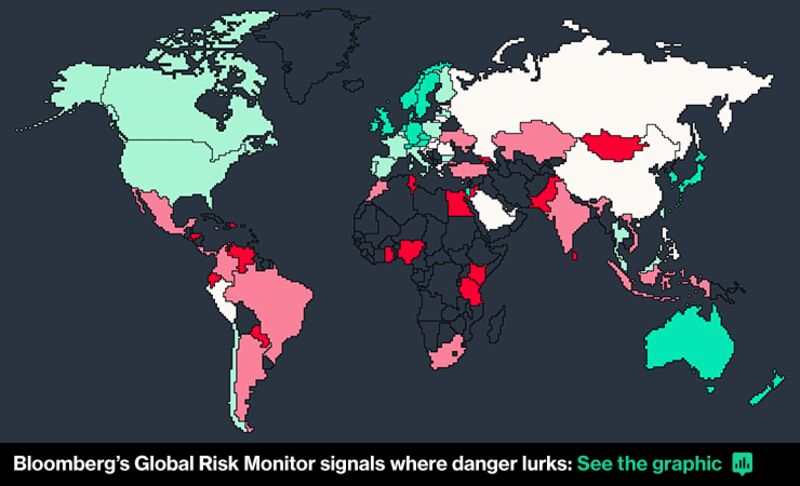 Turkey's deployment emphasizes the closer ties between Erdogan and his Russian counterpart Vladimir Putin, a relationship viewed with concern by Turkey's NATO allies.
It also represents a shift in Ankara's attitude toward Syrian leader Bashar al-Assad. Turkey has long opposed any political transition under him, but Russia's intervention in Syria's civil war shored up the Syrian president after years of Turkish and U.S. insistence that he must go.
More Refugees
Rebels from the Turkey-backed Free Syrian Army crossed into Syria on Saturday. The Turkish troops are expected to follow them into the northwestern city of Idlib, with Russians stationed nearby. Turkey deployed multiple rocket launchers and armored personnel carriers in Idlib, according to pictures published on the website of the military.
"Turkey's goal is to end clashes and stabilize Idlib to prevent a new wave of refugees from Syria," Cengiz Tomar, an analyst with Istanbul-based Marmara University, told a televised conference in Istanbul on Thursday. "Idlib's population is nearing 3 million, including those who fled Aleppo, and they have nowhere to go but Turkey if there's chaos."
Turkey is already having difficulty coping with the world's largest refugee population, as more than 3 million Syrians are scattered across the country.
"In Idlib, there are high expectations from Turkey to bring health, education, food, electricity and water to the area," Eray Gucluer, an analyst with Istanbul-based Altinbas University, told the conference in Istanbul.
Kurdish Enclaves
Turkey has also threatened to clear Afrin, a city in northwestern Syria, of Kurdish forces it sees as part of a terrorist group with links to the PKK, which has long battled for autonomy in Turkey's southeast. Doing so would prevent the Kurds, who are allied with the United States in the fight against Islamic State, from linking enclaves they control along the frontier with Turkey.
Turkish troops who captured the northern Syrian town of al-Bab from Islamic State earlier this year also clashed with Kurdish forces that seized the town of Manbij. They demanded the withdrawal of Kurdish forces from the town on the western bank of the Euphrates river.
"Necessary steps will be taken regarding Manbij if needed," Erdogan told reporters on his way back to Turkey from Serbia, according to Hurriyet newspaper on Friday. He also warned Kurds in Afrin against any hostile act toward Turkish troops. "We have no tolerance for the smallest wrong in Afrin," he said.