Its economy is 5 percent the size of Saudi Arabia's, but analysts are betting the kingdom won't let its neighbor's financial woes morph into a Gulf crisis. Bahrain, one of the most vulnerable economies in the Gulf Cooperation Council to political instability and oil-price swings, sought financial support from Saudi Arabia and the United Arab Emirates to replenish its foreign reserves and avert a currency devaluation, according to two people with knowledge of the issue. A third person said Kuwait was also approached
The three countries responded by asking Bahrain for more efforts to control its public finances in return for the money, the people said on condition of anonymity. Bahrain 12-month forward contracts jumped on Wednesday by the most in more than a year, while its dollar bonds fell for a second day.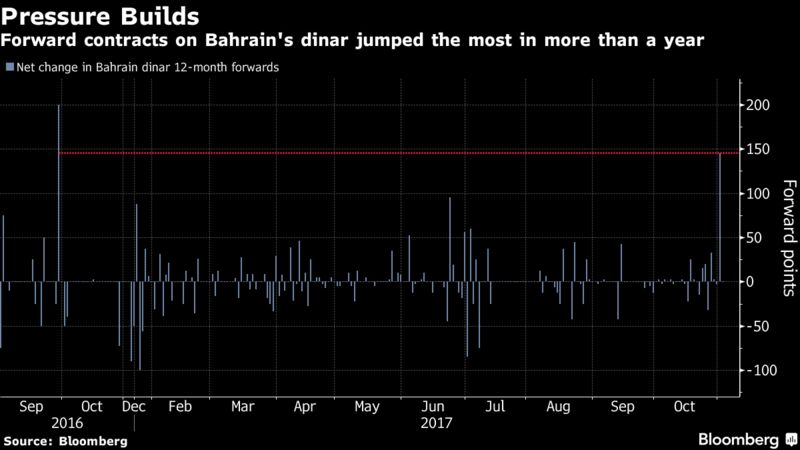 Analysts and investors say the cost of a bailout is cheaper than cleaning up the mess of a devaluation, given that six out of the five nations in the GCC have pegged their currencies to the U.S. dollar for decades. Doing away with the peg in Bahrain would raise doubts that other Gulf nations can sustain their currency policies with low oil prices languishing below $65 a barrel.
Investors understand the close ties "between these countries, so the expectation is always there that they will work together when needed," said Abdul Kadir Hussain, the head of fixed-income asset manager at Dubai-based investment bank Arqaam Capital Ltd. The initial reaction of the bond market on Wednesday "was in a vacuum because most of the Middle East had gone home. We will have a better idea of the price action by this afternoon," he said.
Yields Rise
The yield on Bahrain's $1.5 billion Eurobonds due 2022 rose seven basis points, the most in two months, after Bloomberg News reported the talks on Wednesday. It climbed six basis points to 4.76 percent at 10:14 a.m. in London, according to data compiled by Bloomberg. One-year forward contracts on the dinar were little changed on Thursday, a day after jumping 145 points. Officials in Bahrain, the U.A.E. and Kuwait didn't respond to requests for comment on the aid talks. Saudi officials couldn't immediately be reached. Gulf central banks, including Bahrain's, have repeatedly brushed aside talk of abandoning their exchange-rate regimes.
Bahrain is among GCC nations that have been trying to reduce a ballooning budget deficit after the drop in oil prices in 2014 slashed revenue. While the island state's shortfall is set to narrow this year, it will still be the highest in the GCC, according to International Monetary Fund estimates. The central bank's foreign reserves, including gold, have tumbled about 75 percent since 2014 to just above 522 million dinars ($1.39 billion) in August.
Expectations among investors and credit-rating companies that rich Gulf states would support Bahrain have cushioned its assets and allowed it to tap global bond markets as recently as September, when it raised $3 billion. Bahrain's debt risk, measured by five-year credit default swaps, has dropped 60 basis points to 242 as of Wednesday, according to CMA data compiled by Bloomberg.
Saudi Arabia led a military intervention to support Bahrain's government during protests that broke out in 2011. Authorities have repeatedly blamed the instability on Shiite-ruled Iran. Bahrain is also a member of a Saudi-led coalition boycotting neighboring Qatar.
Devaluation Risk
A bond prospectus in September included a warning from authorities that falling reserves carried the risk of a currency depreciation. The central bank, being a "significant" lender to the government, may not be able to maintain the peg, according to the document seen by Bloomberg News. Bahrain didn't cite that risk in its prospectus in 2013.
The IMF estimates that Bahrain needs oil prices at $99 a barrel to balance its budget this year, compared with $73.1 a barrel for Saudi Arabia, which is overhauling its economy. While Brent crude is trading near the highest level in more than two years, it's still about $40 below Bahrain's breakeven price.
Before the September bond sale, Bahrain's reserves were equivalent to just one month of imports and barely covered currency in circulation, according to BofA Merrill Lynch economist Jean-Michel Saliba. The London-based economist wrote in May after an eight-day visit to the GCC that Bahrain's allies are likely to "nudge" the kingdom toward "greater fiscal reforms."
"The costs of letting Bahrain fail remain higher than the costs of GCC support," he said on Wednesday. Support for the dollar peg is a "priority to avoid contagion risk" and forcing Bahrain to restructure its debt is also unlikely because it would raise financing costs for the entire region, he said.
Sources and Photocredits: Bloomberg