Fossil-fuel subsidies may actually rise in Europe because of the switch to green energy. European Union governments will have to pay out increased compensation for closing coal-fired plants, according to a report by Bloomberg New Energy Finance. Several countries are also rolling out programs that pay power plants to guarantee electricity supplies, mechanisms that often favor fossil-fuel generation.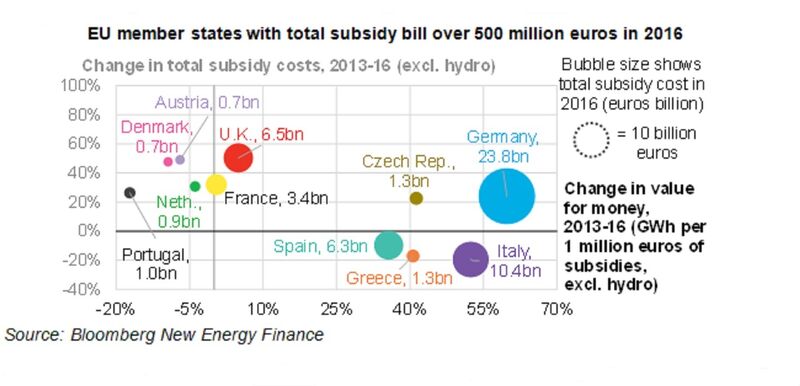 Renewables subsidies still vastly outweigh fossil-fuels in the bloc though with the former receiving 61 billion euros ($75 billion) in costs from governments in 2016 compared with 4.9 billion euros of support for coal, oil and natural gas, BNEF said. Although total subsidies have risen, so has their value for money. Every 1 million euros of subsidy in 2016 backed 10.3 gigawatt-hours of total subsidized renewable power generation compared with 7.4 gigawatt-hours three years earlier.
Governments are still looking to limit the 7 percent increase in green energy subsidies since 2013. Portugal and Denmark have laid out plans to phase out financial assistance completely once existing contracts end. Britain has effectively ruled out subsidies until 2025. "The good news is that governments are now getting more bang for their buck as renewable technologies have got cheaper," BNEF's Victoria Cuming said. "And we expect total renewables support will start to fall in most EU countries in the next decade or so."
Germany and Italy received the most support in the 28-nation bloc, getting 24.2 billion euros and 11.7 billion euros respectively in 2016. Germany has also had its first subsidy-free wind projects approved. The U.K. saw a 50 percent increase in government money between 2013 and 2016.
Sources and photo-credits: Bloomberg