Crude oil prices have rallied more than 10 percent this year, and for the time being there's not much to give the bears hope. With OPEC's supply cuts biting and the risk for Middle East conflict on the rise, the market's underlying indicators have turned increasingly bullish. As shorts flee the market and technical indicators point higher, the positive narrative for oil is alive and well. The move comes as OPEC and Russia explore further cooperation and a May 12 deadline looms for U.S. President Donald Trump to consider renewing Iran sanctions.
Here are four key charts that illustrate oil's latest climb higher.
Tighter Market
Brent timespreads have surged since the middle of February. The difference between the nearest two contracts reached 73 cents intraday on Thursday, the strongest since December, excluding expiries. "It shows how much tighter supply is and has a geopolitical risk premium built in," said UBS AG analyst Giovanni Staunovo. "It's a combination of both factors."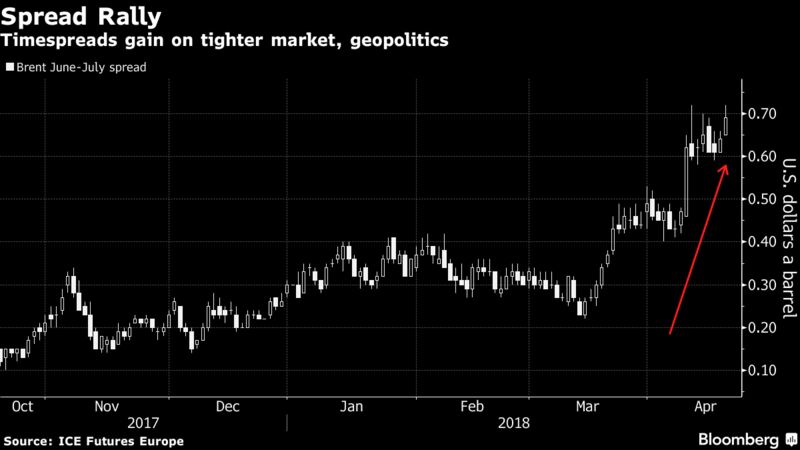 Geopolitical Risks
The political risks to oil show up nowhere better than in the options market. The so-called skew measuring demand for bullish Brent options is at its strongest level since June 2014. At the same time, open interest to buy Brent at $80 has risen to 144,000 contracts, more than any other strike price for the next 12 months. "With two significant risk events, President Trump's decision whether or not to re-certify Iran and the OPEC June meeting, the market is clearly seeing the upside potential," said Harry Tchilinguirian, head of commodity markets strategy at BNP Paribas SA.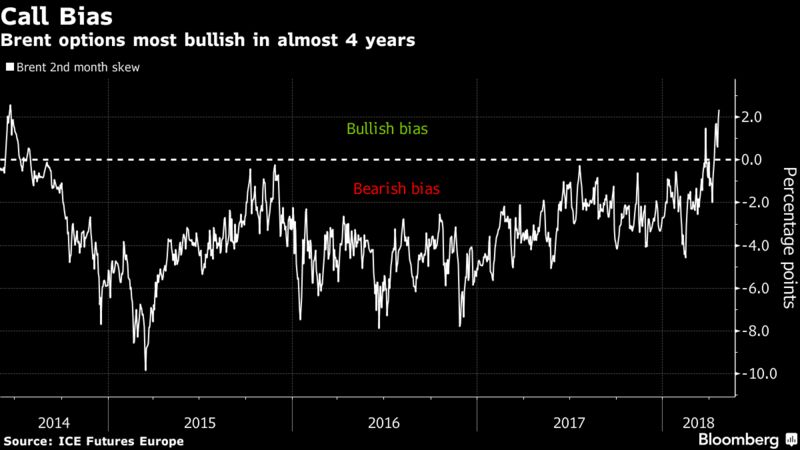 As prices have surged, the market has become increasingly one-sided. There are just over 20 speculative longs for every equivalent short for Brent at the moment, near the highest level since ICE began publishing data in 2011. The number of outright bearish bets has fallen by 82 percent since last June, meaning there are fewer sellers to counter crude's rallies. "The market may be hard-pressed to go short outright for long periods," until there is more clarity on the U.S. position on Iran sanctions, consultants at Energy Aspects Ltd. said in a report Thursday.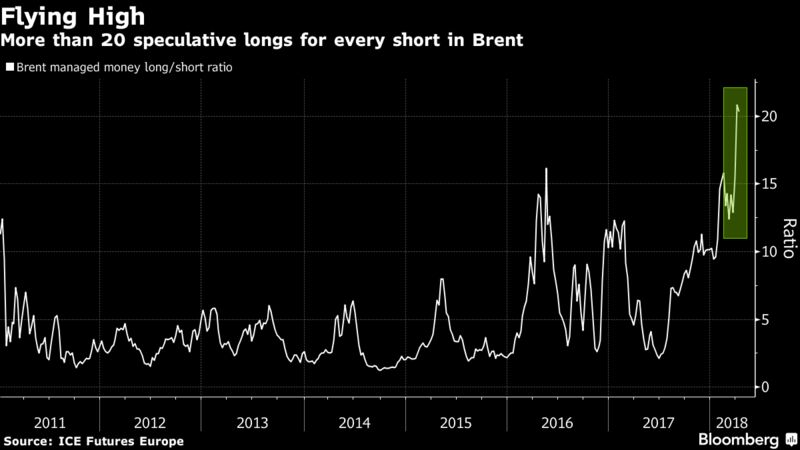 Look Out Above!
For technical traders, the most recent boost came as Brent on Wednesday closed above a key retracement from its slump since 2008, when the global benchmark traded near $150 a barrel. That technical level, at $73.09, was a "massive" area of resistance and could potentially lead to further moves higher, analyst Robin Bieber wrote for PVM Oil Associates Ltd. The move of both Brent and WTI to year-to-date highs this week has some chart-followers talking about $75, $80 or even $85 as the next levels to watch.
Sources and photo-credits: Bloomberg