Russia's natural gas exporter is channeling more money into its fight for market share as the U.S. threatens its biggest European pipeline project with possible sanctions and looks to deliver more fuel to the region by tanker.
Gazprom PJSC plans to spend 802 billion rubles ($13.7 billion) on routes to Europe and China in 2018, almost 41 percent more than this year, according to a draft budget prepared for a board meeting Tuesday that was seen by Bloomberg News. The biggest project is its Nord Stream 2 link to Germany, which had planned to start borrowing from banks next year before being singled out in August for possible U.S. sanctions.
The threat of U.S. measures against Nord Stream 2 has riled the European Union, which warned it could retaliate if hurt any of its companies or their plans, while Russia has said the U.S. is using sanctions to clear space for exports of liquefied natural gas. Poland and Ukraine, key transit routes for Russian gas, have lobbied against the 9.5 billion-euro ($11.2 billion) project.
"Before getting all the approvals to build Nord Stream 2, it's complicated to raise project financing," Gazprom spokesman Sergei Kupriyanov said, without confirming any figures or elaborating on the risk from sanctions. "Really, this can be done after finishing the approvals process."
Gazprom and its five EU partners, including Germany's Uniper SE and Austria's OMV AG, stumped up 30 percent of the Baltic Sea link's budget by August. They planned for the project operator, fully owned by Gazprom, to borrow the rest from banks. This plan may need to change given the U.S. law, OMV said in September.
Gazprom, which has a monopoly on pipeline exports of gas from Russia, will contribute an additional 1.52 billion euros for the under-sea section next year, in addition to ramping up spending on the Russian network, as the company aims to keep the project on scheduled to start gas flows in late 2019, according to the document.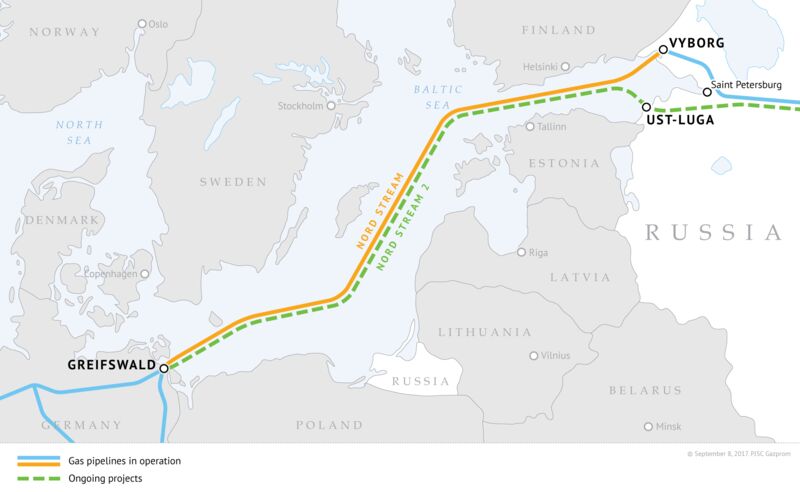 The initial funding terms are still in place, one of the partners, Uniper, said by email. OMV, Royal Dutch Shell Plc, France's Engie SA and Wintershall, a unit of Germany's BASF SE, either declined to comment or didn't respond. Gazprom plans to supply 20 billion cubic meters of gas to Germany through the new link in 2020, cutting the company's current transit through Soviet-era pipelines in Ukraine, according to the document.
Annual exports to Europe are forecast at about 188 billion cubic meters through 2020, close to the record high expected this year, according to the budget. Outlooks are based on Gazprom's contract portfolio and current supply levels, Kupriyanov said. Links to China and Turkey are also expected to start supplies by the end of 2019. Spending on the Turkish Stream pipeline will exceed 2.43 billion euros next year, up 72 percent from this year, the draft budget shows. The link is expected to pump almost 24 billion cubic meters in 2020, according to the document.
The Power of Siberia pipeline to China will need 218 billion rubles next year, a 4 percent increase, and is set to deliver 5 billion cubic meters in 2020. While Gazprom sees investments slowing from 2020 after the key export pipelines are built, it plans to keep dividends flat at this year's level of 190 billion rubles, the document shows. The company usually revises its budgets, which don't include its oil arm Gazprom Neft PJSC or utilities in Russia and Europe-based gas traders, twice a year.
Sources and photo-credits: Bloomberg