OPEC and its allies' strong commitment to extended oil supply cuts will lower inventories next year and lift prices, according to Goldman Sachs Group Inc. The bank raised its forecast for Brent crude for 2018 to $62 a barrel from $58 and for West Texas Intermediate to $57.50 from $55, Goldman analysts including Damien Courvalin said in a Dec. 4 note. The bank also boosted its Brent price outlook for 2019 to $59.50 a barrel from $58 and for 2020 to $54.50 from $53.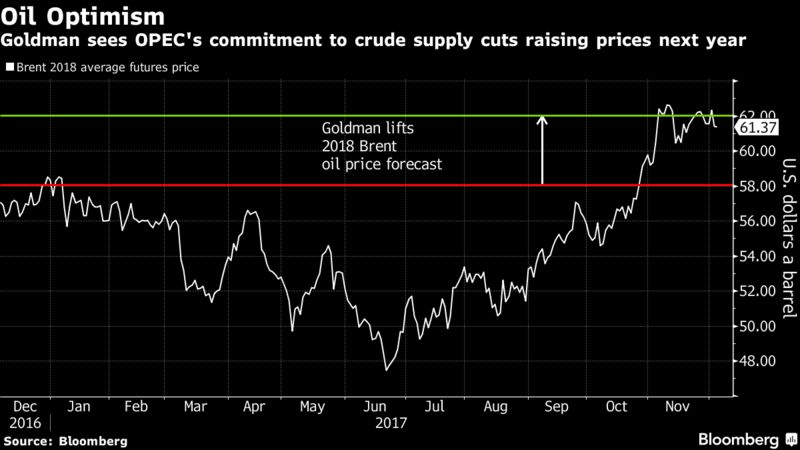 "The combination of tighter prompt fundamentals but greater confidence in the sources of future supplies leads us to forecast that crude oil backwardation will continue to steepen with an unchanged marginal costs of future supply," Courvalin said. "This leads us to raise both our Brent and WTI 2018 spot forecasts."
The bank now expects a wider gap between Brent, the European benchmark, and WTI, which is deliverable to Cushing, Oklahoma, because of surging production from the Permian Basin in west Texas. Output from the play has to go through Cushing in order to get to coastal markets, and TransCanada Corp. responded to the demand by raising spot rates on its Marketlink pipeline next year. The higher rates will boost freight costs and widen the WTI-Brent differential to $4.50 a barrel, up from previous estimate of $3.
Sources and photo-credits: Bloomberg