Google Inc. co-founders Larry Page and Sergey Brin have added more than $4 billion to their individual fortunes today as shares of the Internet search giant surged 16 percent.
Ruth Porat, who joined Google in May, yesterday signaled plans to bring more restraint to spending as the Mountain View, California-based company reported profit that exceeded analyst estimates. Shares closed at $672.93 today, a one-day rise of more than $93.
The fortunes of Page and Brin are up 24 percent this year, an increase of about $7 billion each, according to the Bloomberg Billionaires Index. Chairman Eric Schmidt, who owns 1.3 percent of Google, has increased his fortune 22 percent this year, rising $1.8 billion to $10.1 billion.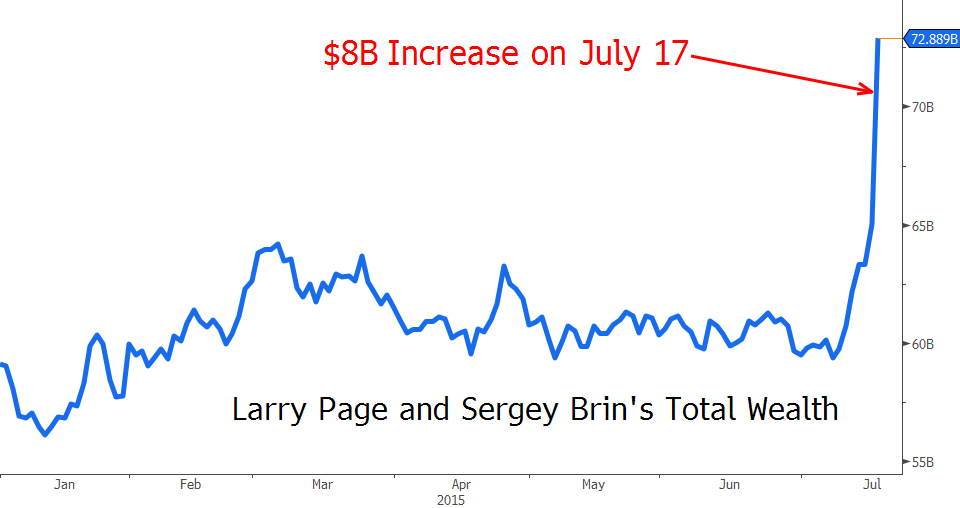 "People should take away that Google is a stronger and healthier company than what the Street had previously understood," said Colin Sebastian, an analyst at Robert W Baird & Co. "Both Google and Facebook are benefiting from these secular growth trends, which is really moving advertising dollars online from offline. There's still plenty of growth left for both companies."
Facebook, Amazon.com
Facebook Inc. is up more than $5 this week, jumping $4.12 today. The company's co-founder Mark Zuckerberg is up 21 percent this year to $41.6 billion.
The rise for U.S. technology stocks also lifted Amazon.com Inc. about 9 percent this week, making founder Jeff Bezos the top-performing billionaire among the world's 400 richest people, according to the index.
The Seattle-based company reported day-over-day worldwide order growth of 266 percent on Wednesday as it celebrated its 20th anniversary with a one-day sales promotion it called Prime Day. More new members tried the Amazon Prime service on July 15 than on any single day in Amazon history, the company reported.
Bezos has added $14.5 billion to his fortune in 2015, a rise of 51 percent. The increase pushed the U.S. dollar gain for the technology billionaire past Wang Jianlin, China's richest person. Wang's fortune has risen $14.4 billion year-to-date, a 57 percent increase.