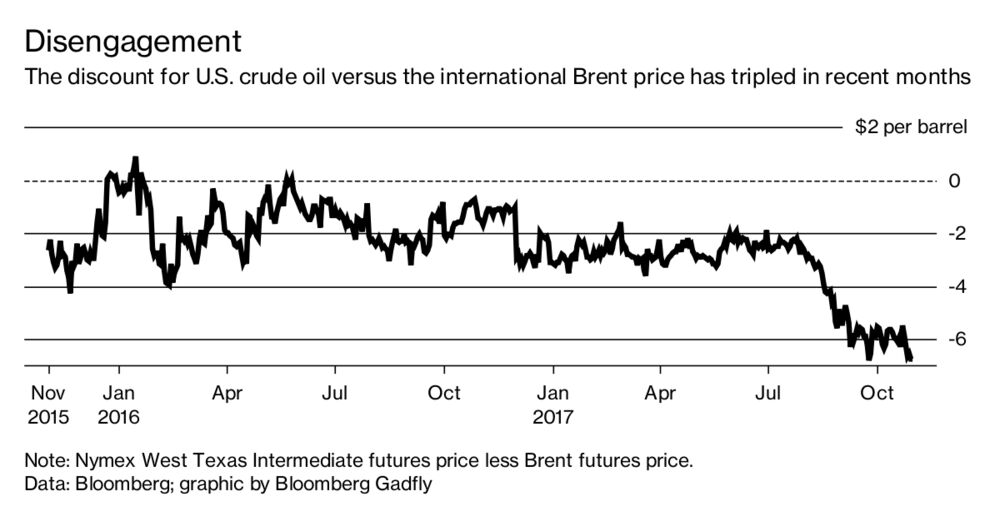 It isn't just the outright price where a gap has opened up. The shape of the futures curves — how barrels for delivery down the road are being priced — for U.S. and international grades of crude oil are also striking different poses: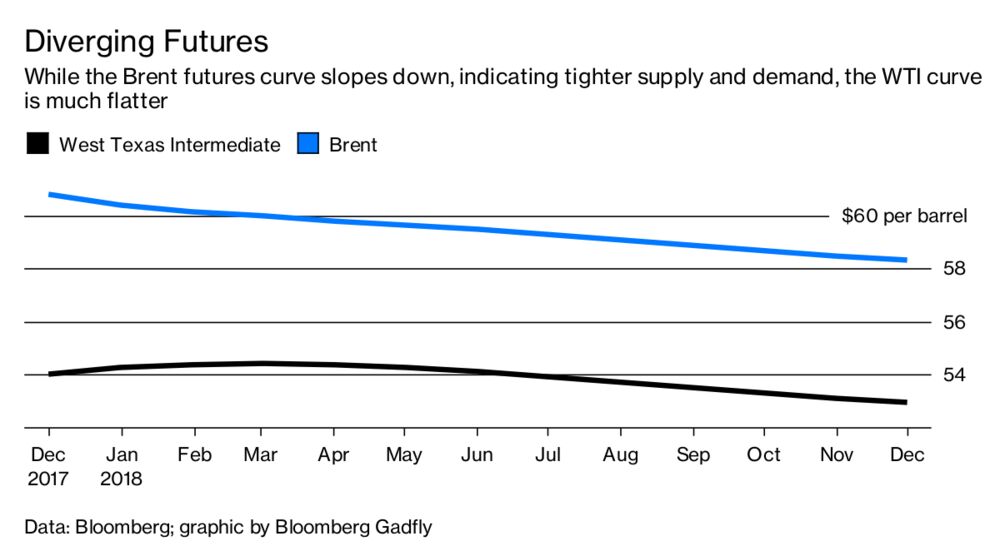 The discount for West Texas Intermediate, or WTI, blew out from about $4.50 a barrel to $6 in the run-up to and immediate aftermath of Hurricane Harvey in late August and early September. This made sense as disruption to refineries, pipelines and ports kept barrels trapped in the country. But the spread had already doubled in the month before the storm hit Texas and Louisiana. And two months on, with the U.S. oil industry having largely recovered, it is wider still.
One likely explanation is speculative flows. Net length in Intercontinental Exchange Brent crude-oil futures and options held by money managers has jumped back above a notional 500 million barrels — in marked contrast to what's happened with Nymex WTI. Notice that the disconnect here began to open up in early August, which is when the spread between the two prices first began opening up: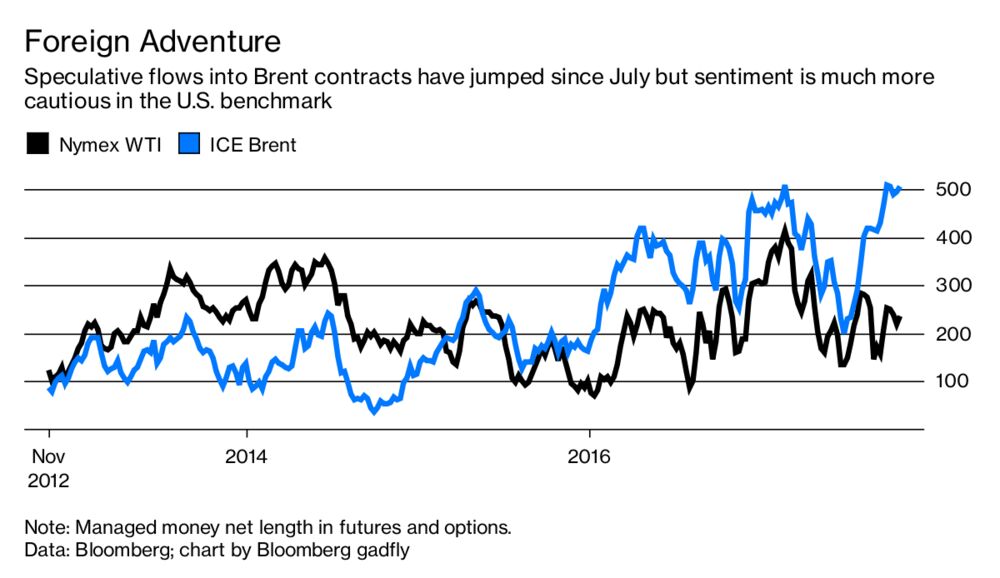 Analysts at JBC Energy, a research firm based in Austria, pointed out in a report published on Tuesday that money managers held 12.5 long positions in Brent futures for each short one, the highest ratio since late February. Again, such bullishness is markedly absent when it comes to the U.S. counterpart: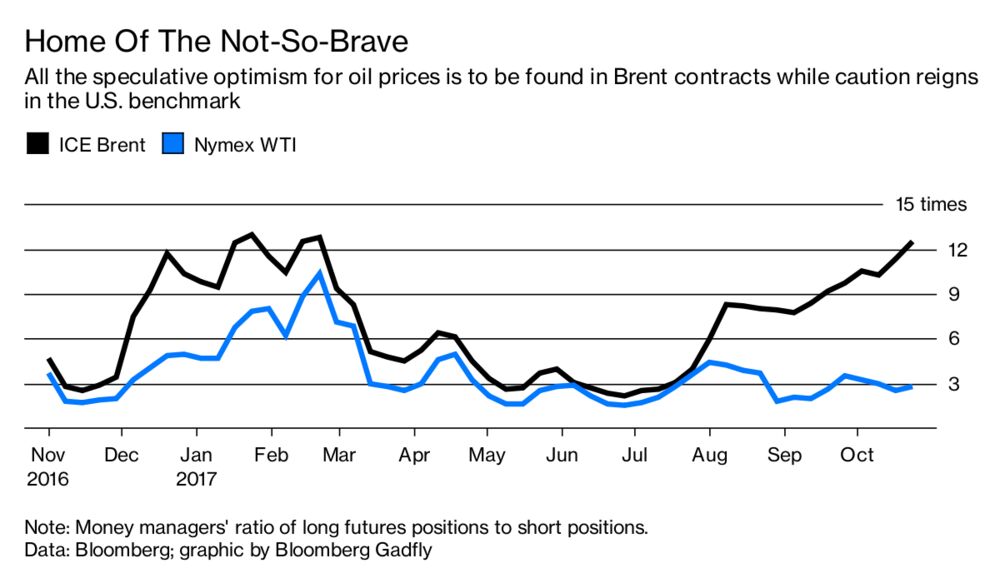 There are a few reasons why all the oil bulls are looking outside America. Some of the recent uptick in prices reflects the revival of geopolitical concerns, notably the stand-off between the Iraqi government and the country's Kurdish population. And, of course, the so-called Vienna Group's coordinated supply cutsare a purely international affair. Traditionally, Brent prices should reflect all this more quickly than WTI.
It may also reflect a logistical quirk. U.S. inventories of crude oil have declined sharply since late March; which, all else equal, should support prices and bullishness about further gains (less glut = more optimism). But stocks have been much more stable at Cushing, the pipeline-and-storage hub in Oklahoma that also serves as the physical delivery point for Nymex WTI futures, clouding the wider picture: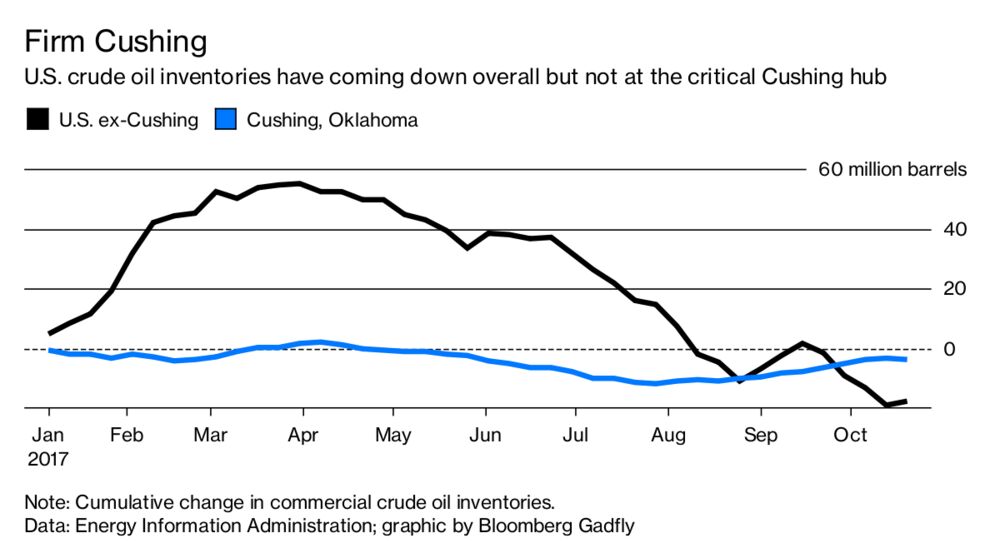 Cushing seems only a symptom of a wider issue, though, and that is the relative resilience of U.S. oil production. The latest monthly report from the Energy Information Administration, released Tuesday, shows that while U.S. output overall was down in August versus July, onshore production — which is driven by shale and other tight-oil basins — was actually up slightly and likely would have been more so if storms that month hadn't dented the figures for Texas.
The monthly figures have been lower than the EIA's less-accurate weekly estimates, offering some encouragement to bulls. And there are signs of a change in strategy for U.S. exploration and production firms, as investors press them to prioritize cash flow and returns over outright supply growth.
Even so, there are indications that supply from U.S. shale basins isn't necessarily about to hit a wall. For example, having reported quarterly results on Monday evening, Noble Energy Inc.'s management reaffirmed oil production targets for its U.S. onshore business, highlighting continued efficiency gains there. Noble told investors on Tuesday morning that footage drilled per rig, per day in the Delaware area of the Permian basin had jumped 30 percent compared to the first half of the year. Noble also said it hasn't seen much sign of the long-anticipated return of cost-inflation, echoing points made earlier this month by ConocoPhillips and Halliburton Co.
Meanwhile, the increase in WTI futures back above the important level of $50 a barrel appears to have sparked more hedging by E&P firms, putting in a foundation for production growth next year. A more complete picture on U.S. producers' intentions will emerge as earnings season progresses.
For now, with optimism in Brent contracts back to levels last seen in February, the big question is whether or not this portends another drop as bullishness fades, as it did back then. This time, a combination of geopolitical rumblings and the prospect of another OPEC meeting in a month's time could keep managed money onside.
Ultimately, though, it's difficult to see how the market can price in tight supply overseas simultaneously with loose conditions in the U.S. for very long. If speculators' instincts in Brent are to prove correct, some of that enthusiasm will have to show up stateside.
Source: Bloomberg