After spending $50 billion on the world's biggest bet on natural gas, Royal Dutch Shell Plc is at the forefront of Big Oil's efforts to clean up its act. But what if the constant, insidious leaks of gas into the atmosphere actually make the fuel more polluting than coal? Methane, the main component in natural gas, can seep into the air at various points between extraction and delivery. Trapping more heat than carbon dioxide, it's a potent contributor to global warming. Yet credible data on the volumes released is scarce, and that's spurring pressure from investors.
"This is such an important issue," said Tim Goodman, a director at asset manager Hermes EOS who has urged oil companies to address climate matters in their quarterly updates. "The less methane is lost to the environment, the less dirty methane and natural gas is, and the longer gas might be a viable fuel."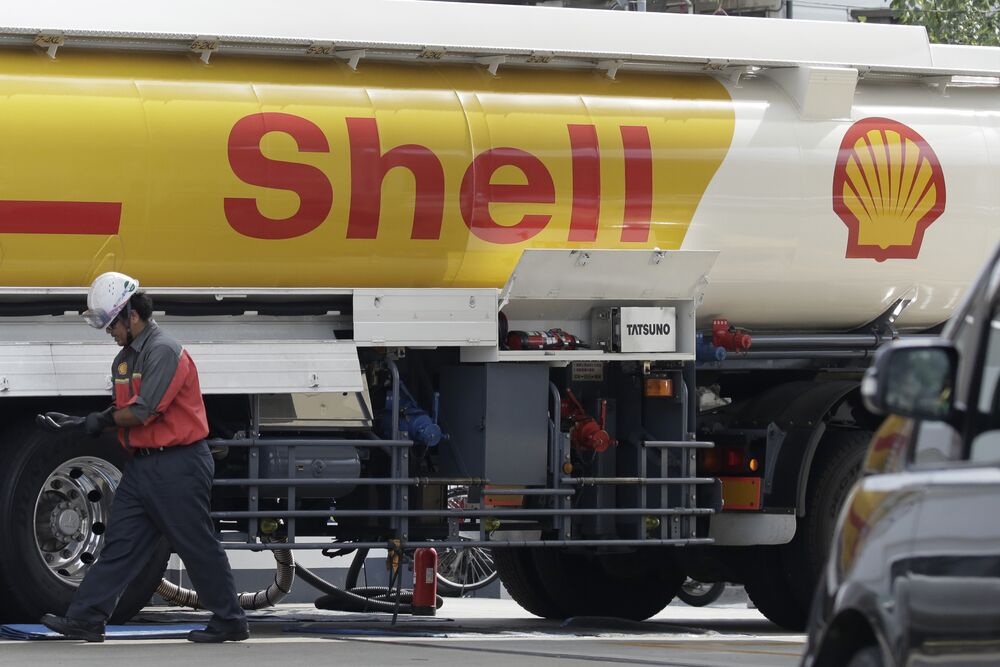 Photographer: Kiyoshi Ota/Bloomberg
Shell last year bought BG Group Plc for $54 billion as it intensified its focus on gas. While the fuel emits half the CO2 of coal when burned, it becomes more polluting than coal if just 3.5 percent of the methane escapes, according to Shell. The company acknowledged its data on leaks needs to change if it's to appease policy makers and shareholders at a time when greener and ever-cheaper alternative energies are attracting investors around the world.
This is "a very important point — how strong really are the environmental credentials of natural gas if you take into account fugitive emissions of methane?" Shell Chief Executive Officer Ben van Beurden said in November. "We're doing all the work that we need to do to understand."
While methane leaks are an old problem, they're increasingly under the spotlight as gas is touted as a "transition" fuel amid the global shift to cleaner energy. The expansion of shale-gas production in the U.S., where Shell has interests in the Marcellus and Permian basins, also has added urgency to boosting the reliability of reported emissions.
While most didn't pass or were withdrawn and addressed directly with the company, Shell has felt the heat from investors before. In 2015, almost 99 percent of shareholders backed a proposal that the producer be more transparent about its carbon output. The company — and many of its competitors — have since made progress on cutting flaring, or the burning off of gas from oil fields and refineries. Yet methane dispersal remains a problem.
"It's definitely important that these kind of emissions are kind of returning to the spotlight," said Richard Taylor, an analyst at BMI Research in London. The industry is promoting gas as a "stopgap fuel," but as long as companies lack the ability to show how much methane is leaking, no one knows whether gas is better for the environment than coal, he said.
Shell, along with Exxon Mobil Corp., BP Plc, Total SA and four other peers, last month signed a set of "guiding principles" on reducing methane emissions and improving the accuracy of data. The document didn't specify the planned depth of cuts or show how they'll be achieved.
It's almost impossible to account for all the methane that comes from the oil and gas supply chain. Yet as the industry seeks to prove that its accumulation doesn't invalidate the climate case for gas, the invisible, odorless compound continues to cause a stink.
Sources and photo-credits: Bloomberg with assistance by Rakteem Katakey