Iraq delayed an international auction of rights to 11 of its oil and natural gas deposits, pushing back the bidding date after introducing changes to the contract, according to people familiar with the matter. The oil ministry re-scheduled the auction for April 25, said one of the people, who asked not to be identified because the information isn't public. International energy companies will still participate in the bidding because the prospect of prodigious crude reservoirs outweighs the new contract's lack of clarity, analysts at Wood Mackenzie Ltd. and the Iraq Energy Institute said.
Oil Ministry Spokesman Asim Jihad said by phone from Baghdad that he was unaware of any postponement in the auction, originally set for April 15. The ministry said last month it was changing to a new "hybrid" type of oil-rights contract.
Iraq invited companies including Eni SpA and Lukoil PJSC to bid for the rights to explore and develop fields along its borders with Iran and Kuwait. Under the original schedule, many if not all of the 16 potential bidders — oil majors as well as smaller energy companies — would have had only two days to review a draft of the ministry's new contract before the auction, according to Luay Al Khatteeb, executive director of the Iraq Energy Institute, a research organization based in Baghdad.
"Everyone will be interested, but they have to check if the contract is favorable for investment," Al Khatteeb said by phone from London. In Iraq's previous energy auctions, the government "managed to secure interest from international oil companies, got them to sign up, and soon after the signing the process of re-negotiation started. This isn't the right way to attract investors and will backfire on Iraq."
Foreign investment and expertise are crucial for Iraq to meet its goal of pumping 6 million barrels a day of oil by 2020 as it overcomes decades of conflict and sanctions. Crude output has gained sharply in recent years, turning Iraq into the second-biggest producer in the Organization of Petroleum Exporting Countries. Iraq pumped 4.43 million barrels of crude a day in March, data compiled by Bloomberg show.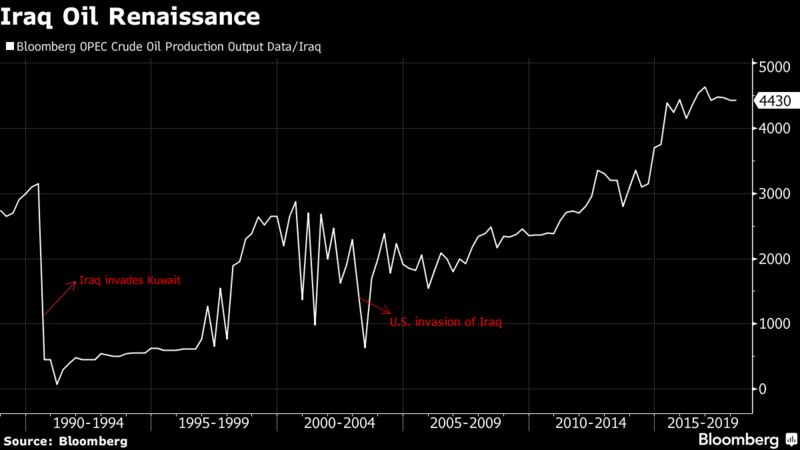 Iraq plans to develop three blocks near the Kuwaiti border and seven close to Iran, as well as one offshore area in the Persian Gulf. The best fields, according to Thom, are those that are close to existing oil reservoirs and export facilities. Companies already producing in the country are likely to seek rights in adjacent fields, he said. "The basin in Iraq is world-class and is the most prospective across the Middle East," Thom said. "For companies that are thinking about building a business that's resilient, having low-cost resources is a good place to start."
China's Cnooc Ltd. said it hasn't received information about the bidding but would evaluate new opportunities in Iraq closely. None of the other prospective bidders commented.
Sources and photo-credits: Bloomberg with assistance by Chiara Albanese, Aibing Guo, Debjit Chakraborty, Elffie Chew, Elena Mazneva, Kevin Crowley, and Francois De Beaupuy