Office rents on the highest floors of skyscrapers in London climbed about 11 percent in the six months through June, while Hong Kong remains the most expensive place in the world to lease such space.
London annual rents rose to $122 a square foot, the biggest increase in the period, according to a 20-city index compiled by broker Knight Frank LLP. The U.K. capital is now the third most-expensive place to rent skyscraper space, level with Tokyo. Offices near the top of Hong Kong skyscrapers cost $255.50 a square foot, about 67 percent more than in second-placed New York.
"Firms in London have put the global financial crisis far behind them, are planning for the future, and expanding their offices. There is a willingness to pay more to get exclusive accommodation, and this has resulted in greater demand for skyscraper space," said James Roberts, chief economist at Knight Frank LLP. "A range of companies — from private-equity firms to oil companies and insurers — view London as the business location to expand their operations."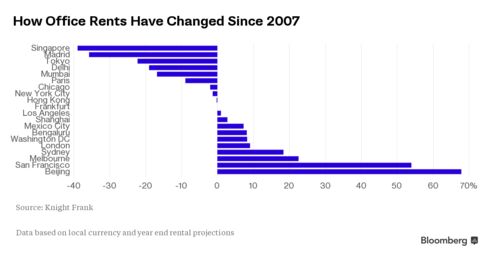 Vacancy rates in London have reached the lowest level since 2001, benefiting developers that began constructing towers with nicknames like the Cheesegrater and the Walkie Talkie in a bet that there would be a shortage of high-quality office space following the global financial crisis. Rents for the best-quality office space in the City of London financial district, where most of the skyscrapers are located, have risen about 18 percent to 65 pounds a square foot since 2011.
In the wider office market, Singapore will be the worst performer for the three years through 2018 with rents dropping 3 percent, according to a forecast for the city index. Madrid will rise the most with a 22.2 percent jump, followed by Mumbai with a gain of 21.3 percent.
San Francisco will be the best-performing market in the U.S., with rents climbing 20.2 percent during the period, according to Knight Frank. Rents for the upper floors of skyscrapers in the city rose 8.2 percent in the six months through June, the second biggest increase after London. Bloomberg