Merkel Says Trump's Climate Stance Is Lowering G-20 Expectations. German Chancellor Angela Merkel said Group of 20 leaders "won't get everything we wished for" at a summit next month after U.S. President Donald Trump's decision to exit the Paris climate accord. On a visit to Argentina as part of a tour to rally support among G-20 nations, Merkel cited the difficulty of that task ahead of the July 7-8 summit in Hamburg, since the communique must be signed off by all 20 partners.

G-20 leaders 'won't get everything we wished for' at summit

German chancellor heads to Mexico after talks in Argentina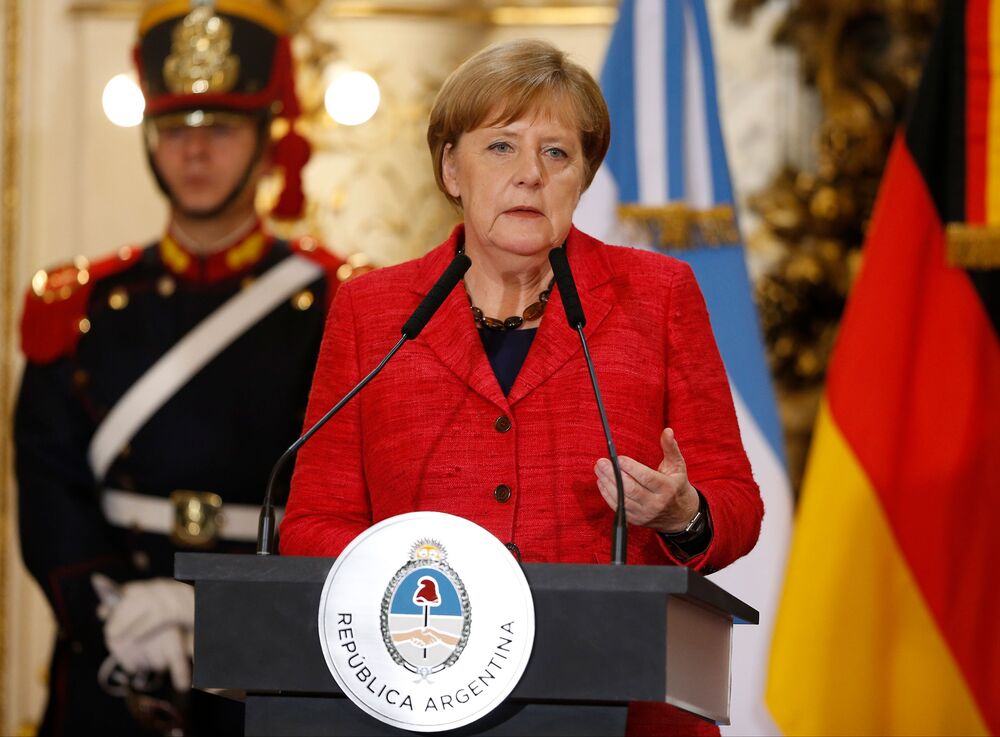 "Nobody in this world — no individual person or country — can solve all problems alone," Merkel said at a press conference in Buenos Aires alongside Argentine President Mauricio Macri. "We all have to cooperate." The German leader signaled a narrowing of expectations in key areas as the U.S. exit from the climate agreement casts a shadow over world leaders' ability to find a common line on issues such as global warming, trade and migration. Merkel, who's due to meet Mexican President Enrique Pena Nieto on Friday, is seeking to build as broad a front as possible after leaders failed to persuade Trump to stick to the climate accord at a Group of Seven summit last month. As host of the G-20 summit, "I'll naturally have to speak up about differences if we don't agree on certain points," Merkel said at the news conference in Argentina on Thursday.
Argentina's Opening
Merkel told Macri that she "values very much" Argentina's commitment to the Paris climate treaty, a pointed contrast to her response that Trump's decision was "extremely regrettable." After the fallout at the G-7 summit, Merkel suggested that reliable relations with the U.S. were "to some extent over." The German and Argentine leaders also drew a contrast on trade, calling for a negotiated accord between the European Union and Mercosur, the South American free-trade bloc. German and Argentine officials have said they want a deal by the end of the year.
Merkel lauded Macri for "setting out on a courageous path of reform." The Argentine leader has lifted currency controls as well as some trade barriers and settled an outstanding legal dispute from Argentina's 2001 debt default.
"Argentina already tried isolationism and it didn't work," Macri said alongside the chancellor. Merkel said advantages squeezed out by isolationism tend to be short-lived and, in Argentina's case, "weren't good for the people at all."