North Korea Prepares for Possible ICBM Launch, South Says. A South Korean Hyunmu-2 ballistic missile is fired during an exercise aimed to counter North Korea's nuclear test on Sept. 4.South Korea detected that North Korea is continuing to prepare for a possible intercontinental ballistic missile launch, a move that would further raise tensions a day after it conducted its sixth and most powerful nuclear detonation.
Seoul to pave way for deployment of Thaad missile shield

Conducts live-fire drill with test site as virtual target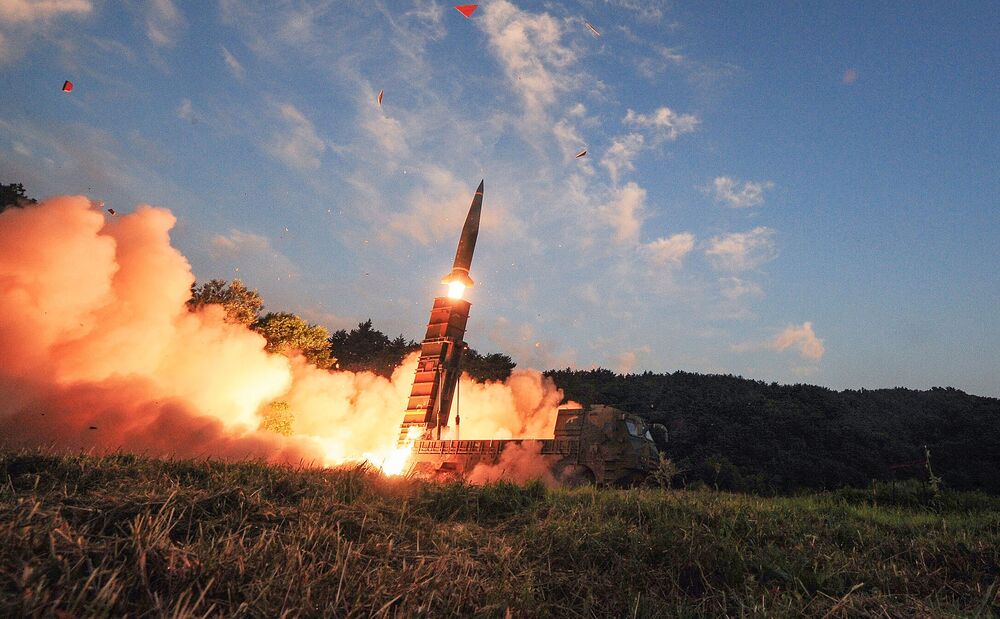 Chang Kyung-soo, acting chief of the defense ministry's policy planning office, told lawmakers on Monday that North Korea was making preparations for a missile firing, but didn't give a timeframe for a potential launch. The yen extended gains against the dollar after the news. South Korea's spy agency said there is a chance North Korea could fire an ICBM into the Pacific Ocean, adding that the isolated state was able to conduct a nuclear test at any time, the Yonhap news agency reported. North Korea had threatened last month to launch missiles toward Guam, which prompted warnings of retaliation from American military officials.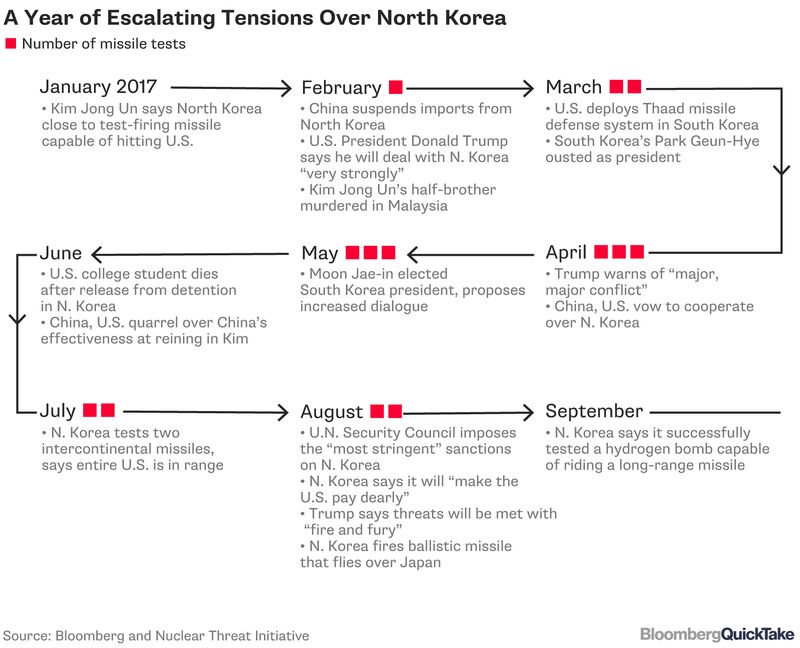 South Korea earlier in the day paved the way for the full deployment of a U.S. missile defense system while its military conducted a live-fire drill with North Korea's test site as the virtual target. The Environment Ministry on Monday conditionally approved an environmental impact report on the Terminal High-Altitude Area Defense system. That removes the final administrative hurdle for complete installment of the missile shield, known as Thaad, which China sees as a threat to the region's "strategic equilibrium." South Korea's Defense Ministry said it would install the system's remaining launchers "soon."
The governments in Seoul and Washington were also discussing deployment of a U.S. carrier group and strategic bombers, Yonhap said. Troy University's Daniel Pinkston weighs in on North Korea's nuclear weapon test and what the regime aims to achieve. Following the nuclear test, U.S. President Donald Trump threatened to increase economic sanctions and halt trade with any nation doing business with North Korea — a threat he has used before without following through. That list would include China, the U.S.'s biggest trading partner, which accounted for about a sixth of its overseas commerce.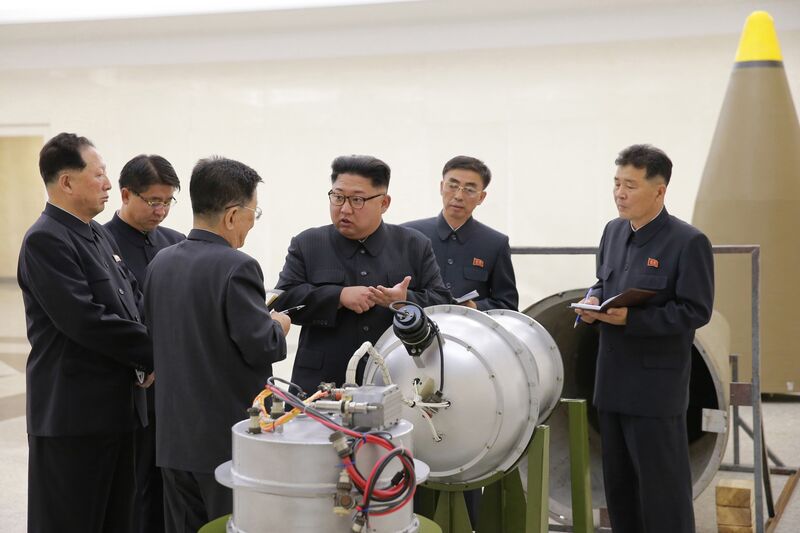 Moon took power in May pledging to seek peace talks with Kim's regime. He initially opposed the early deployment of Thaad, though has shifted in recent months as North Korea advanced its push for an intercontinental ballistic missile that could strike the U.S.
The disagreement between allies comes as Trump's administration looks to convince China and Russia to support stronger sanctions against North Korea at United Nations Security Council. The U.S. and other nations called for an emergency meeting at 10 a.m. on Monday in New York. While Trump didn't rule out an attack on North Korea when asked by a reporter, the focus of his Tweets and remarks by Treasury Secretary Steven Mnuchin were on tighter sanctions, not military action. China and Russia oppose military force to deal with North Korea's nuclear program. In a call with Japanese Prime Minister Shinzo Abe, Trump "reaffirmed the commitment of the United States to defending our homeland, territories, and allies using the full range of diplomatic, conventional, and nuclear capabilities at our disposal," the White House said in a statement.
Separately, Abe spoke with Russian President Vladimir Putin late Sunday, telling him that another strong UN resolution was needed. Abe also told South Korean President Moon that the North Korea threat was grave and imminent, Japan's Kyodo News reported. Moon hasn't spoken with Trump since the nuclear detonation. Sunday's test, North Korea's first since Trump took office, was a "perfect success" and confirmed the precision and technology of the bomb, according to the Korean Central News Agency. Energy from the underground explosion, near the Punggye-ri nuclear test site in northeast North Korea, was about six times stronger than the nuclear test of a year ago, South Korea's weather agency said.
Missile Test
On Monday, South Korea's military accurately fired a surface-to-surface ballistic missile and air-to-ground rocket onto a target in the East Sea (also known as the Sea of Japan), according to a text message from the Joint Chiefs of Staff. The real-distance shooting exercise simulated the Punggye-ri site as the origin of the provocation, the joint chiefs said. Hans Kristensen, director of the Nuclear Information Project at the Federation of American Scientists, said the international community needs to "come up with a very different game plan than just sanctions and bomber exercises."
"Right now, everything North Korea does appears to have to be bigger and scarier," he said by email. "The signal they're sending is the same as always: we don't care what you say, we can do this and will continue to do so until you stop threatening us. And they seem to have the resources needed to do so despite sanctions."
Here's How North Korea's Nuclear Test Has Affected Markets
Stocks tumble across Asia, while yen and gold advance

No trading in Treasuries, but U.S. stock futures retreat
Here we go again. Financial markets are registering some modest flight-from-risk in the aftermath of North Korea's most powerful nuclear test yet. The Sunday detonation forced investors to again question the wisdom of holding on to equities near their highs for the year while reflecting on allocations to havens such as gold. It's a question they've been presented with repeatedly, after a series of missile launches and increased rhetorical tensions between North Korea and the Trump administration.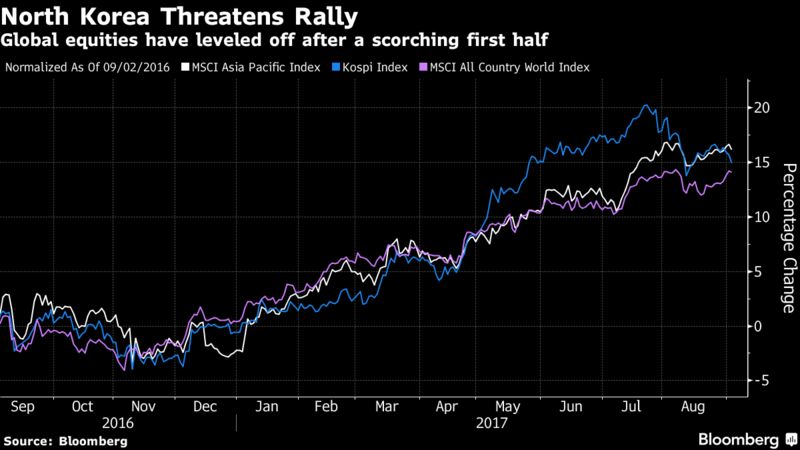 Market players demonstrated that there's no consensus view on how to incorporate North Korea risks into portfolio strategies, with bearish warnings from some quarters contrasting with a call from RBC Capital Markets to buy the won, and domestic South Korean investors being advised to accumulate local shares as foreigners get out. For Nader Naeimi, who heads a dynamic investment fund at AMP Capital and helps manage about $110 billion, the latest provocation from the North Korean dictatorship marks "a dangerous new phase." He has about a 30 percent position in cash and an allocation to gold, and he's also short emerging-market currencies against the dollar, anticipating a market correction.
The Kospi 200 Volatility Index, a measure of price swings for some of the largest stocks in South Korea, jumped 11 percent to 14.78 for the biggest gain since Aug. 11, when markets were roiled by North Korea's threat to fire missiles near the U.S. territory of Guam and President Donald Trump responded with his rhetoric about "fire and fury."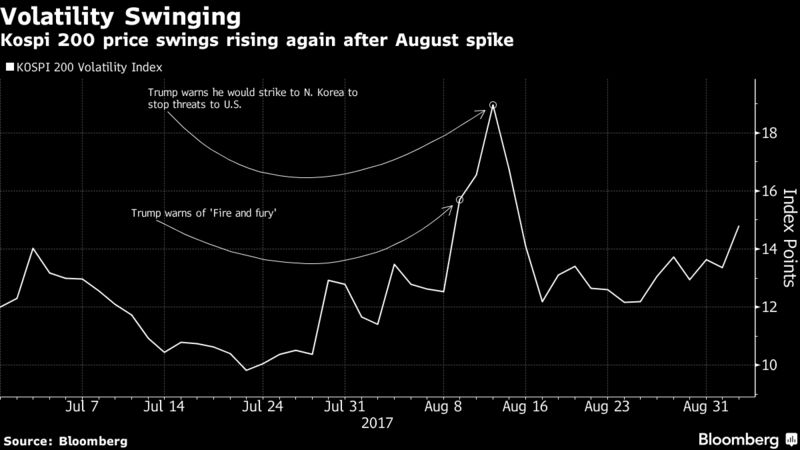 Less-risky assets are benefiting from the geopolitical tensions, as they have in past incidents. Gold rose as much as 1 percent, trading at the highest levels since September 2016, while the yen also climbed as much as 0.9 percent.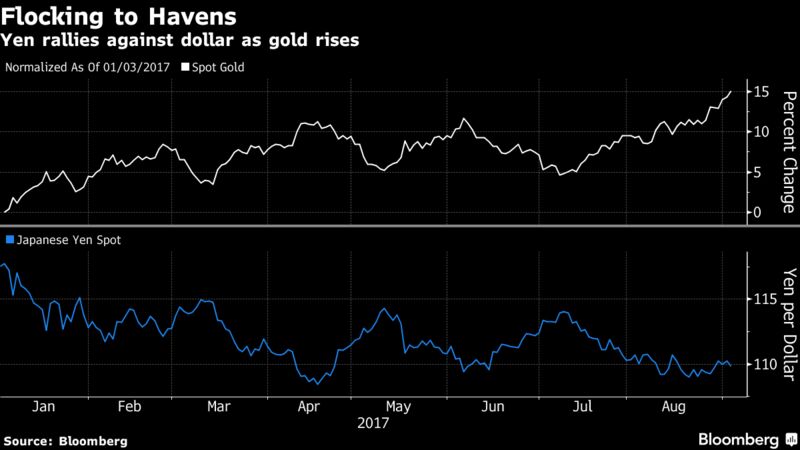 U.S. Treasuries weren't trading due to the American Labor Day holiday, so don't have an opportunity to benefit from haven demand, while S&P 500 Index futures declined 0.3 percent as of 12:55 p.m. Hong Kong time. South Korean 10-year government bonds slipped, sending yields higher.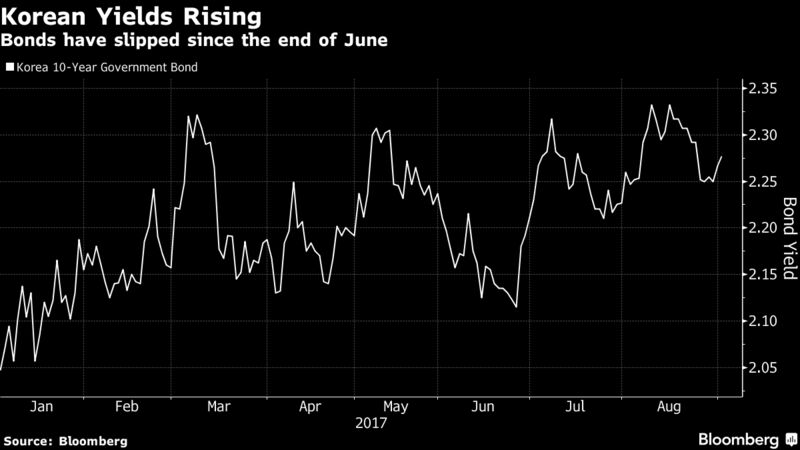 The South Korean won at one point Monday saw its biggest decline against the dollar since March, though the drop eased as the trading session wore on, as with stocks. The currency remains on track this year for its biggest annual gain since 2012.