Crude's surge through $70 a barrel is failing to bring cheer to bond investors in the oil-rich Gulf region. The average spread over U.S. Treasuries for bonds from the six-nation Gulf Cooperation Council climbed to 234 basis points on Friday, the highest since November 2016, according to JPMorgan Chase & Co. index data compiled by Bloomberg. Tellingly, that measure has risen in percentage terms more than other emerging markets since oil began its latest rally in February.
And for Anita Yadav, the head of fixed-income research at Emirates NBD PJSC in Dubai, the U.A.E.'s second-biggest bank, the pain isn't over.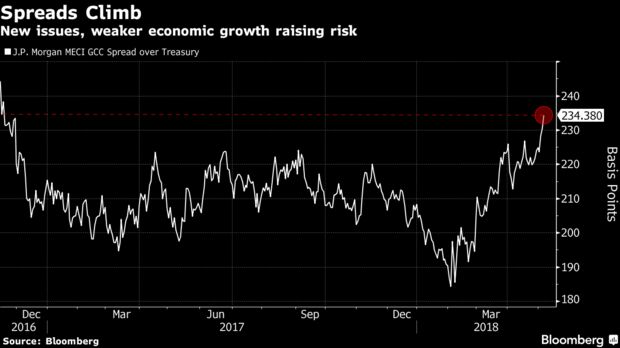 "GCC spreads have a greater chance of widening from here, despite oil prices rising," Yadav said. "The large new supply and weaker economic outlook for the GCC is counterbalancing the positive sentiment from oil." Bond sales in the GCC have jumped 28 percent this year to $51.9 billion, swelling the overall market by almost a fifth, despite the conflict in Syria and growing tensions over Iran's nuclear program. While GCC economic growth is forecast to rebound to 1.9 percent this year from a 0.2 percent contraction last year, it's still less than half the forecast emerging-markets average of 4.5 percent, according to data from the International Monetary Fund and the World Bank.
Saudi Arabia raised $11 billion from a three-part sale in April, Qatar tapped the market with a $12 billion issue the same week, while Oman sold $6.5 billion of securities in January. Sales for the year may range from $70 billion to $90 billion, possibly topping last year's record $85 billion, according to a January forecast by Andy Cairns. First Abu Dhabi Bank PJSC's head of corporate finance.
Spending Cuts
Oil is the lifeblood of the GCC economies and crude's plunge since 2014 caused large deficits in government budgets, forcing them to cut spending at the cost of economic growth. Although Saudi Arabia, the biggest Arab economy, is forecast to post a fiscal deficit of 7.3 percent of output this year, it's still less than half the 17.2 percent gap it reported in 2016, according to IMF data.
While growth is on track to improve across the GCC this year, several countries are pushing through more spending cuts to balance budgets, slowing the recovery. Oil's advance to $75 a barrel, fanned by expectations of new Iran sanctions, will now buoy state finances and support spending on new projects to help diversify the region's energy-dependent economies. "New bond supply is likely to be very high, economic growth is weak and geopolitical risk is increasing," Yadav said. "On top of that, the risk of defaults has increased."
Sources and photo-credits: Bloomberg