Oil Producers Consider Output Cut Extension as Support Grows. Oil producers pledged to consider extending their pact limiting supply, as half a dozen nations said more time was needed to drain swollen stockpiles. Six OPEC members and Oman backed an extension, with Kuwait saying it should be for six months. The ministers met this weekend in Kuwait City and asked the Organization of Petroleum Exporting Countries to make a recommendation in a month on the possibility of prolonging the supply curbs.
Compliance committee met in Kuwait to assess output cuts

Crude inventories seen still too high for markets to stabilize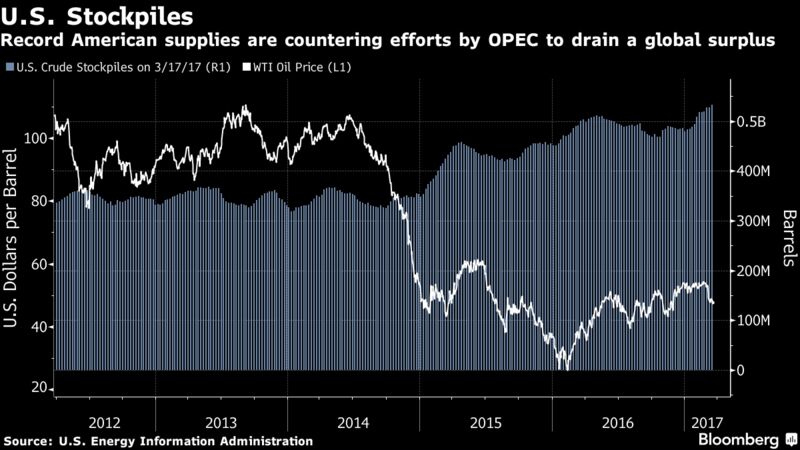 Brent crude, the global benchmark, was trading down 8 cents at $50.70 a barrel as of 4:47 p.m. in London on Monday. Kuwait this month became the first nation to call for extending the production cuts, with Oil Minister Issam Almarzooq saying inventories had grown more than expected. OPEC and 11 other major producers including Russia agreed last year to slash production, spurring a 20 percent increase in Brent crude prices during the last five weeks of 2016. The rally stalled this year as U.S. output and supplies continued to grow. OPEC ministers will meet May 25 in Vienna to decide whether to extend the deal. watch video.
A compliance committee of OPEC ministers from Kuwait, Algeria and Venezuela and their counterparts from Russia and Oman concluded meetings in Kuwait City on Sunday with a statement asking OPEC to review the market and give them a recommendation in April on rolling over the cuts. Russia Energy Minister Alexander Novak said it's too early to talk about an extension and that it won't make any pledges until April. Russia needs more time to assess the market, inventories and production in the U.S. and other non-OPEC countries, Novak said in an interview with Bloomberg television Sunday.
Revised Statement
After Sunday's meeting, Kuwait's Almarzooq, the compliance committee's chairman, said OPEC is assessing whether to prolong the cuts for another six months. But the committee in its final statement removed a section in the draft that said it recommended a six-month extension. It also added a sentence saying the ministerial committee "will deliberate before submitting its recommendation to the participating countries."
"What is remaining is something like 285 million barrels of oil overhang stock which needs to be taken away," Qatar's Energy Minister Mohammed Al Sada said at a conference in London on Monday. The agreement to cut output has been successful so far, but should be continued into the third quarter when demand typically peaks, he said.
Deal Compliance
Khalid Al-Falih, the energy minister of OPEC's biggest producer, Saudi Arabia, said in a Bloomberg television interview on March 17 that the deal will be maintained if oil stockpiles are still above their five-year average.
"Certain factors, such as low seasonal demand, refinery maintenance, and rising non-OPEC supply, have slowed down the positive impact of the production adjustments on inventory drawdowns," the committee said in its statement. "At the same time, the liquidation of positions by financial players in the market was also observed." OPEC's compliance rate was 106 percent in February, and non-OPEC nations including Russia have reached compliance of 64 percent, Kuwait's Almarzooq said Sunday. The combined compliance rate of both was 94 percent, he said. Iraq expressed a willingness to support extending the cuts but only if OPEC and others agree, Oil Minister Jabbar Al-Luaibi told reporters.