Oil traders and analysts almost unanimously expect OPEC and Russia to prolong their production cuts next week. However, behind the scenes Saudi Arabia and Russia are still debating what course to follow. These high expectations, coupled with a recent surge in bullish bets on crude, amplify the risk to prices if the group can't convince a hesitant Russia that it's necessary to agree an extension right away.
"Anything but an extension supported by Russia would have a significant impact on the price," said Ole Hansen, head of commodity strategy at Saxo Bank A/S. "Not least due to the near record-long oil bet, which has left little room for error in terms of the communication from the OPEC ministers."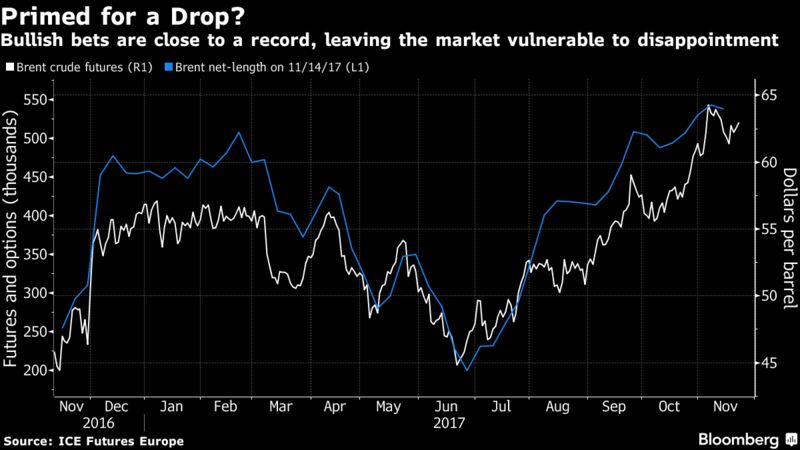 Oil climbed to a two-year high in New York on Wednesday in anticipation that the reduction in oil shipments from the Organization of Petroleum Exporting Countries and its allies would further diminish the glut that's weighed on prices for three years. The cuts are a success, but the job isn't done. To prevent the stockpile surplus expanding again, International Energy Agency forecasts indicate OPEC needs to maintain the cuts beyond their March expiry. That's what almost everyone expects to happen. All of the 36 analysts and traders surveyed by Bloomberg expected an extension, with another nine months of cuts the most popular prediction.
It's also what OPEC's largest and most powerful member wants. Last week, Saudi Arabia's Energy Minister Khalid Al-Falih told Bloomberg television the group should announce an extension of the curbs in Vienna because surplus inventories won't be eliminated by March.
Russian Reservations
Yet the dominant non-OPEC participant in the deal has reservations. Russia believes it's too early to announce anything this month, two people with knowledge of matter said last week. Another issue was the duration of the extension, with options including an additional three months of cuts being considered, they said. Kuwait, the fifth largest OPEC producer and a member of the committee that oversees the accord, also believes the decision to extend should be taken closer to expiry, said people familiar with the matter. Ministers from both nations set out that position publicly at their last meeting in Vienna in September.
Saudi Arabia has had "extensive" consultations with Russia and feels "fully convinced" that country will be "fully on board," Al-Falih said last week. Most seasoned OPEC observers tend to agree that the group's most powerful member will prevail.
"Despite the signs that the Russians may be having second thoughts, I think in the end they are going to agree on an extension," but it's not a slam dunk, said Mike Wittner, head of oil market research at Societe Generale SA in New York. The Saudis may not get the extra nine months of cuts they're pushing for and "if they don't do anything it will be a severe disappointment to the market."
Sources and Photo-credits: Bloomberg