Oil traded near $68 as investors weighed the possibility of the U.S. pulling out of the Iran nuclear deal and as traders monitored a historic meeting between the two leaders of North and South Korea.Futures in New York lost 0.3 percent, on course for a 0.6 percent drop this week. French President Emmanuel Macron earlier this week predicted President Donald Trump will exit the Iran agreement, while U.S. Defense Secretary Jim Mattis said Thursday a decision on a withdrawal hasn't been made. In Korea, Kim Jong Un on Friday became the first North Korean leader to enter the south as talks begin over his nuclear weapons program.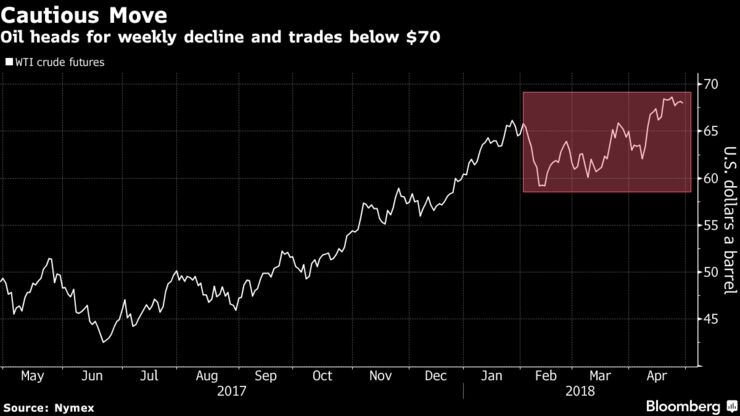 Oil this month touched the highest level in more than three years as speculation swirled over the potential breakup of the nuclear accord that Iran signed with world powers in 2015. The deal had lifted sanctions on the Islamic Republic, enabling it to boost oil production by about 1 million barrels a day. Investors are also watching global inventories as the Organization of Petroleum Exporting Countries continues trimming output while American production soars.
"The market will keep a close eye on Iranian sanction-related news and investors will stay cautious until we reach some sort of conclusion on it," Will Yun, a commodities analyst at Hyundai Futures Corp., said by phone from Seoul. "Prices are likely to rise higher if a peace agreement is reached between the two Koreas, but that should be a short-lived move since the market has already priced in a lot of it."
West Texas Intermediate crude for June delivery traded at $67.96 on the New York Mercantile Exchange, down 23 cents, at 12:01 p.m. in Singapore. The contract is down 44 cents this week. Total volume traded was about 57 percent below the 100-day average. Brent crude for June delivery dropped 25 cents, or 0.3 percent, to $74.49 a barrel on the London-based ICE Futures Europe exchange. Prices are up 0.6 percent for the week. The global benchmark crude traded at a $6.54 premium to June WTI, near the widest premium this year.
U.S.-Iran Situation
Futures for September delivery rose 0.1 percent to 442 yuan per barrel on the Shanghai International Energy Exchange by the midday break on Friday. The contract is on course for a 1.2 percent gain this week.
There's been no decision made on "any withdrawal" from the Iranian nuclear deal and discussions are still ongoing among the U.S. government officials, Mattis said during a testimony on Capitol Hill on Thursday. That comes after French President Macron said in Washington that the U.S. President will get rid of the deal on his own for "domestic reasons."
Physical Market
The nervousness around a potential breakdown in the deal is also spilling over into the physical oil market. Traders are unwilling to sign contracts for Iranian crude and refined products that would be valid after May 12, the deadline for Trump to decide whether to reimpose sanctions, according to recent interviews with six companies that buy and sell oil in the Middle East.