OPEC's finally getting some credibility back behind its swagger, ahead of the oil group's meeting later this month in Vienna. The cartel's members complied to the tune of 104 percent in October on orders to pull back 1.2 million barrels a day, according to Bloomberg data. Stockpiles are drawing and Brent closed at at two-year high of $64.27/b on Monday.
So what's changed?
Some say a rise in geopolitical risk has pushed up prices, but other analysts think there's a more permanent shift underway. "We do not see the latest rise in prices as speculative," said Paul Horsnell, global head of commodity strategy at Standard Chartered, in a recent note. "We think the move reflects the start of a widespread re-evalution." Traders, he said, are rethinking how much oil will be produced and drawn down from stockpiles, especially in the U.S.
Looking at the U.S. gives several encouraging signs. Stockpiles compared to the five-year average have continually fallen in 2017. U.S. crude and product inventories, including the SPR, have fallen by 93.8 million barrels since January. Latest weekly data from the EIA show that U.S. crude stockpiles have drawn by a further 2.4 million barrels to 454.9 million barrels. That's the seventh consecutive weekly draw.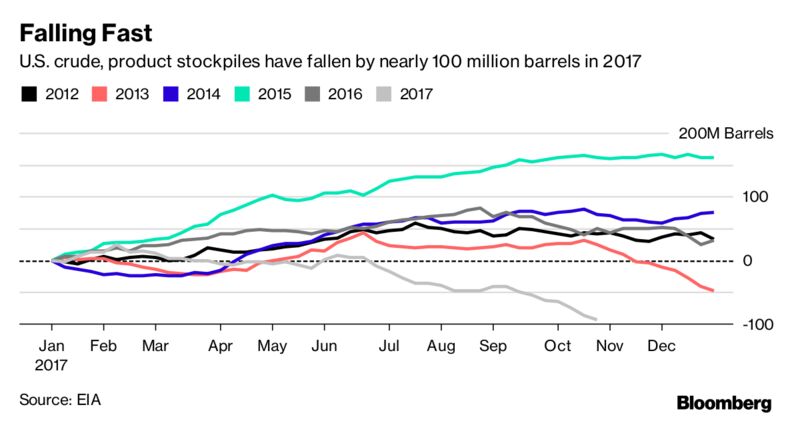 It isn't just stockpiles, U.S. shale output growth is tapering off. Permian production has grown almost 15 percent to 2.43 million barrels a day in September from 2.13 million barrels a day in January, while the Bakken is relatively unchanged and the Eagle Ford falling to 1.13 million barrels a day from 1.7 million barrels a day, according to BTU Analytics data.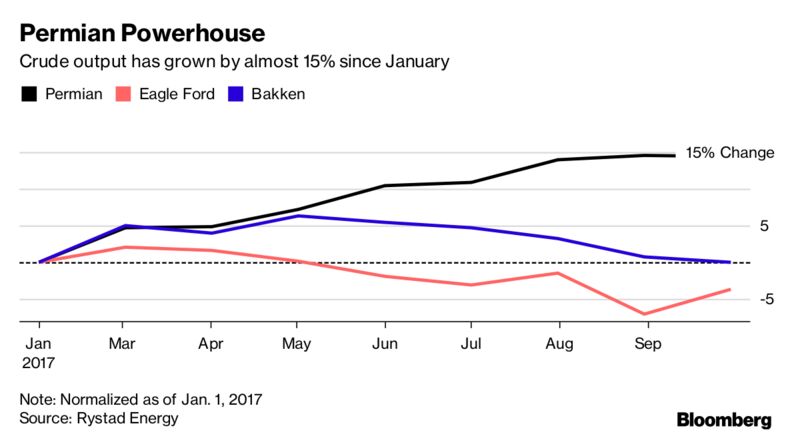 This slowdown has come even as break-evens in key basins have fallen, with costs in both the Midland basin and West Eagle Ford declining by around 45% since January 2014, according to BTU Analytics. And while shale output is likely to get cheaper until mid-2019, according to Ebele Kemery, head of energy investing at JPMorgan in New York, the "greatest leaps forward in lowering costs are now behind us," said Michael Poulsen, senior oil risk analyst with Global Risk Management.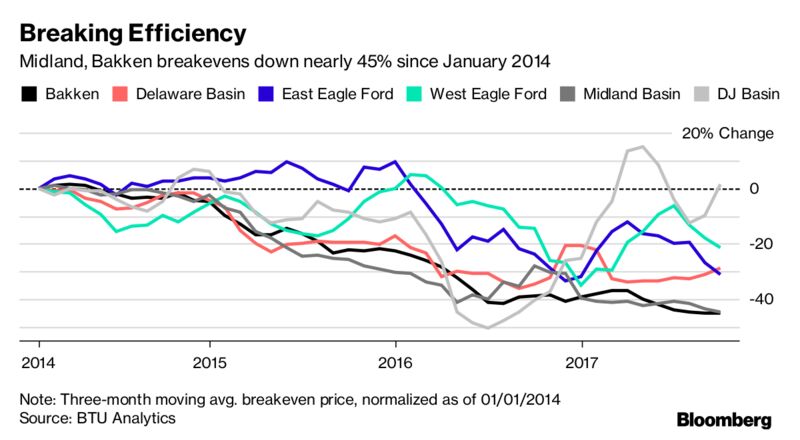 Meanwhile, OPEC compliance with production cuts agreed last year rose by 23 percent month-on-month to 104 percent in October, according to a Bloomberg survey published on Wednesday. That's the second-highest level since the organization began curbing output in January. OPEC output fell by 180,000 barrels a day to 32.59 million barrels a day, Bloomberg data show.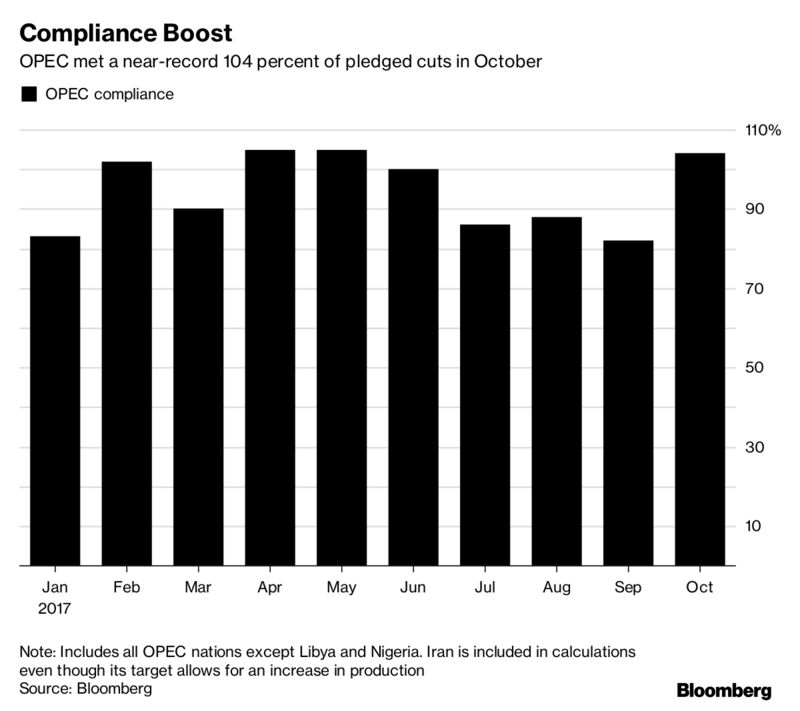 While prices are a bit better now, the coming years don't look so great. OPEC is probably going to need to sustain its cuts for another year. Even if the cuts finish in late 2018, it's looking at zero growth in demand for its crude until 2025 as shale takes all the new market share.
OPEC's World Oil Outlook 2017, published today, gives further encouragement. OPEC expects shale oil production to peak after 2025 and decline from about 2030. OPEC will then be required to increase its own output from about 33 million barrels a day in 2025 to 41.4 million in 2040, according to the report.
Sources: Bloomberg