Saudi Arabia continued to lead OPEC's efforts to cut production, helping the organization get closer to a goal set out in a historic accord last year.
Riyadh pumps 90,000 barrels a day less in February: survey

Previously compliant Angola ramps up output at new fields
Riyadh lowered oil supply by 90,000 barrels a day from a month earlier to 9.78 million in February, according to a Bloomberg News survey of analysts, oil companies and ship-tracking data. It was the second month in a row that the world's biggest crude exporter pumped below its own target of 10.06 million barrels a day.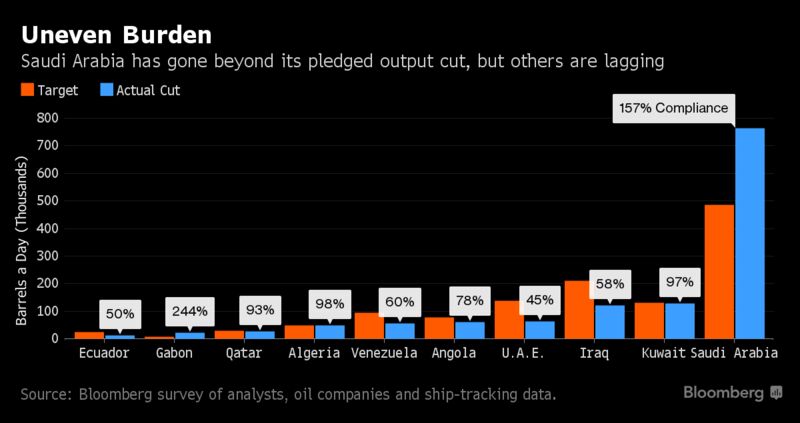 Overall, the Organization of Petroleum Exporting Countries' production fell to 32.17 million barrels a day in February, a 65,000 barrel-a-day drop from January, the first month of the accord. The 10 members of the group that pledged to make cuts in Vienna in November implemented 104 percent of those reductions, largely because Saudi Arabia went beyond its target.
Those countries' efforts were offset by increases from Iran, Nigeria and Libya that were permitted under the terms of the agreement, meaning OPEC's total output remains 415,000 barrels a day above the target set out in the Nov. 30 deal. The group as a whole is only about 70 percent of the way toward the production level it deemed necessary to eliminate a global oversupply and boost prices.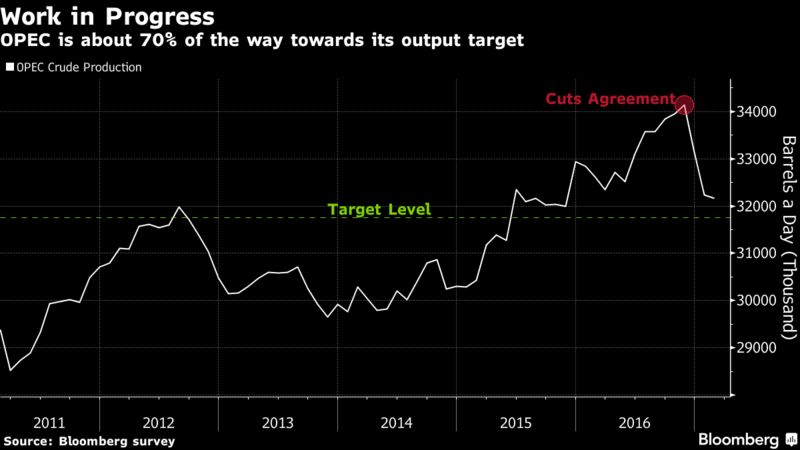 Iraq's production dropped by 50,000 barrels to 4.44 million barrels a day, the survey showed. A strike by oil workers in Gabon — the tiniest member — contributed to a decline of 15,000 barrels a day. Angola, among the most compliant members in January, failed to meet its target in February after the start-up of two oil projects. Output there ramped up 20,000 barrels to 1.69 million barrels a day. Iran's output increased to 3.83 million barrels a day, slightly above its goal of 3.797 million barrels a day. As part of the deal, Iran was allowed to increase supply after years of sanctions that hurt its oil industry.
Libya and Nigeria — both exempt from the accord — saw combined 50,000 barrel-a-day growth.
Russian Cuts
Investors are also paying close attention to Russia and 10 other oil-producing countries, which agreed in December to join OPEC in cutting output. A monitoring committee last week found the non-OPEC countries achieved 66 percent of their pledged cuts for January. In Russia, the largest non-OPEC participant in the deal, oil output was unchanged in February at about 11.1 million barrels a day after a cut of 117,000 barrels a day in January, according to Energy Ministry data. The nation pledged in December to gradually reduce supply by as much as 300,000 barrels a day from a post-Soviet high of 11.23 million in October.
Benchmark Brent crude prices have rallied about 20 percent since the November pact amid optimism the market will re-balance following three years of glut. OPEC and its allies will decide at meetings in May whether to prolong the accord past June 30.