Investors are having second thoughts about one of Taiwan's hottest stocks over the past month. Swancor Holding Co. has slumped nearly 10 percent since mid-April after doubling in value in the preceding month on bets it would benefit from government plans to build wind farms in the seas around Taiwan.
The government expects its wind-power plan to attract more than NT$960 billion ($32.4 billion) in investment as part of President Tsai Ing-wen's pledge to phase out the island's nuclear reactors in favor of renewable sources of power. The administration is to announce a decision this month on which groups will develop wind farms with a total capacity of 5.5 gigawatts by 2025.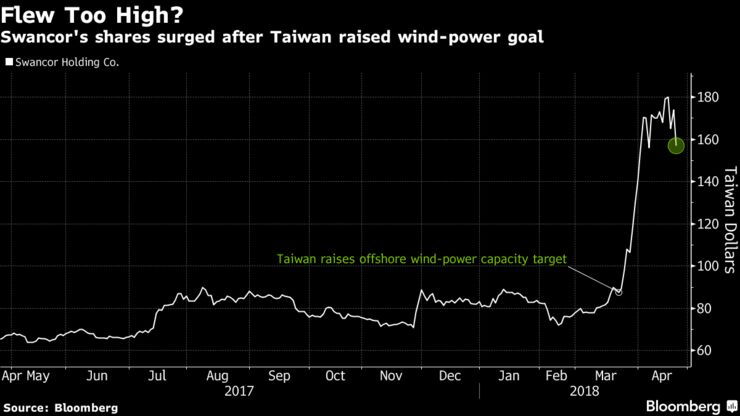 Swancor Holding, which has a joint venture with Macquarie Group to develop wind farms, soared more than 100 percent in the weeks after the island's economic ministry announced the plan on March 22. China Steel Structure Co. and CSBC Corp., which have also been linked to potential wind-power projects, rose as much as 84 percent before slumping at least 11 percent since mid-April.
 While the companies remain among the top performers on the benchmark Taiex gauge over the past month, investors are starting to wonder whether the stocks are overvalued. Swancor has a price-earnings ratio of about 66, more than four times that of Taiex's average. China Steel Structure has a P/E multiple of more than 120, while CSBC has reported losses for the past two years."The stocks have soared on dreams they'll benefit from the government policy," said Huang Wen-ching, vice president of Taipei-based Taishin Investment Advisory Co. "Now they'll have to come up with earnings numbers that support those dreams."
Sources and photo-credits: Bloomberg