"Their collective weight in global GDP continues to rise" says acronym founder O'Neill
Leaders of the so-called BRICS countries are meeting starting Wednesday in Ufa, Russia. Here's what you need to know about these emerging market economies to follow the summit.
1. The BRICS economies are getting very big
The combined economic output last year of Brazil, Russia, India, China and South Africa almost matched the U.S.'s gross domestic product. Back in 2007, the U.S. economy was double the BRICS.
"Despite some disappointments in some of the BRIC economies, led by China and India, their collective weight in global GDP continues to rise and therefore also does their importance," said Jim O'Neill, the former Goldman Sachs Group Inc. chief economist who coined the acronym back in 2001, without South Africa.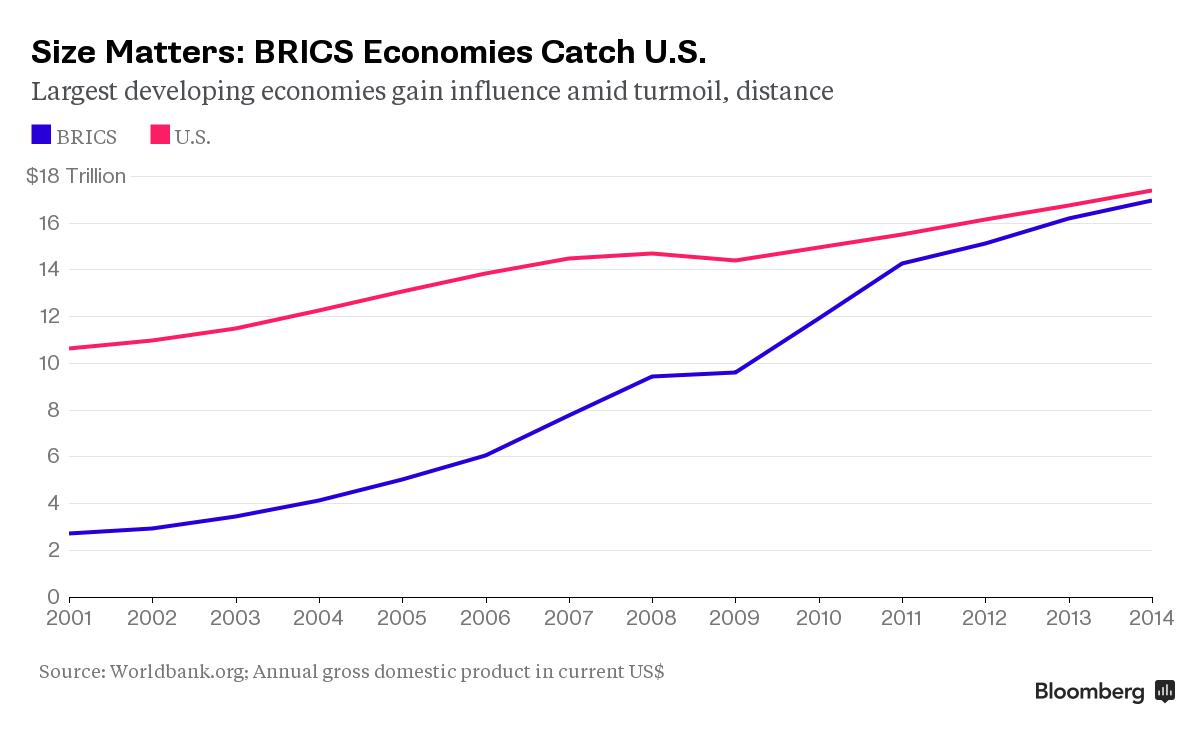 2. China wants a bigger stage
For Chinese President Xi Jinping, who has been particularly active in developing ways for his nation and BRICS peers to be more influential, the meeting is a chance to garner support for China's increased role on the world stage.
"Western countries often take a 'with us or against us' attitude to China, but China is neither with nor against western powers," said Zhu Jiejin, a researcher with the Center for BRICS Studies in Fudan University in Shanghai. "China accepts the existing framework while trying to make changes to it. It will be better for China to seek these changes together with India, Russia, Brazil and South Africa than going it alone."
We're already seeing the fruits of closer ties: India and Russia signed up as the next two biggest contributors to the China-led Asian Infrastructure Investment Bank among the 57 member-nations. The U.S. and Japan are absent from the ranks in what's seen as a rival to the IMF and World Bank.
Additional glue for the BRICS leaders is a $100 billion currency-exchange reserve program discussed at last year's summit. Then there's the planned BRICS bank, which will be a big part of the agenda this year, along with China's "One Belt One Road" strategy and ways to deepen economic links.
3. But not all have fared as well as China
Since the first official leaders' summit in 2009, China has been the clear breakout economy, with its GDP jumping from about equal to its four peers combined to more than 50 percent larger.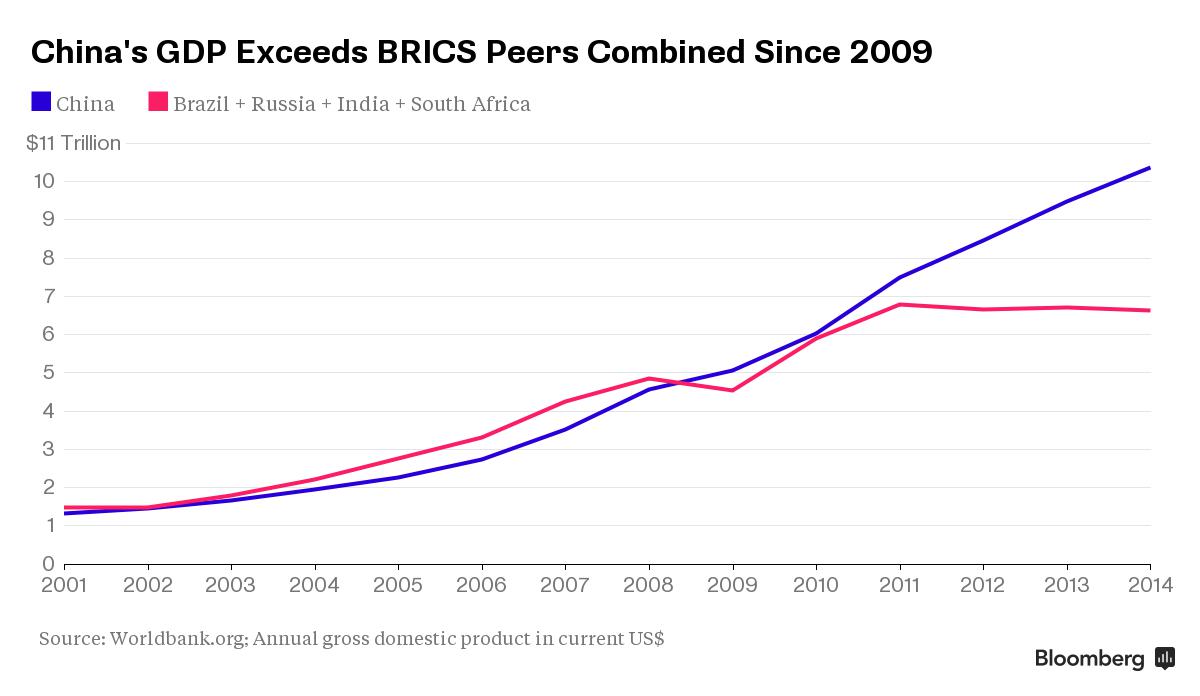 Russia and Brazil, stars in the early BRIC days, have lost their luster more recently as sliding commodity prices and political stresses cloud their outlooks. By contrast, Indian Prime Minister Narendra Modi comes to the summit with his economy in high gear, having eclipsed Russia's and closing in on Brazil's.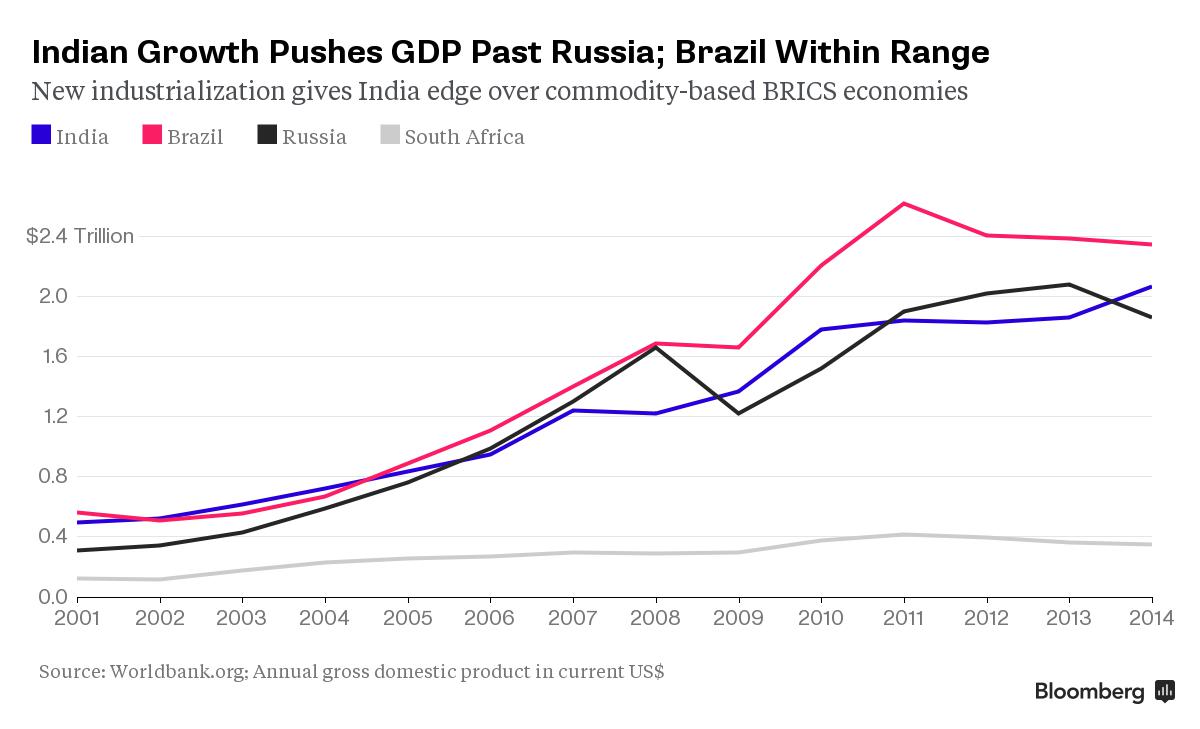 "While China and India are doing relatively better in economic development, it doesn't mean China and India will reduce the voice of the other three members in the group," said Zhu. "The birth mark of BRICS is equality among members." Source: Bloomberg