---
Oil investors rattled by the threat of U.S. output can find some cheer from diesel demand in Asia. Strong consumption of the fuel — used to power everything from trucks to ships and factories — underpinned crude's bull run last year, a rally that's now being threatened by surging American production. Still, while the risk of a crude glut looms, refineries being shut for spring-season maintenance is set to squeeze diesel supplies in the Asian market at a time when demand is being boosted by healthy economic growth.
That's helping alleviate concerns over an expected flood in Chinese fuel exports, which during the years of the global oil price crash exacerbated the industry's pain by wreaking havoc on regional profits from producing diesel. Returns in Asia from turning crude into diesel in January surged to the highest level since 2014, with appetite for the heating fuel spurred by China's winter gas shortage and record freezing temperatures in the U.S.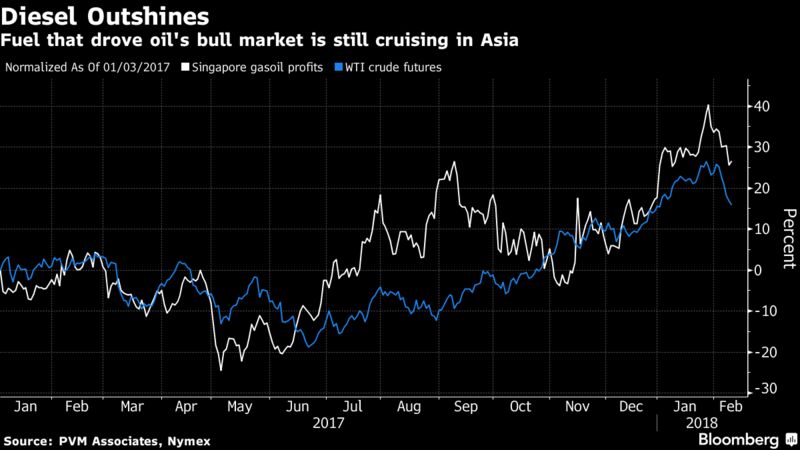 "Diesel, which is used in industrial activities, has been seeing robust demand since last year and the low global inventories for the fuel will continue to support margins," Ko Gwang-cheol, head of investor relations at South Korean refiner S-Oil Corp., said last month. Prices will be supported by the "significant growth recovery we're seeing from the global economy," he said. Over in India, the nation's biggest refiners are also expecting the sunny days to persist. "Growth is seen quite robust this year as well," said Sanjiv Singh, the chairman of Indian Oil Corp. "We are seeing over 5 percent growth in diesel."
Mukesh Kumar Surana, chairman of Hindustan Petroleum Corp., said refiners' profits from producing diesel have firmed up as demand has been outpacing supply, which suggests that Chinese export volumes weren't as high as the market had expected.
Not everyone is so optimistic.
While upcoming seasonal maintenance at refineries may support diesel margins over the next few months, the market may end up with too much supply in the latter half of the year once the plants are back online, according to Ehsan Ul-Haq, a London-based director of crude oil and refined products at Resource Economist.
Infrastructure Spending
"Thanks to economic growth, refiners are hoping that the region would absorb all diesel barrels, but the region cannot afford any unexpected dip in demand," he said.
Still, Fitch Group's BMI Research expects demand for diesel to stay strong this year as Asia's emerging markets boost infrastructure spending and encourage construction activity. Meanwhile, supplies are set to tighten around March and April because of refinery maintenance in nations including India and Sri Lanka, said WengInn Chin, an analyst at industry consultant FGE in Singapore.
Plants are also going to undergo work in the Atlantic basin, particularly in the U.S. Gulf Coast where maintenance last year was delayed because of Hurricane Harvey, he said. The so-called crack spread in Asia, or the premium of diesel over Middle East benchmark Dubai crude, was at about $15 a barrel on Friday after touching $17.04 on Jan. 29, the highest since Nov. 2014.
Sources and photo-credits: Bloomberg with assistance by Debjit Chakraborty