Greece and Turkey — neighbors, historic foes — share the same blue Aegean waters, tasty food and ancient ruins, though only one has triumphed on the tourist front. While near-economic collapse in Greece proved to be no deterrent in attracting visitors, Turkey's proximity to war-torn Syria and the threat of indiscriminate acts of terrorismwere turn-offs.
Things didn't look good for Greece going into the summer as capital controls went into effect. However, sun-seekers and island hoppers simply lined their pockets with cash. July turned out to be a record-breaking month, according to the latest available figures.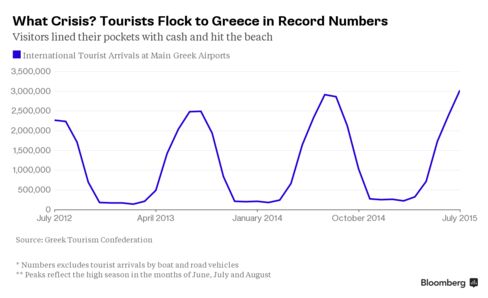 Just a few miles east of the Greek islands lies Turkey, where the economy is actually growing but the tourism scene is far from rosy.
The number of tourists flying into Turkish airports started to fall in April, and there's been an escalation of violence in the country, culminating in the Wednesday attack on Dolmabahce Palace, one of Istanbul's most popular tourist sites. That incident creates fear among foreign visitors that they could be caught in the wrong place at the wrong time.
Other factors are also weighing on tourism. Turkey used to be one of the top travel destinations for Russians. The ruble's crumble means many can no longer afford to go. Tourists arriving from Russia tumbled 24 percent in the first six months of 2015 compared to the same period last year, according to the Turkish Ministry of Culture and Tourism.
Even Turks are flocking to vacation in Greece, where the cost of living has decreased dramatically compared to their homeland. As a result, Turkey ranked sixth among Greece's tourists by origin with 831,113 visitors in 2013, the latest available data. That's a 38 percent jump from the year before.