U.S. crude may owe supply from Mexico for helping it capture a share of the world's biggest oil market this year. The total volume of U.S. and Mexican crude that were loaded into a single ship for export has surged more than fivefold to 11.8 million barrels so far this year, from 2.1 million barrels in 2016, data from vessel-tracking and intelligence company Kpler show. All the cargoes sailed to Asia, according to shipping information on Bloomberg.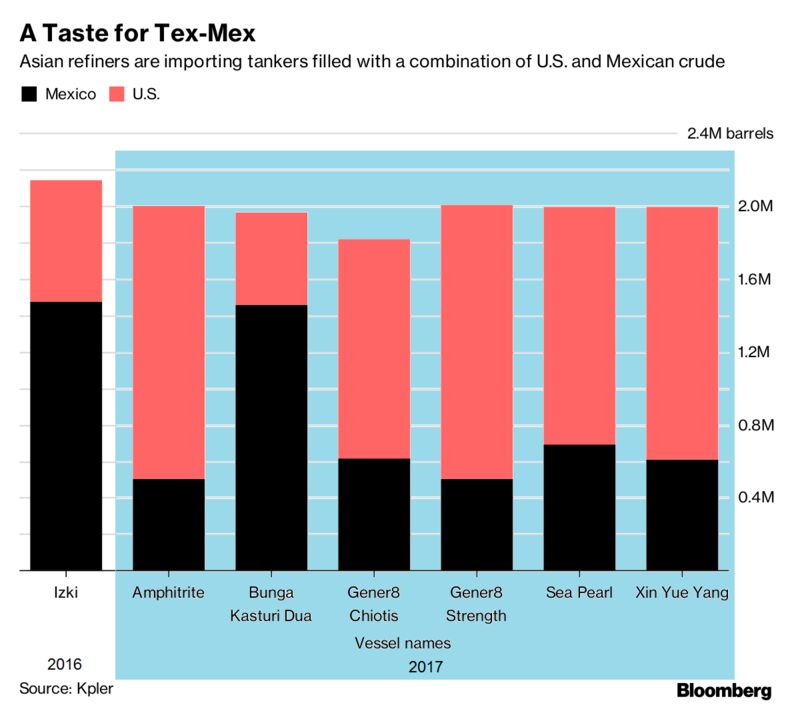 While some Asian buyers prefer purchasing crude from the Americas on very large crude carriers with capacity of about 2 million barrels, most export terminals in the U.S. don't boast infrastructure that can accommodate a fully-laden big tanker. To circumvent the problem, a VLCC is partially loaded in a Gulf Coast port after which it goes to Mexico to fill up before sailing east. Alternatively, smaller vessels can pick up supplies and transfer them at open seas into a VLCC.
American exports are surging as production booms and complicates OPEC's strategy as it gathers in Vienna Thursday to consider output curbs. About 350,000 barrels per day of oil flowed from the U.S. to Asia from January to September this year, an 800 percent increase year-on-year, according to Chen Bo, the president of Unipec. Asia was the top destination for U.S. oil during the period, taking 37 percent of exports, said Chen, who heads the trading arm of refiner China Petrochemical Corp., also known as Sinopec.
Sources and Photo-credits: Bloomberg with assistance by Dan Murtaugh