U.S. stocks rallied back from a four-week low, with major averages bouncing off of key technical levels, but still ended down for the second straight day. The S&P 500 recovered more than 1 percent from session lows, buoyed by tech shares. The rebound came after the gauge slumped through its 200-day moving average, a level that has provided downside support five times since February. The rally was hampered by falling Treasury yields, which weighed on financial firms.
Investors are still digesting the Federal Reserve's latest decision and await Friday's monthly jobs report for clues on the strength of the world's largest economy. "What we're faced with here is a continuation of a strong economy, strong earnings and inflation creep that's spooking the market on the fixed income side overall the last several months," Chad Morganlander, a portfolio manager at Washington Crossing Advisors, said by phone. "Now, that to me is the thematic that's going to play out not only today but going into the jobs number."
Materials shares gained as trade talks between the U.S. and China got underway Thursday, but both sides dialed back expectations. Beijing won't agree to preconditions that include abandoning its advanced manufacturing program and agreeing to cut the trade gap by a fixed amount, a Chinese official said. American delegates said earlier that a breakthrough is unlikely, and they might leave early if unsatisfied. Talks are expected to resume on Friday.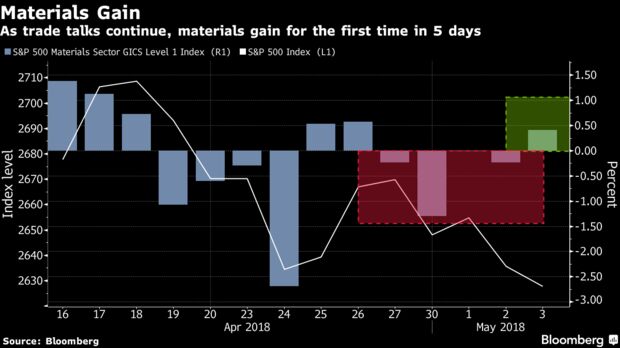 Investors are also weighing the meaning of the latest Fed gathering. The U.S. central bank kept rates on hold as expected on Wednesday, admitting inflation is near target without suggesting any need to accelerate its gradual hiking path. More data points are rolling in: The U.S. trade deficit narrowed in March by the most in two years, while last week's unemployment filings were below estimates and productivity gains remained lukewarm in the first quarter. Growth in U.S. service industries cooled in April to a four-month low and hiring eased, adding to signs the economy is off to a softer start this quarter, an Institute for Supply Management survey showed Thursday.
European equities retreated following their rally a day earlier. In Asia, Hong Kong stocks underperformed just as Chinese smartphone maker Xiaomi Corp. filed for what's expected to be the world's biggest IPO since 2014. West Texas oil gained as traders weighed a rise in stockpiles against concern about U.S. sanctions on Iran. Gold advanced.
Sources and photo-credits: Bloomberg