It's known in the jargon of technical analysis as a breakaway gap, a price swing that happens so fast that it fractures the orderly progress of trading and disrupts an existing range. In VW, it happened at the open on Sept. 21, when the carmaker plummeted from 162.40 euros to 139.95 euros without ever touching any of the price points in between.
It may take years before the shares recover, if they ever do, according to technical analysts at Day by Day SAS and FXCM Inc. BP never returned to its pre-spill price.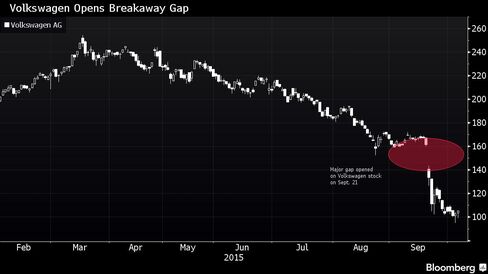 VW lost as much as $33 billion in market value since admitting cheating on emissions tests last month. The company is facing lawsuits and criminal probes in countries including France, Germany and America, with fines that could reach $7.4 billion in the U.S. alone, according to analysts from Sanford C. Bernstein Ltd. Chief Executive Officer Matthias Mueller said yesterday the company will delay or cancel non-essential projects in a bid to slash spending.
"A lot of people have piled out of Volkswagen," said Anthony Peters, a strategist at Swiss Investment Corp. in London. "You're going to have, as BP still has, long-cycle private litigation. Volkswagen's share price is going nowhere in a hurry."
80 Euros
VW will fall to 80 euros in the short term, according to FXCM analyst Vincent Ganne. The size of the breakaway gap on the chart signals that a number of long-term VW investors who had built positions over years dumped the stock on Sept. 21, Ganne said.Valerie Gastaldy, a technical strategist and partner at Day by Day, sees the shares falling to around 83 euros in the short term, with the negative momentum prevailing for months before a potential rebound. VW closed at 104 euros on Wednesday.
Andreas Lampersbach, a VW representative, didn't immediately return calls and an e-mail seeking comment on the stock trading.
BP formed its breakaway gap on June 1, 2010, after efforts to plug the company's leaking Gulf of Mexico well failed. It took seven months for the stock to rise back to the price before the gap was formed and has rarely climbed above it since then. While the slump in oil hasn't helped, this year's 8 percent decline in BP shares is more than that of energy companies in the Stoxx Europe 600 Index.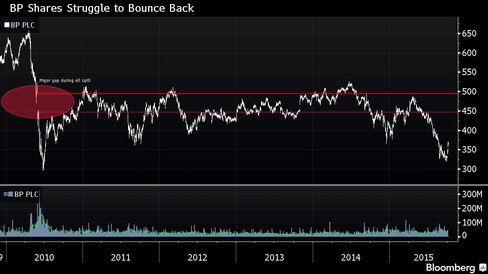 Even as VW has rebounded for two days, it's still near a four-year low. The company is seeking to regain credibility and fix the 11 million vehicles affected. It's exploring options from a simple software upgrade to outright replacing cars, people familiar with the matter have said.
"There is too much uncertainty in terms of how they will fix the cars, how long it will take and what the potential fines could be in the U.S. and globally," said Klaus Breitenbach, an analyst of automotive equities at Baader Bank AG in Frankfurt. "This is all unknown and is weighing on shares."