Soccer Factory That Made Ronaldo Tries to Find Another Ronaldo. Portugal's top soccer clubs have made almost $1 billion by selling their top talent to Europe's richer leagues. Under a cloudless Portuguese blue sky on immaculate green fields, the pressure is on to produce the next multimillion-euro export. The soccer training camps at bitter rivals Benfica and Sporting Clube de Portugal in Lisbon represent a factory for "Futebol" that's grown into the most influential in the $5 billion market for players. Among Europe's poorest countries, it has an outsized grip on the sport thanks to its ability to mold talent.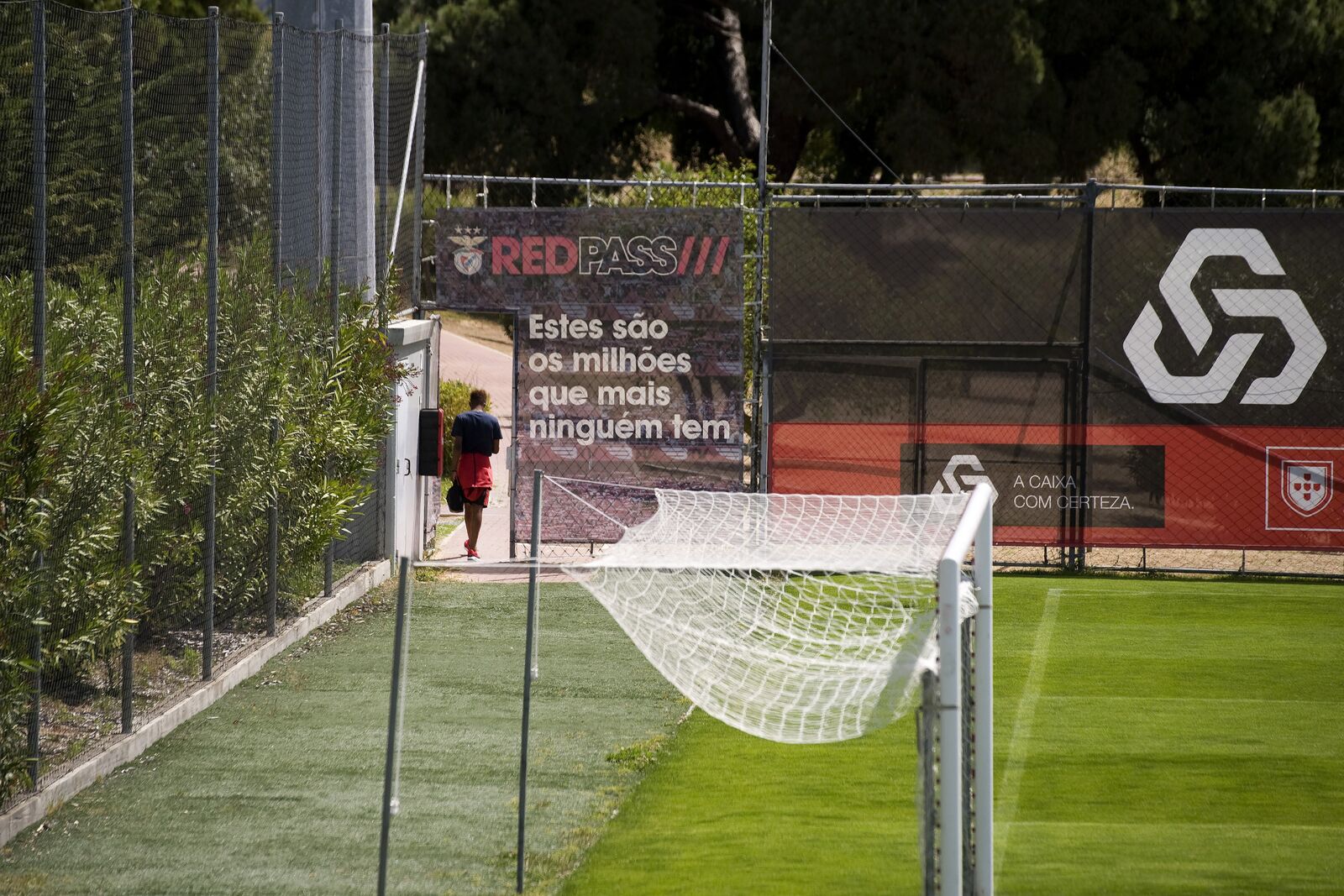 As soon as the trading window opened this month in England, Europe's richest league, Portuguese teams or players were involved in some of the most eye-catching deals. Four have changed club for a combined 160 million euros ($178 million), including Manchester City's purchase of Ederson from Benfica this month at a price that makes the 23-year-old the Premier League's most expensive goalkeeper.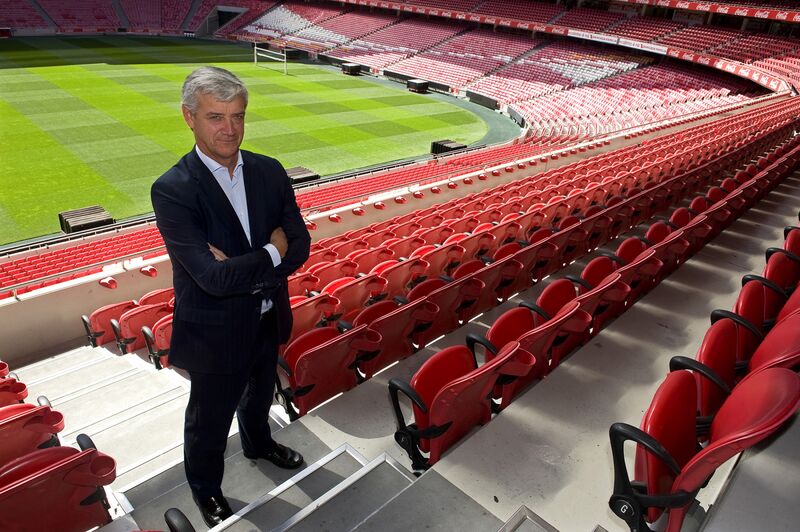 "People know our players won't be cheap because we have a good track record," said Benfica's chief executive officer, Domingos Soares de Oliveira. "Once we sell them, we want them to be successful. If one player fails once we sold them, then it's something that will affect our brand."
Simply put, Portuguese teams breed athletes for the most lucrative leagues in the world's richest sport. It gives the nation of 10 million with limited domestic income from television rights and merchandising a slice of global soccer's riches. They then use the money to keep the production line moving and repair finances hit by a legacy of debt and mismanagement, something all too common in European soccer. Along with FC Porto from the second-largest city, Portugal's top three clubs sold almost $1 billion of talent over the past six years to squads in other countries.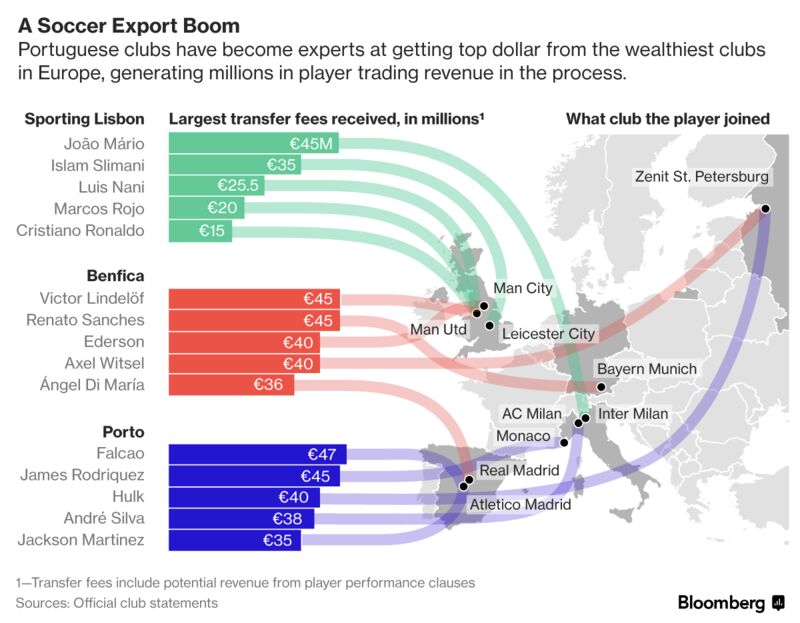 Portugal has exported the best European player in the game today—Real Madrid's Cristiano Ronaldo—and one of its most-decorated coaches—Manchester United's Jose Mourinho. Its national team is European champion after upsetting the odds with a victory over France last year. The country also has the most prominent agent, Jorge Mendes, known across Europe for his network of contacts that has led to hundreds of millions of euros in soccer trades.
The clubs recruit from a network of academies, schools and via scouts or fans watching kids playing across the country. They also scoop them up from rivals in the domestic league. It's a lottery, and hundreds don't make it, but when they do, it turns an investment of tens of thousands of euros into millions. There are also the rosters of young players from Latin America and parts of Africa, many of whom have gone onto stardom. They include David Luiz, a Brazilian who Benfica sold to Chelsea of England's Premier League in 2011 for 25 million euros.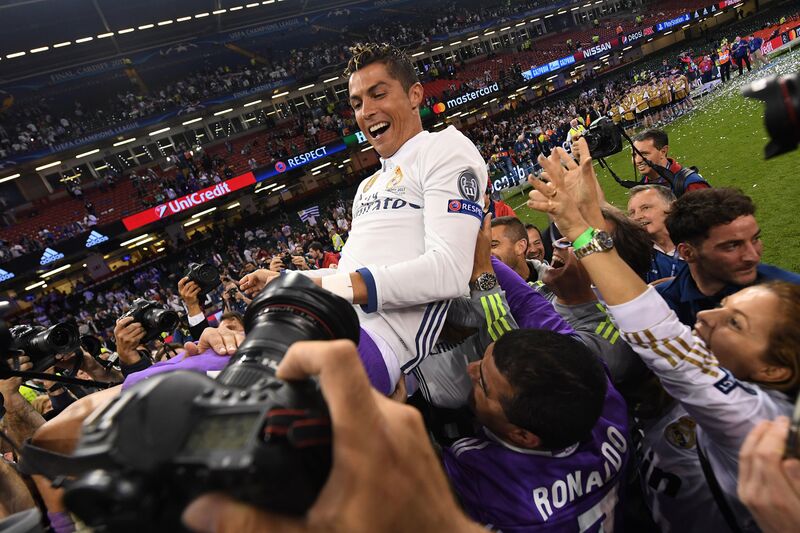 Sporting has produced 54 players currently active in professional soccer leagues. In the Portuguese victory at Euro 2016, 10 of the 24 players used in the final game came through its academy, Ronaldo being the biggest star. Aurelio Pereira, Sporting's head of youth development, said his memories of a shy, rake-thin lad from the island of Madeira are as strong today as when he arrived in Lisbon from aged 12 in 1997. He was sold six years later to Manchester United for 15 million euros.
"In the past, you either had a player of the level of Cristiano Ronaldo or you wouldn't sell anything," said Pereira, 69, himself a former Sporting player. His rudimentary office is adorned with photos and signed shirts of Ronaldo and Luis Figo, another world player of the year. "It wasn't normal for the European market to come to Portugal to get players."
While the country always produced talent, the bonanza arrived following Porto's European Cup win in 2004. The team was coached by Mourinho, who was then plucked by Roman Abramovich to take the job at Chelsea. Mourinho, backed by the Russian billionaire's bank balance, took players from Portugal with him to London, inflating the profile and price of imports just as Ronaldo was making his mark at Manchester United. At Sporting where Ronaldo came of age, players were returning to one of the cream, country estate-style buildings after a training session for a briefing. Across the city, potential stars were passing balls between them at Benfica's camp, a newer, more clinical laboratory with white-washed modern offices.
"Compared with some big clubs, we don't have enough money to buy some players so we have to make our own players," Nuno Gomes, a former player and the director of Benfica's training center, said at his office at the training center in Seixal, south of Lisbon. "We invest a lot in that specific area."
Developing and selling players meant the two Lisbon clubs managed to make a profit, despite the costs. Benfica, Sporting and Porto together have about 720 million euros of debt to service, based on figures compiled by Lisbon School of Economics and Management. A lot of it still stems from new stadiums built before Portugal hosted the European Championships in 2004.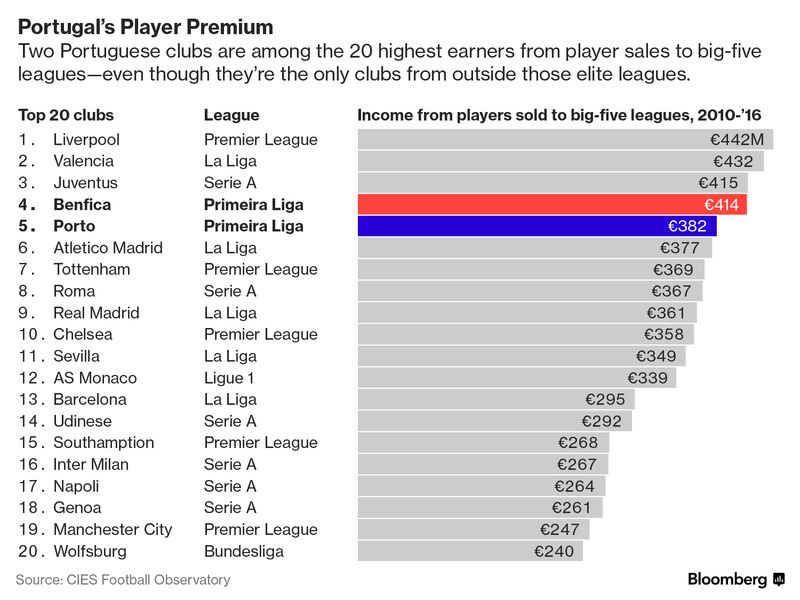 Then there are others to pay. Benfica alone shelled out 30 million euros last year to agents, more than the highest transfer fee the club has ever paid to buy a player. Much of the money also goes to pay off investors who bought stakes in players, a practice now banned by governing body FIFA. Benfica was only entitled to half the fee Manchester City paid for Ederson, with a former club and agent Mendes's company getting the rest.
Sporting President Bruno de Carvalho said the club had sold away the rights to all but one player by the time he arrived in 2013.
"Everything was gone, maybe we had a finger, a foot, a knee, a shoulder," de Carvalho said in the meeting room that adjoins his office inside Sporting's Alvalade stadium. Speaking in a rasping voice, the chain-smoker also believes fraud is to blame. "It's very easy to steal money from a club," he said. While Benfica can claim to be the biggest club in Portugal, and European Cup-winning soccer royalty in the 1960s, Sporting has long been hailed as the country's best finishing school.
It spends 9 million euros a year on its academy program, yet until recently wasn't selling at the right prices, according to de Carvalho. The club's finances were such a mess when he arrived in 2013 that it couldn't pay players on time or even the electricity bill.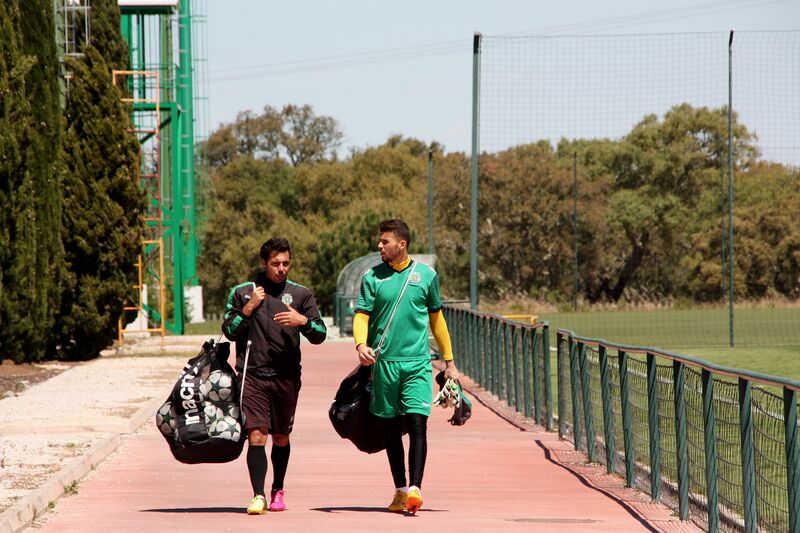 "The players went out very soon and very cheap," de Carvalho said. "But when I arrived here I said to myself: 'Sporting is the best academy in the world, and the best academy cannot sell players like we've sold.'"
To make his point, de Carvalho said he's now overseen four of the 10 most valuable transactions in the club's 111-year history, including sending midfielder Joao Mario to Inter Milan for a record of as much as 45 million euros last year, or five times what it spends on the academy. Sporting also sold Algerian striker Islam Slimani to England's Leicester City for up to 35 million euros depending on performance. Benfica faced similar problems due to mismanagement—a former president was just released from prison after serving a sentence for offenses including fraud—and the European banking crisis. The team has since traded 70 to 80 million euros worth of players in each of the past three years, creating a regular and consistent stream of income, said CEO Soares de Oliveira.
The club's academy and training center is situated across one of Lisbon's two iconic bridges with Sporting's at the other. The intense rivalry played a part in Benfica investing in its complex after years of coaching kids in fields dispersed across Lisbon. Yet it was soccer economics that made it a must. Gomes, the director, reluctantly opens up on Benfica's "Elite Group." A list of about 40 youngsters picked out of the team's youth cohort of about 240, who are given extra attention to master weaknesses. Aged between 13 and 19, the group are considered the most likely to make it as professionals. They are picked at a lively private meeting organized by Gomes.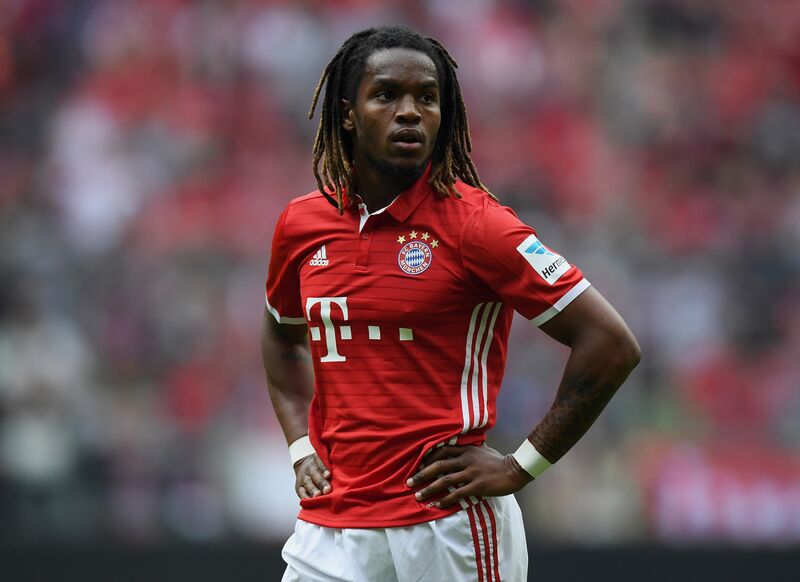 Teenager Renato Sanches is the most recent success story for the model. The dreadlocked midfielder went from the team's youth academy, to the first team before being sold to Bayern Munich for 35 million euros, all in the space of one season. The hope is that, one day, they can keep players for longer and try to match the biggest clubs in Europe. In reality, while Portugal punches above its weight, there's little chance of it catching up with the big leagues that take the lion's share of the continent's income from TV rights and merchandising.
"Our goal is to find a way to have economic sustainability to refuse those offers," said Gomes. "We are not at that point at the moment. I hope that in future it will be possible."