Poste Italiane IPO country's biggest privatization since 1999

Marchionne says Ferrari should be valued as a luxury company
They couldn't be more different.
One is Ferrari, a Made-in-Italy icon, the creator of sleek, super-fast Formula One racing machines, while the other is Poste Italiane SpA, a stodgy state institution that evokes images of long lines and slow service.
Yet they have two things in common now. They are both testing investor appetite with initial public offerings at a time when equity markets have been shaken by the turmoil in emerging markets, including China's economic slowdown. They've also both come up with similar valuations for their businesses — Ferrari as much as $9.8 billion and Poste Italiane up to $11 billion.
In their own way, the two IPOs have become flag-bearers for Italy Inc. The Poste Italiane offer is the nation's biggest privatization since 1999, and Prime Minister Matteo Renzi is using it to kickstart state asset disposals to help reduce public debt — the second highest in the euro region after Greece. For his part, Ferrari Chairman Sergio Marchionne is using the IPO and eventual full spinoff of the carmaker to cut parent company Fiat Chrysler Automobiles NV's debt and help finance 48 billion euros ($54.5 billion) of investments for Jeep, Alfa Romeo and Maserati.
"Ferrari is a luxury firm, with different multiples compared with Poste but I think both companies show the right face of Italy, a country that has a lot to show the world," Poste Italiane Chairman Luisa Todini told reporters on Monday. Todini is one of three women appointed by Renzi to executive positions of Italian state-controlled companies in April 2014.
Different Stories
For all that, Ferrari and Poste Italiane have very different stories to sell to investors.
Marchionne, who's also the chief executive officer of Fiat-Chrysler, says he's bringing to market a luxury-goods maker rather than an auto manufacturer. Ferrari, based in the northern town of Maranello, last year sold only 7,255 cars — compared with 4.6 million vehicles for Fiat-Chrysler — because it wants to maintain exclusivity.
The company, to be listed on the New York Stock Exchange under the ticker RACE, posted adjusted earnings before interest, taxes, depreciation and ammortization of 693 million euros, generating an Ebitda margin of 25 percent of sales last year.
Poste Italiane for its part is peddling its ordinariness — a traditional postal network being turned into a profitable company that competes with banks and insurers for financial service products. That theme is reflected in an ad campaign it launched in Italian newspapers Monday. The images include a man jogging in a park with headphones and a slogan that reads, "Per cambiare, basta un'azione," word play that's lost in its English translation to "All you need for change is a share/action."
Last year, postal services only accounted for about 14 percent of its total revenue. With about 142,000 employees and more than 13,000 offices across the country, Poste Italiane had first-half net income of 435 million euros and revenue of 16 billion euros, or a profit margin of 3 percent.
Exciting Ferrari
"Ferrari is unique, a luxury brand and therefore has much more potential
than Poste which is a mix of financial and postal services, definitely not as
exciting," Edoardo Liuni, a trader and partner of Trading Room Roma, an
independent Rome-based venue for traders, said in a phone interview. "Let's say I haven't heard Poste mentioned much around here, though admittedly the dividend is interesting."
The IPOs started on Monday, with the Poste offering running through Oct. 22. Ferrari has not set an official closing date.
Poste Italiane will be selling shares into a sizzling market. Italian stocks are on track to outperform Germany's — hit by the slowdown in China and the Volkswagen AG pollution-cheating scandal — for the first time in 11 years. Italy's FTSE MIB index has advanced more than 15 percent so far this year, while the German DAX is up only 3.2 percent.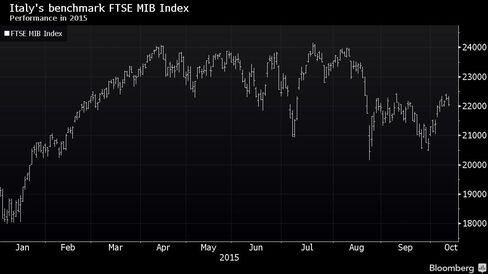 Still, for Stefano Girola, a Lugano-based fund manager for Syz Group SA, which manages about 40 billion euros, Ferrari is by far a better investment.
"I would favor Ferrari because it's a strong global brand," he said, adding that Fiat-Chrysler's sale of only a 10 percent stake means it will be heavily oversubscribed, giving more upside to the stock when it's listed. Poste Italiane is a bet on Italy and its success is closely linked to the company's "challenging" business plan and the economy's recovery from a deep recession, he said.