Trump Visits Israel as Top Diplomat Downplays Expectations. President Donald Trump landed in Israel on a groundbreaking direct flight Monday from Saudi Arabia, with Israelis and Palestinians waiting to see if the U.S. president can breathe life into a moribund peace process.

Modest airport welcome contrasts with extravagance in Riyadh

Visits to Old City, Bethlehem, Yad Vashem rich with symbolism
After two days in Riyadh, where the U.S. delegation signed multibillion dollar defense and infrastructure deals and the president urged Muslim leaders to combat terrorism, Trump arrived to a considerably less gilded reception at Ben-Gurion International Airport. Israeli Prime Minister Benjamin Netanyahu had to order his cabinet ministers to attend the brief ceremony. From there Trump was whisked by helicopter to Jerusalem to start a 28-hour visit heavy on symbolism and littered with political minefields.
"We have before us a rare opportunity to bring security and stability and peace to this region and to its people, defeating terrorism and creating a future of harmony, prosperity, and peace," Trump said at the airport ceremony. Netanyahu said he hoped that "one day" an Israeli premier would be able to fly from Israel to the Saudi capital. But Secretary of State Rex Tillerson sought to tamp down expectations of major progress on a peace deal. "There is a moment in time here," he told reporters traveling with Trump, but the U.S. wants to "manage our ambitions" on this trip.
'Future Discussion'
Asked about a three-way meeting between Trump and the Israeli and Palestinian leaders, Tillerson said, "That's for a future discussion." Israel's security cabinet passed a package of economic measures late Sunday aimed at bolstering the Palestinian economy as a confidence-building gesture ahead of the Trump visit. They include easing travel for Palestinians between the West Bank and Jordan, developing two new industrial zones and increasing the number of building permits issued to Palestinians in parts of the West Bank where Jewish settlements are located near Arab communities.
"The Trump administration is focused on materially enhancing the quality of life and the economy for the Palestinians," said Michael Oren, a parliament member and former Israeli ambassador to the U.S., who now serves as an adviser at the prime minister's office. "They don't see economic peace as a substitute for real peace, but they see it as setting an agenda that would make conditions conducive toward peace." The visit is expected to offer insight into the administration's plans for the peace process after the last round of direct negotiations between Israel and the Palestinians collapsed in 2014. After a campaign filled with stridently pro-Israel statements and a pledge to move the U.S. embassy from Tel Aviv to Jerusalem, Trump has moderated his Israel support since taking office, urging Netanyahu to limit settlement construction. The president has also decided not to immediately move the U.S. embassy in Israel to Jerusalem, a senior White House official said this month.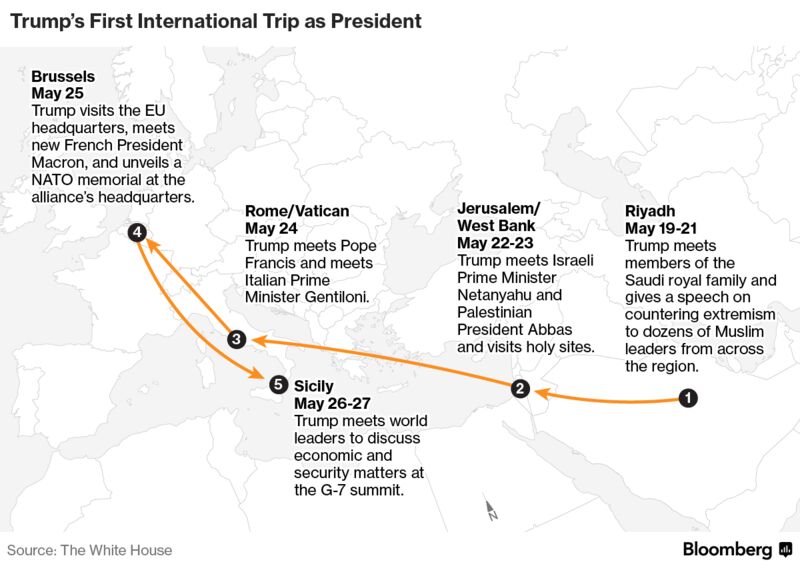 In the West Bank, hundreds of demonstrators supporting a hunger strike by Palestinian security prisoners in Israel, scuffled with Israeli forces. Some held signs showing Trump's face and a "Do Not Enter" symbol. No injuries were reported. While public statements on the peace process and the status of Jerusalem may dominate headlines, behind the scenes Israeli Prime Minister Benjamin Netanyahu will ask the U.S. president to impose new sanctions on Iran for threatening the Jewish state with ballistic missiles and sponsoring terrorism, Oren said.
"What happens with Iran has brought many toward Israel," Trump said in brief remarks at President Reuven Rivlin's residence in Jerusalem, referring to shared fears of Iran that have created some common interests between Israel and Sunni Arab states in the region. "Such a different feeling toward Israel from countries that weren't feeling so well about Israel not so long ago. Brought a lot of folks together." From Rivlin's residence, Trump is to tour Christian and Jewish holy sites in the contested Old City, then meet Netanyahu at the King David Hotel. The two will have dinner with their wives at the prime minister's residence in Jerusalem.
On Tuesday, Trump will cross for a few hours into Palestinian-held territory in Bethlehem, where he will meet Palestinian Authority President Mahmoud Abbas. Back in Israel, he'll briefly tour the Yad Vashem Holocaust memorial and deliver a speech at the Israel Museum — expected to be his longest public remarks during the visit — before departing for the Vatican. In Bethlehem, Abbas is scheduled to greet Trump with a bagpipe-playing color guard and assure him that his people want peace. Palestinian groups across the political spectrum, including members of Abbas's Fatah party, have called for a "Day of Rage" in support of the hunger strikers, but Palestinian security officers will be out in force to make sure the president isn't harmed, Abbas's office said.
More than 10,000 police officers, border police, special patrol units and undercover units have been deployed across Israel to secure the visit, closing major highways and disrupting daily life. Mauricio Guerra, a Mexican tourist, was shocked to find he and his family wouldn't be able to visit the Church of the Holy Sepulcher, believed to be the site of Jesus's crucifixion and burial, because of Trump.
"This guy makes trouble for Mexico with the wall and I can't even escape him in the Holy Land," said Guerra, 50, of Monterrey.