To some, it's the renminbi or People's Currency. To others, it's the yuan, the kuai or the redback.
Whatever you choose to call it, China's currency this week roiled global markets after the central bank's sudden move to devalue it. The decision sparked fears of a new currency war and even drew the ire of Republican presidential candidate Donald Trump.
So what happened?
On Tuesday, the People's Bank of China, the central bank, made a significant shift in how it manages the yuan by allowing markets to play a bigger role in valuing the currency. It now sets the yuan's daily fixing to the U.S. dollar based on the currency's closing level the previous day. Before the change, the PBOC wasn't overly influenced by daily market moves, and sometimes pushed the currency in the opposite direction.
Still, the visible hand of the state isn't going to disappear completely. The currency can only trade 2 percent above or below the fixing level.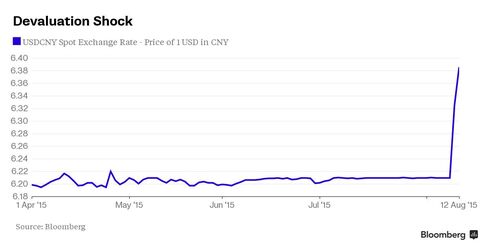 By keeping a tight grip on the currency, the mechanism helped protect China during times of market turmoil like the Asia financial crisis and global financial crisis.
So why change now?
The motivation for the shift is a source of debate among economists.
Outwardly at least, the move has been explained as a key reform that allows the market to steer the currency's value. Central to this is a bid to have the yuan accepted by the International Monetary Fund into its basket of reserve currencies, placing the yuan on par with the dollar, euro, yen and British pound, and boosting China's global stature.
Letting the market steer the yuan is the kind of move that should please critics who accuse China of controlling its currency to help exporters at the cost of other nations. The IMF has welcomed the change, though it added it will wait to see how the new mechanism is implemented. The yuan hadn't budged much since March as China's policy makers wanted stability as part of the IMF push.
By coincidence or not, the devaluation came days after data showing a big fall in exports. A mix of interest-rate cuts and fiscal stimulus to spur growth has struggled to gain traction. So, by weakening the currency, the thinking is that shipments will get a jump start and rev up the economy.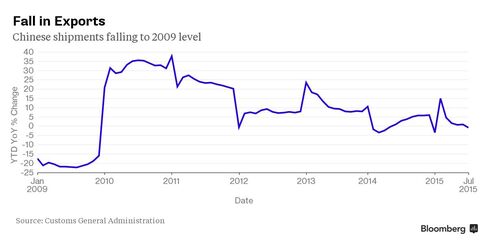 Another reason cited by some is a fall in China's currency reserves, which have slumped $315 billion in the year to July to $3.65 trillion, as the central bank kept the exchange rate stable.
Whatever the reason, a weaker currency won't solve everything; the fall in exports is at least partly due to weak demand in key markets like Europe, for example. The yuan's weakness won't fix that overnight. Source: Bloomberg