It stems from Prime Minister Najib Razak's strategic state fund called 1Malaysia Development Bhd (1MDB) set up in 2009 when he came into office. The fund is meant to turn Kuala Lumpur into a financial hub. It started to attract national attention recently, when it missed payments for the $11bn (£7.1bn; €9.9bn) it owes to banks and bondholders.
Former Prime Minister Mahathir Mohamad says the fund has taken on too much debt and lacks transparency. He also criticised Mr Najib's family's "lavish" lifestyle, which has been regularly discussed in the local press.
Then the Wall Street Journal (WSJ) reported that it had seen a paper trail that allegedly traces close to $700m from the troubled fund to Mr Najib's personal bank accounts.
Mr Najib is now facing calls to prove his assets are legal.
1MDB said in a statement that it has never given money to the prime minister and called the claims "unsubstantiated." It repeatedly states that the company has assets worth more than its debts.
Prime Minister Najib also denied taking money from 1MDB or any public funds, and his lawyers have demanded an explanation from the WSJ on its report.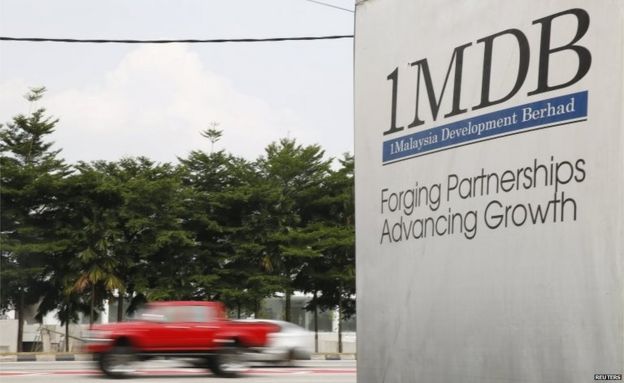 According to the New Straits Times, he told local reporters that it was "illogical" for him to embezzle money and then stash it in his personal account.
Then in a post on his Facebook page, he accused his fiercest critic, Mr Mahathir, of "political sabotage".
Prime Minister Najib said he believed Mr Mahathir worked "hand in glove" with foreigners as part of a campaign "to topple a democratically elected prime minister." He said these attacks began when he refused to implement Mr Mahathir's "personal demands".
The BBC put Prime Minister Najib's allegations to Mr Mahathir, who dismissed the claims. Instead, he called on the prime minister to show proof that he didn't pocket state funds.
Meanwhile, there are a few official investigations into the 1MDB fund, including a special task force headed by the attorney general. The team raided the office of 1MDB on Wednesday and took away some documents.
1MDB said in a statement that it was co-operating with the task force and all legal authorities in their investigations.
Not necessarily. The opposition Pakatan Rakyat alliance has effectively collapsed from infighting so there is less outside pressure on Prime Minister Najib.
His greatest threat comes from his own governing party and in particular Mr Mahathir, who is still regarded as the father of modern Malaysia and highly respected.
This is Mr Mahathir's third campaign against the men he groomed to be the country's next leaders. He successfully ousted his deputy, Anwar Ibrahim, in the late 1990s and also forced his successor, Abdullah Badawi, to step down. Now Mr Mahathir has called on Prime Minister Najib to resign. (Source: BBC)