Morgan Stanley's Gorman says Brexit will prompt a rethink of where operations need to be.

The boss of banking giant Morgan Stanley isn't sitting on the fence about what Brexit means. The firm will have to move some employees out of London and also leave more capital stranded abroad, CEO James Gorman said yesterday at Bloomberg's The Year Ahead Summit.

For Gorman, "there's nothing good about Brexit."

"Now we're going to have to have our headquarters in Europe, in addition. We are probably going to have to have, with our legal entities there, more capital and liquidity trapped in those legal entities. None of this is good."

Brexit will force global firms to examine all their business lines and look at which operations are needed where —  whether in Europe, Asia, or New York.  "It's going to open that door of people looking at exactly why they're geographically placed where they're placed," said Gorman, who earlier this month suggested New York would gain the most finance-industry jobs in the fallout from Brexit.

http://www.bloomberg.com/news/articles/2016-10-26/brexit-bulletin-carney-keeps-us-guessing
Stick or Twist?
In Britain, Mark Carney is staying tight-lipped about whether he'll remain at the Bank of England to help steer Britain through Brexit.Prime Minister Theresa May wants him to stay and has tried to smooth over recent misunderstandings, Bloomberg's Svenja O'Donnell reports, citing unidentified officials. But Carney won't commit. He said yesterday he'd like some time to mull it over:
"It's an entirely personal decision. No one should read anything into that decision in terms of government policy," he said. "Like everyone, I have personal circumstances which I have to manage."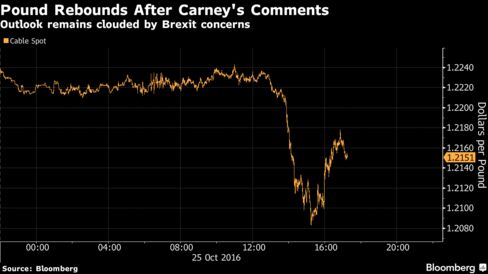 What May told Goldman
The Guardian has a voice recording of what it says is May speaking about the risks of Brexit at Goldman Sachs before the referendum. May was in the Remain camp, although she kept a low profile during the campaign. May, then home secretary, said that being part of a trading bloc of 500 million people is "significant" and brings investment, according to the recording.  She also raised the prospect of firms moving to mainland Europe if the U.K. wasn't in the EU. Asked about the recording late yesterday, her spokesman said "Britain made a clear choice to vote to leave the EU."  Answering questions in Parliament on Wednesday the prime minister said she wants "the best possible arrangement for trade with and operation within the single market."
House Prices
More forecasts on the economic fallout from Brexit: London house prices will fall 5.6 percent next year, according to the Centre for Economics and Business Research. "Nervousness and uncertainty are starting to show," said Kay Daniel Neufeld, an economist at Cebr. "We expect to see house-price growth across the U.K. slowing considerably in the fourth quarter of 2016, a trend that is set to continue in 2017." While the housing market was already facing headwinds from tax changes before June's EU referendum, investors are becoming increasingly nervous about the possibility of a hard Brexit. Sales and spend in prime central London areas are already on the slide, as recent data have shown.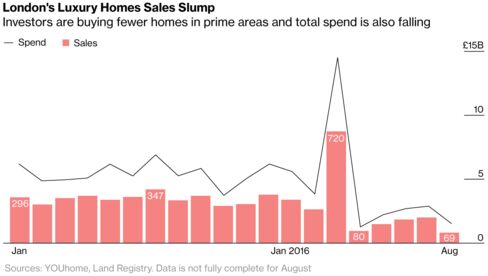 Brexit Bullets
Paris wants to be the new home for the European Banking Authority
Chancellor Philip Hammond faces an £84 billion ($102 billion) deterioration in public finances over the next five years, the Resolution Foundation says
Conservative lawmaker Zac Goldsmith resigned over the Heathrow expansion, prompting a special election that may turn into a mini-referendum on Brexit
General Motors is looking at cost cuts, after raising prices 2.5 percent in the U.K. Brexit-related currency moves cost GM $100 million in the third quarter with another $300 million expected in the fourth
Ireland is pitching for the European Banking Authority to move to Dublin from London
Metropolitan Police chiefs will appear in the House of Lords today to talk about the impact of Brexit on anti-terrorism efforts.
On the Markets
As U.K. stocks hover near all-time highs, the optimism that took them there is starting to fade. Investors are paying the most since early June to hedge against swings in the benchmark FTSE 100 Index relative to the regional Euro Stoxx 50 Index. The U.K. gauge, up 12 percent this year thanks to a slumping pound, has been hovering around 7,000 for most of the month, though it failed to maintain a record reached intraday on Oct. 11.
And Finally…
The upcoming U.S. presidential election will not deliver a Brexit-type surprise, despite what Donald Trump insists, poll-watchers say. Republican pollster Frank Luntz and FiveThirtyEight forecaster Harry Enten were among those debunking Trump's campaign cry that his supporters will deliver a "Brexit times five" on Nov. 8. Why? Well, Brexit polls "showed a tie," Luntz tweeted, while U.S. polls do not. The U.S. also has "more (and better) pollsters" than the U.K., he said. "The Brexit comparison is quite wrong," Enten tweeted. "The UK 2015 general elex comparison is a better one, but no one will make it cause it's more complex."
Sources: QGN, Gulf Agencies, Bloomberg, Reuters, BBC News.